The University of Tokyo established a new research initiative, The University of Tokyo Sports Science Initiative (UTSSI), on Thursday, May 19, 2016. This initiative will promote cross-disciplinary research concerning practical issues such as increasing health maintenance and life expectancy in super-aging societies, improving the QOL (Quality of Life) of the elderly and people with disabilities, advancing accessibility for people with disabilities, and enhancing the physical fitness and athletic abilities of University students and top athletes. The academic achievements of the University in the fields of sports science and health science (including physical training, motor learning, neurorehabilitation and biomechanics), as well as in related areas including accessibility development, robotic engineering, and genomics, will form the foundation for this research. Through this initiative, the University of Tokyo aims to truly contribute its academic achievements back to society.

To bolster the external cooperation needed to achieve the above goal, the University of Tokyo signed partnership agreements with the Japan Sport Council (JSC) and the Japanese Para-Sports Association (JPSA) on Friday, May 20, 2016. UTokyo first had a meeting with JSC, and a partnership agreement was signed between JSC's President Kazumi Ohigashi and UTokyo's President Gonokami. President Gonokami then met with JPSA and signed a partnership agreement with JPSA's Chairman Mitsunori Torihara. Afterwards, President Gonokami, JSC's President Ohigashi and JPSA's Chairman Torihara, along with Ms. Aki Taguchi, a Japanese Paralympic shooter who joined the Athens, Beijing and London Paralympics, visited with the following individuals to report that they had signed the agreements: Toshiaki Endo, the minister in charge of the Tokyo Olympic and Paralympic Games; Hiroshi Hase, the Minister of Education, Culture, Sports, Science and Technology; and Daichi Suzuki, the commissioner of the Japan Sports Agency.

With the aim of supporting the training of Olympians and Paralympians in preparation for the 2020 Tokyo Olympic and Paralympic Games, the immediate mission of UTSSI is to promote the latest scientific research, as well as a wide range of supporting activities, in cooperation with external organizations including the Japan Institute of Sports Sciences (JISS) of JSC and the Japanese Paralympic Committee (JPC) of JPSA. From a wider perspective of promoting universal access in society, the University will place a particular focus on the support of Paralympians.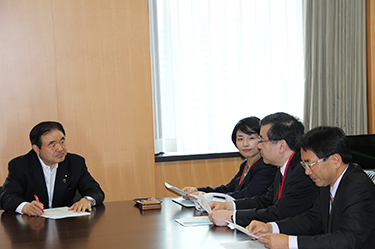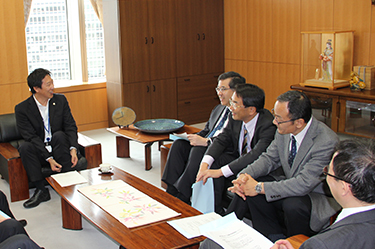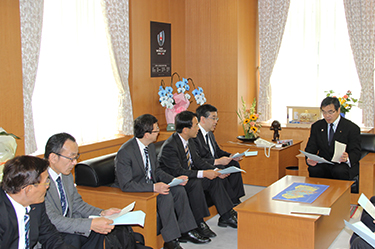 Classification
Other
Intended for
General public / Enrolled students / Applying students / International students / Alumni / Companies