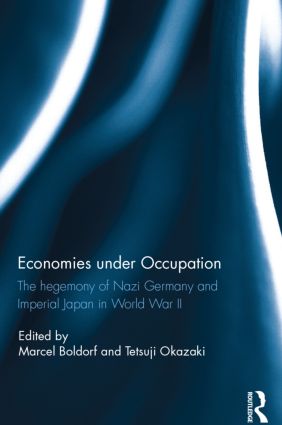 Economies under Occupation
The Hegemony of Nazi Germany and Imperial Japan in World War II
During the World War II, Germany and Japan occupied large territories in Europe and Asia, and tried to construct "Greater Economic Sphere" (Grosswirtschaftraum) and "Greater East Asia Co-Prosperity Sphere (Daitoa Kyoei Ken), respectively. This book aims to compare the occupation regimes of these two spheres, focusing on administration of the occupied areas, trade structure, industrial structure, plundering and expropriations. To do that, the editors invited eighteen contributors who are experts on the war economies of occupied areas, and provided them a common framework of comparison. That is, each chapter on a country delivers a short presentation of the territorial impact of the occupation, the patterns and different stages of occupation, and the impact of the administrative support of collaborating local elites. To our knowledge, it is the first attempt of a systematic comparison of the occupied economies across the Eurasia during the World War II.

The two occupation regimes had many similarities. In the occupied areas, private property mostly prevailed, and in order to control the economies, government organizations or semipublic corporations were introduced. They determined the entitlement of input factors such as raw materials, semi-finished products and the workforce. In addition, control on foreign trade was established, directing the flow of war goods to the aggressors' economies as well as restricting the imports of commodities from them. By controlling money supply through erecting the quasi-central bank for an occupation area or introducing military scrip, the occupiers monetized occupation costs and procurement costs. Sometimes a price-controlling scheme was established at the same time. As private companies played the central role in the two economic spheres, their economic incentives were essential for production. At least in the late stage of the war, the German and the Japanese governments introduced economic incentives into the management of the economies.

At the same time, the two occupations regimes had differences in some respects. One difference is that Japan could hope for local supports at least in some areas that Germany could hardly expect. Japan installed so-called "puppet governments" in the occupied areas including Manchuria, Malaya and Burma. In addition, Germany plundered the occupied areas at the initial stage, while outright plundering did not occur on the large scale in the areas Japan occupied. The trade patterns were also different between the two spheres. Germany had a large trade deficit to the occupied countries, which means that Germany was successful in directing the war goods into its own economy. On the other hand, Japan's trade deficit was small. This was mainly because Japan faced serious shortage of marine shipping capacity for transporting war goods from occupies areas, especially South East Asia, to Japan.

(Written by Tetsuji Okazaki, Professor, Graduate School of Economics / 2017)
1. Introduction, Marcel Boldorf and Tetsuji Okazaki
Part 1: The System of Occupation
2. The European economies under National Socialist Rule / Marcel Boldorf
3. Strategies and Organizations for Managing the " Greater East Asia Co-prosperity Sphere " / Tetsuji Okazaki
Part 2: War Financing
4. The German System of Financing Occupation / Jonas Scherner
5. Paying for war, 1941-1945: How Japan Financed Southeast Asia's Occupation / Gregg Huff and Shinobu Majima
Part 3: Exploiting the Foreign Labour Force
6. Forced Labour in Occupied Europe, 1939-1945 / Mark Spoerer
7. Development of Labour Policy in "Manchukuo" and its Limit, 1933-1943 / Toshio Kojima
Part 4: Incorporation of Territories in the War Economy
8. The French Economy under German Occupation, 1940-1944 / Marcel Boldorf
9. German economic rule in occupied Belgium, 1940-1944 / Dirk Luyten
10. Nazi Germany's financial exploitation of Norway during the occupation, 1940-1945 / Hans-Otto-Frøland
11. The incorporation of the General Government in the German War Economy / Stephan Lehnstaedt
12. The Protectorate of Bohemia and Moravia under German Control, 1939-1944 / Harald Wixforth
13. The Development and Management of the Manchurian Economy under Japan's Empire / Tetsuji Okazaki
14. The Philippine Economy during the Japanese Occupation, 1941-1945 / Gerardo P. Sicat
15. The Eclipse of the Indonesian Economy under Japanese Occupation / Thomas Lindblad
16. The Burmese Economy under the Japanese Occupation, 1942-1945 / Michael Charney and Atsuko Naono
17. Indochina during World War II: An Economy under Japanese Control / Delphine Boissaire
Part 5: Multinationals Acting in Occupied Economies
18. German Steel Industry's Expansion in Occupied Europe: Business Strategies and Exploitation Practice / Ralf Ahrens
19. The French Opportunity: A Danish Construction Company working for the Germans in France / Steen Andersen
20. Management of the South Manchurian Railway Company / Tsutomu Hirayama
21. Shanghai's Cotton Textile Industry during the Pacific War: Exploring Relations with Japan and the Transformation of the Economic Structure / Narumi Imai
Conclusion: Differences and Similarities of the Two Occupation Regimes / Marcel Boldorf and Tetsuji Okazaki

Try these read-alike books: