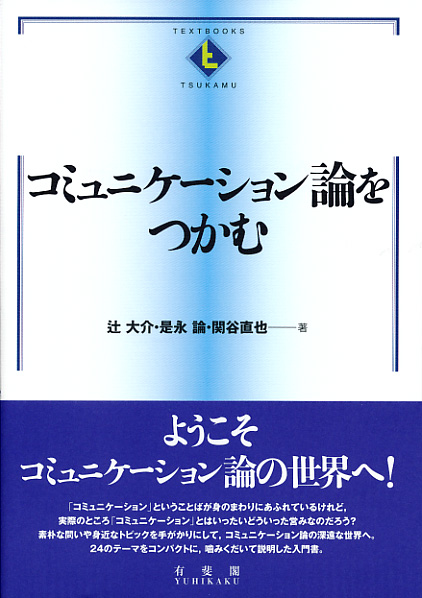 TEXTBOOKS TSUKAMU
Communication-ron wo Tsukamu
(Understanding Communication Theory)
248 pages, A5 format, softcover
This book discusses the nature of communication in modern society in easy-to-understand terms while providing examples from everyday life. It offers a multifaceted analysis of communication that synthesizes knowledge from diverse fields including social science, psychology, and linguistics.

Chapter 1 "Basics of Communication" introduces a wide range of topics, from non-verbal behavior to animal and infant communication, while focusing on the linguistic mechanisms by which we understand messages and interactions, and provides an overview of actions that constitute communication and how we interpret such actions. The chapter discusses key concepts forming the basis of communication theory while introducing important theories from various disciplines including philosophy, linguistics (pragmatics), social science, and psychology.

Chapter 2 "Modes of Communication and the Nature of Relationships," explores modes of communication that serve as the basis for exchanging information and the various types of relationships that result from communication. The chapter also discusses both literal and visual communication, which have come to play an important role in modern society as a result of technological advances and permeation of media. The chapter goes on to discuss the characteristics of various relationships seen in communication, while expanding the focus from interpersonal relationships to relationships at the city level.

Chapter 3 "Impact of Communication" explores the nature of influence of communication and how people are influenced by communication. The chapter introduces basic sociological and social psychological theories regarding persuasive communication, collective communication such as rumors, fashion and public opinion, as well as the mass communication effect.

Chapter 4 "Communication and Society" discusses the role of communication in the context of various social structures and social phenomena while examining various areas including entertainment, business activities, sports, and disasters. The very act of communication gives rise to social phenomena and human relations in modern society. The chapter goes on to explain how social phenomena and human relationships are brought about by communication.

(Written by SEKIYA Naoya, Project Associate Professor, Interfaculty Initiative in Information Studies / 2018)
Try these read-alike books: