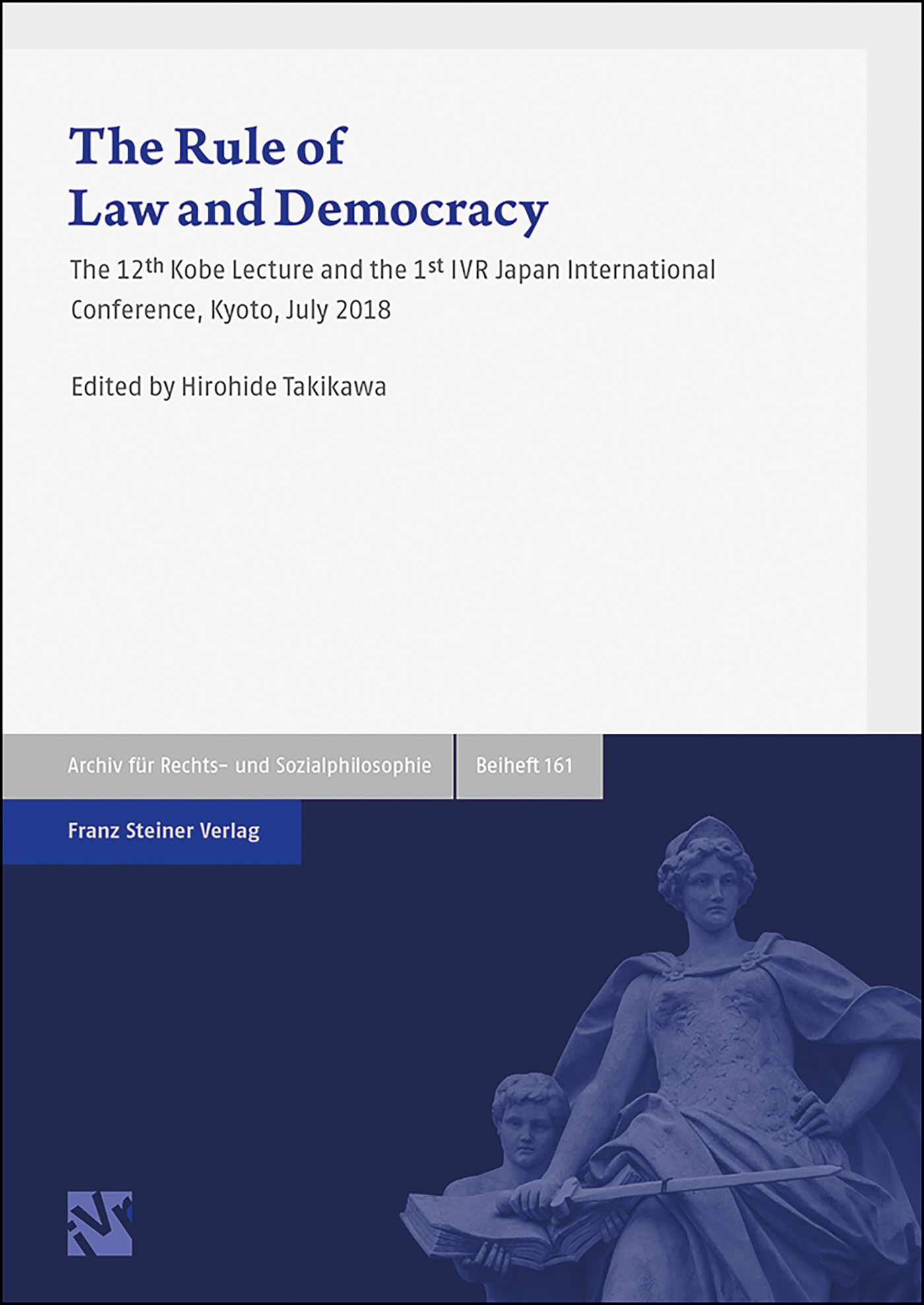 The Rule of Law and Democracy
The 12th Kobe Lecture and the 1st IVR Japan International Conference, Kyoto, July 2018
This book is a collection of the latest articles on the rule of law and democracy, which are the most fundamental and important topics in the contemporary philosophy of law. It is safe to say, presently, that both the rule of law and democracy are critical for good governance. However, the meanings of the rule of law and democracy are controversial and theorists differ on what they mean by these terms. Moreover, the rule of law and democracy are not always harmonious and may even conflict with each other at times. Therefore, it remains an important issue to explore how the rule of law and democracy can be construed in concrete terms. This book brings together the latest articles that approach this issue from various angles.

The origin of this book dates back to the first IVR Japan International Conference held in Kyoto in 2018. The abbreviation IVR stands for Internationale Vereiningung für Rechts- und Sozialphilosophie (International Association for the Philosophy of Law and Social Philosophy), which is an international academic society of philosophy of law and social philosophy with over a century of history. Its Japanese branch is IVR Japan and it has been promoting international academic exchange. IVR Japan has hosted a series of international lecutures called the Kobe Lecture, which was inaugurated in 1990 with Ronald Dworkin as the first lecturer. To further promote the global dissemination of messages from Japan, we have decided to hold an international academic conference regularly by incorporating the Kobe Lecture. The result is the IVR Japan International Conference. This volume is a collection of the 12th Kobe Lecture, another keynote lecture, and 13 articles that were carefully selected from those reported and submitted at this international conference.

The 12th Kobe Lecture by Kristen Rundle introduces the volume. Rundle provides an innovative, engaging, and convincing understanding of arguments by Lon L Fuller, one of the twentieth-century leading figures in philosophy of law. Other papers also discuss the boundary and justificatory grounds for democracy and the possibilities of the rule of law in a free-spirited manner.

Behind the scenes, we went through immeasurable hardships in the course of setting up this international conference anew and publishing its outcome. Everything was new to us and we had to determine every little detail from scratch. On the day of the conference, we were hit by record rainfall, which brought all the trains to a standstill. It was a walk on a long tightrope. Frankly, however, we are proud to have successfully taken a step toward a more substantive international academic exchange. This book is a record of it.


(Written by TAKIKAWA Hirohide, Professor, Graduate Schools for Law and Politics / 2020)
HIROHIDE TAKIKAWA
Preface

Part 1 The 12th Kobe Lecture
KRISTEN RUNDLE
Fuller's Relationships

Part 2 Borders and Grounds of Democracy
TETSU SAKURAI
The Borders of Law
HIROHIDE TAKIKAWA
Drawing National Boundaries for Global Governance
SHIH-TUNG CHUANG
Hate Speech, Legitimacy, and Democracy
A Critical Survey of Ronald Dworkin's Legitimacy Argument
TAKAYUKI KAWASE
A Liberal Justification of Nationalism
SHINICHI TABATA
Deliberative Democracy as Quasi-Pure Procedural Justice: Epistemic Value in Jürgen Habermas
DAI OBA
Procedure-Based Substantive Equality: Pure Procedural Justice and Property-Owning Democracy
LAŸNA DROZ
Environmental Civil Disobedience as Catalyst for Sustainable Democracy

Part 3 Rule of Law and Aspects of Jurisprudence
CHUEH-AN YEN
Cultural Reality, Value-Serving, and Internal Reasons: Some Remarks on Gustav Radbruch 's Concept of Law
IMER FLORES
Law as an Artefact
TERESA CHIRKOWSKA-SMOLAK / MAREK SMOLAK
Moral Reasoning of Judges and the Rule of Law
MITSUKI HIRAI
Legal Positivism and the Point of Theoretical Value-Neutrality
ALESSIO SARDO
Robert Alexy, Frederick Schauer, and the "Positivist" Theses
MONIKA ZALEWSKA
Does Hans Kelsen's Pure Theory of Law Supports Rule of Law and Democracy?
KUMIE HATTORI
A Particularistic Dimension of the Rule of Law: On Razian Conception and a Perspective to Misrule


Try these read-alike books: