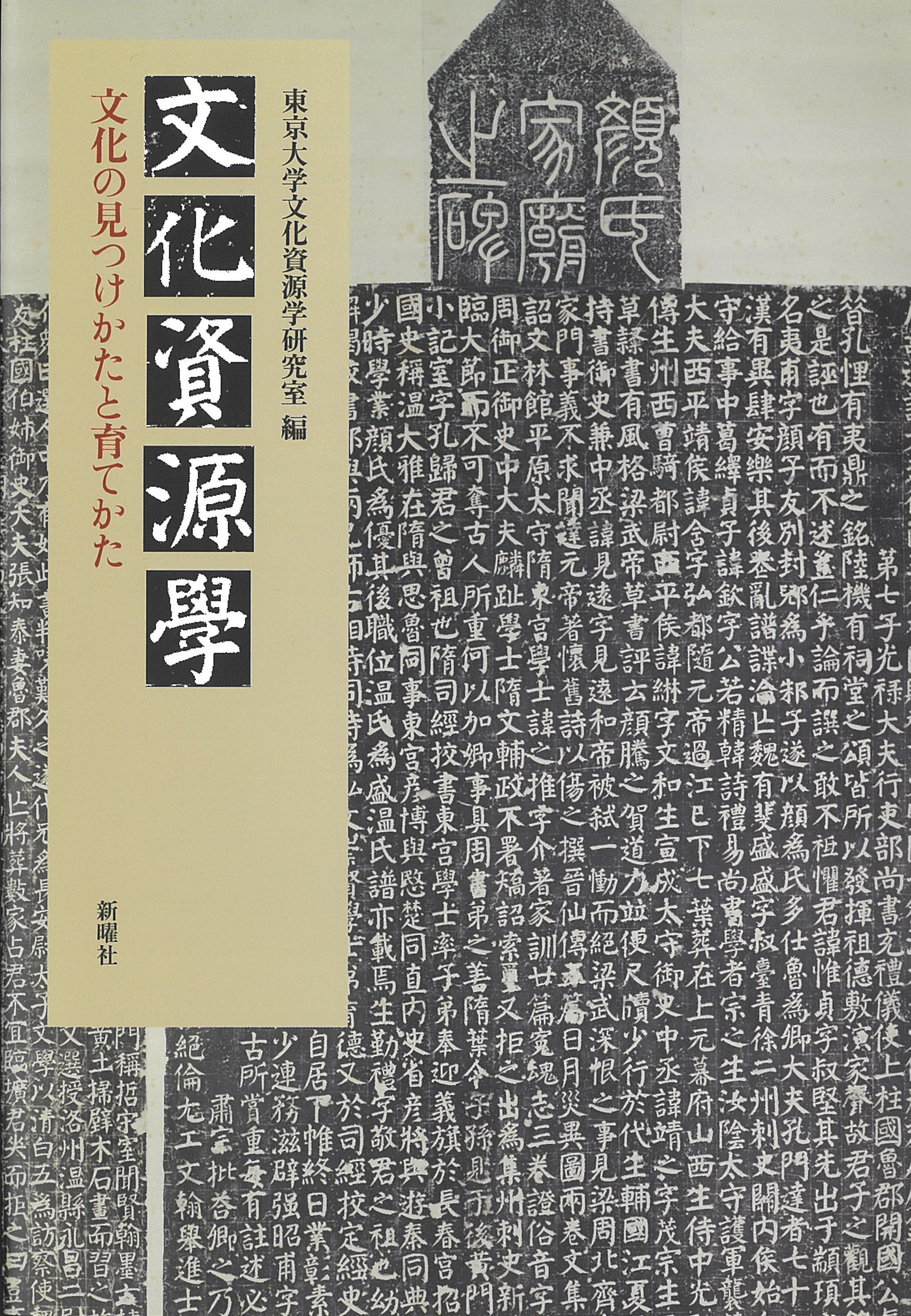 Bunka-Shigen-gaku
(Cultural Resources Studies - Ways of Discovering and Nurturing Culture)
This book was written in 2000 to mark the twentieth anniversary of the establishment of Cultural Resources Studies, a postgraduate degree course offered by the University of Tokyo's Graduate School of Humanities and Sociology. "Cultural resources studies" was conceptualized in Japanese, which makes it something of a rarity, as many of the analytical concepts in Japanese academic research are imported Western concepts. This book introduces the accomplishments in research and education over the twenty years preceding publication; its aim is to reexamine the increasingly intricate and complex humanities subjects from the original point of form, language, and sound, and re-envisage and nurture diverse cultures from the perspective of cultural resources.

The book is divided into three parts with a total of 13 articles. The three parts—"Sound, language, form," "Ways of discovering [culture]," and "Ways of nurturing [culture]"—provide readers with an overview of interdisciplinary approaches and cooperation with society, with a focus on the humanities.

The first part, "Sound, language, form," contains articles from three contributors, all of whom played a leading role in the establishment of the course from the start. The authors discuss disparate subject matter—train melodies, early modern erotic art, and rooms—but adopt a common approach, in that they critically review the institutions and concepts created since the start of the modern era.

The second part, "Ways of discovering," contains articles from researchers at the forefront of current cultural resources studies. Each author discusses how a certain cultural form has been discovered and analyzed over the years. Befitting the interdisciplinary nature of cultural resources studies, a broad expanse of topics is covered, including emaki (picture scrolls), funerals, video games, US military bases in Japan, Ozu Yasujirō's films, craftworks, and bookbinding. Each author considers such issues as how the cultural form is received, preserved, transmitted (across generations), and used.

The third part, "Ways of nurturing," focuses on institutional support for cultural resources; it traces twenty years of, and the future outlook for, management, policy, and international development in regard to culture—aspects that have rarely ever been explicitly discussed in humanities studies in Japan before. Also analyzed here are patterns of the doctoral theses observed in postgraduate programs across a wide range of disciplines.

The compilation as a whole represents our attempt to convey the breadth and depth of cultural resources studies as an interdisciplinary program that seeks to discover and nurture new cultural resources by drawing from history. Our goal has been achieved to some extent, but at the same time, the twenty years of research and education have exposed some structural issues and new problems.

We hope that this book helps readers discover the charms of cultural resources studies and gain insights for ensuring that cultural resources are preserved for the future generations.

(Written by NAKAMURA Yusuke, Professor, Graduate School of Humanities and Sociology / 2022)
Try these read-alike books: