Symposium Commemorating the DEI Promotion Declaration "Towards an Engaged University Promoting Diversity, Equity, and Inclusion"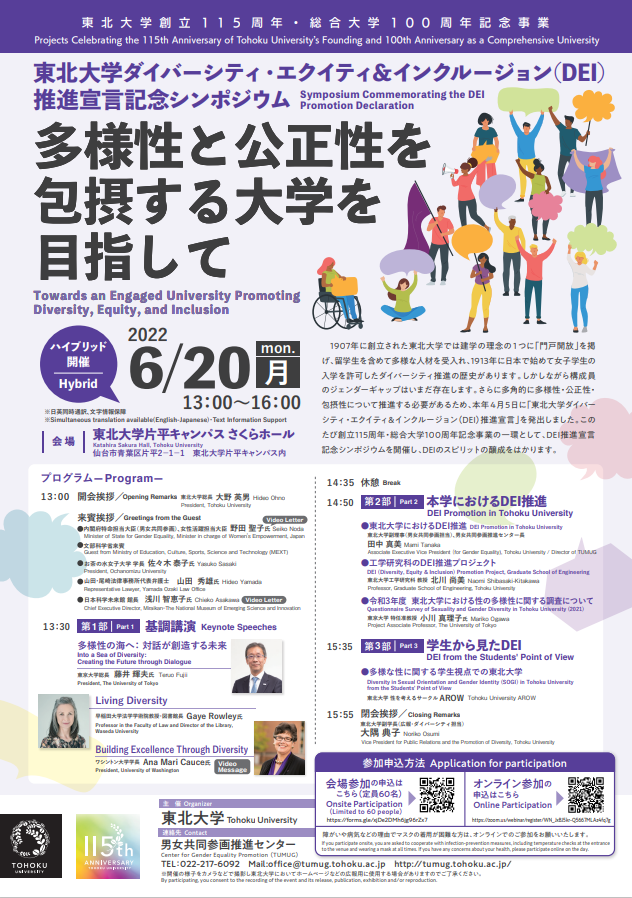 We are pleased to inform you that Tohoku University has announced the holding of Symposium Commemorating the DEI Promotion Declaration"Towards an Engaged University Promoting Diversity, Equity, and Inclusion".
Outline
Date: 2022/6/20 mon. 13:00-16:00
Venue: Katahira Sakura Hall, Tohoku University
・Hybrid Event(Onsite・Online)
・Simultaneous translation available(English-Japanese)
・Text Information Support
More Information: Please check the Poster.(PDF)
""ーProjects Celebrating the 115th Anniversary of Tohoku University's Founding and 100th Anniversary as a Comprehensive Universityー
Symposium Commemorating the DEI Promotion Declaration
"Towards an Engaged University Promoting Diversity, Equity, and Inclusion"
Application for participation
●Onsite Participation(Limited to 60 people)
Application Form(Onsite)
※Simultaneous Japanese-English interpretation will be provided at the venue using interpretation equipment.
Interpretation equipment can be reserved using this form.
●Online Participation
Application Form(Online)
※If you participate onsite, you are asked to cooperate with infection-prevention measures, including temperature checks at the entrance to the venue and wearing a mask at all times. If you have any concerns about your health, please participate online on the day.
※By participating, you consent to the recording of the event and its release, publication, exhibition and/or reproduction.
COVID-19 Precautions
Please wear a mask if you join the Symposium in person. We will take your
temperature at the venue. Please wash your hands frequently and use disinfectants
prepared at the venue. Please refrain from joining the Symposium in person if you have a
fever or feel unwell. In the event that you get infected with COVID-19, the host university
cannot be held responsible. Thank you for your understanding.
【Regarding the possibility of holding the event online only.】
In light of the infection situation in Japan and Miyagi Prefecture with the new coronavirus infection
If the University's BCP level is changed to 3 or higher, the hybrid will not be held and the event may be held online only.
If the event is held online only, registration for on-site participation will not be accepted.
You will be notified of this fact at the e-mail address you provided at the time of application, and you will also be able to access the online
Please note that we will send you an invitation to participate.
【Requests for cooperation and precautions against corona infection】
To prevent infection at the venue, we ask for your cooperation in the following.
(1) Wear a mask (non-woven mask recommended)
Those who are unable to wear masks due to circumstances are requested to register for online participation.
(2) Hand disinfection
(3) Temperature inspection
(4) In the event of illness, participation at the venue will be canceled or switched to online participation (*).
(5) Eating and drinking are prohibited in the venue (except for beverages to prevent heatstroke, etc.)
(6) Installation of the Ministry of Health, Labour and Welfare New Coronavirus Contact Confirmation Application (COCOA)
*Please refrain from attending the venue on the day of the event if you are under
Please join us online.
・A fever that is 1 degree above the normal temperature
Physical symptoms such as taste and smell disorders, breathlessness (dyspnea), strong lethargy, cough, sore throat, etc.
If there is a person who has had close contact with a person who is positive for a novel coronavirus infection.
If the post-entry home waiting period stipulated by the country has not passed
In cases where there is concentrated contact with a person who has not yet passed the post-entry waiting period for home, etc. as stipulated by the country.
If you wish to participate online due to illness or other reasons, please contact office@tumug.tohoku.ac.jp
Contact
Center for Gender Equality Promotion (TUMUG)
E-mail: office*tumug.tohoku.ac.jp(change * to @)