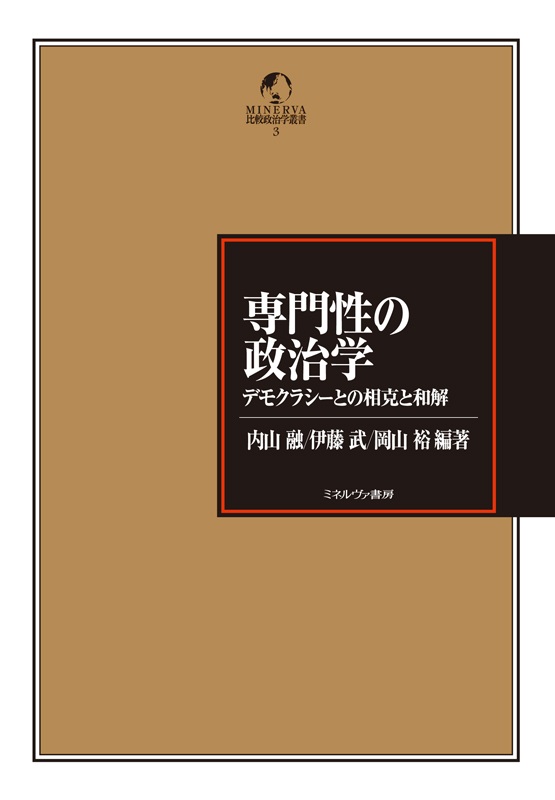 MINERVA Comparative Political Science Series 3
Senmonsei no Seijigaku
(The Politics of Expertise: Conflict and Reconciliation in Advanced Democracies)
In today's more complex society, effective policy making is a challenging task without utilizing various types of expertise. In the realms of the economy, social welfare, science, and technology, suitable policies cannot be created according to the judgment of laypersons, while brushing aside the knowledge of experts. Public good, from a long-term perspective, can be achieved with policy based on the judgment of experts regarding empirical or theoretical mechanisms of causality linking policy goals to effects.

On the other hand, a dependence on experts in some ways runs counter to democracy, which principally involves popular will. For instance, policies suggested by experts to achieve the public good frequently diverge from the objectives of citizens. This is why "dole-out" policies continue to exist in many countries, even though they may invite economic collapse.

This suggests that there is a chance of both conflict and reconciliation between expertise and democracy. This book analyzes policy-making processes in various advanced nations and aims to elucidate the role of experts, by taking an ambivalent stance concerning the nature of the relationship between expertise and democracy. This book is the result of a joint research project led by Professor Naoki Takahashi (now an emeritus professor) and Professor Yu Uchiyama of this graduate school.

This book discusses a broad range of countries (regions) including Japan, the United Kingdom, Italy, and the EU. It also uses various analytical methods, including comparative political science and historical methodologies. Several chapters are introduced below.

Chapter 3, "Economic Policy Making and the Roles of Expertise in Japan and Britain" (Yu Uchiyama), compares the roles of economic experts in economic policy making in Japan and the UK. Economic experts play significant roles in economic policy making in the UK, contrasted with the comparatively small roles such experts play in Japan. Uchiyama explains this from the viewpoint of the cohesion of political institutions in both nations. He also states that changes in the political institutions can explain the increasingly more significant roles of Japanese economic experts following the Koizumi administration.

Chapter 4 is "Escape from Power?" (Takeshi Ito), which discusses technocratic governance in postwar Italy. Technocrats have frequently been the target of high expectations in Italy. This chapter analyzes the case of monetary policy from the 1940s to the 1950s and empirically demonstrates the rules of economic technocrats. Namely, it positions technocrats as political actors seeking authority, who are willing to engage in transactions and compromises with people in the surrounding environment, rather than seeing them as logical beings with professional and reformist intentions. This chapter depicts the processes by which technocrats, such as central bank governors, have taken actions to regain autonomy. Then, it also describes the processes by which this autonomy has been eroded in the management of financial and industrial policies.

Chapter 9, "Blair-style Democracy" (Naoki Takahashi), analyzes the roles of experts in Britain's Blair government and their relationships with democracy. Prime Minister Blair was fond of appointing non-government experts as special advisors and making top-down decisions that bypassed the Cabinet and bureaucrats. This chapter points out that this "Blair style" ended up making light of administrative responsibilities related to policy-making quality and decisions, thereby significantly harming democracy.

This book also discusses themes such as policy processes in the EU, Japanese pharmaceutical and financial administration, and Japanese-American finance negotiations. We hope the book will help deepen the understanding of the delicate relationship between expertise and democracy.

(Written by Yu Uchiyama, Professor of Graduate School of Arts and Sciences / 2018)
Try these read-alike books: