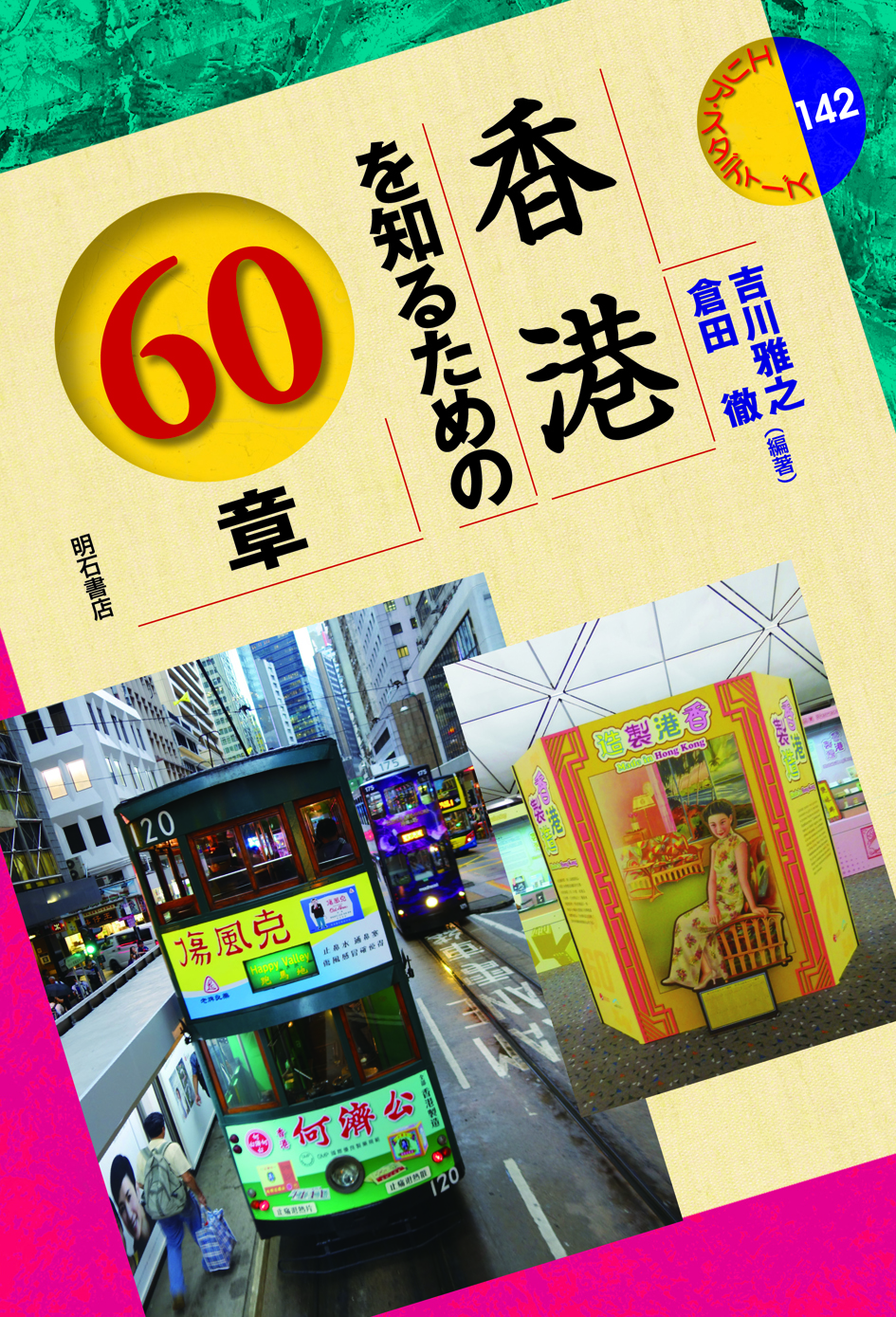 Area Studies
Hong Kong wo shirutame no 60 shō
(Sixty Chapters for Getting to Know Hong Kong)
This book was published as the 142nd volume in Akashi Shoten's Area Studies series, which began with Sixty Chapters for Getting to Know Contemporary American Society (Nov. 1998). This series is intended to provide general introductions for gaining an understanding of a particular country, region, ethnic group, or organization, and it is aimed in particular at university students. The objective of this book, dealing with Hong Kong, is in line with these aims, but we have also touched on Macao in stand-alone columns so as to enable the reader to gain a grasp of the recent situation there too.

Large numbers of books about Hong Kong were published in Japan during the 1990s before and after the transfer of sovereignty over Hong Kong from the United Kingdom to the People's Republic of China (1 July 1997). This was a publishing boom that took advantage of the so-called "handover" or "reunification" of Hong Kong to China. Once this boom abated in the early twenty-first century, Japanese society's interest in Hong Kong came to be characterized by the word "forgetfulness," and it declined to the extent that the Japanese would cast a glance in the direction of Hong Kong only when Hong Kong society was shaken every few years. About the only events that aroused Japanese society from its reminiscences about Hong Kong's past were perhaps the social upheaval and economic recession that accompanied the outbreak of SARS in 2003, the large-scale demonstrations against the government's attempt to legislate national security legislation pursuant to Article 23 of the Basic Law in the same year, and further large protests against the introduction of the moral and national education curriculum (so-called "patriotic education") in 2012. But this "forgetfulness" does not seem to have been due only to the Sinification of Hong Kong or the rise in standing of competing countries and regions.

As is noted in the "Preface," this book is "the first attempt in the twenty-first century to comprehensively describe Hong Kong, a high-density international city, with reference to the greatest number of fields and phenomena." The wide-ranging content of this book, covering as it does history, geography, population, politics, law, economy, society, media, education, language, culture, etc., symbolizes what is necessary to delineate this multistratified, pluralistic, and multifaceted international city. Not only is this the first book to be published in Japan in about twenty years that discusses Hong Kong from several different academic fields and disciplines, but it also serves as a guide, the usefulness of which has been enhanced by a bibliography, a time line, and a list of proper nouns at the end. We would like to think that this book serves to query perceptions of Hong Kong, which tend towards the stereotypical because of its familiarity, and build a new picture of Hong Kong on the basis of diverse perspectives.

As is well-known, the Hong Kong Special Administrative Region of the People's Republic of China has had a history fraught with difficulties. Mass protests in October 2014 by students and citizens calling for a democratic system to elect the Chief Executive—known as the Umbrella Movement—would seem to have faltered in the face of uncompromising repression by Hong Kong's government. But the government's hard-line stance caused public opinion among the people of Hong Kong, especially the younger generation, to turn rapidly in unexpected directions. There have emerged new political groups that push terms such as "localism" and "self-determination" and aspire to independence from the People's Republic of China, and divisions within society are growing. For this reason, the situation in recent times has been changing with increasing speed, and even researchers are finding it difficult to predict the eventual outcome. Unless one continues to observe the situation intently with studious care, one is liable to lose sight of the trajectory of present-day Hong Kong. Sure enough, in the mere one and a half years since the publication of this book several incidents have occurred in the political arena and continue to occur. Many young academics were called upon to contribute to this book, and they now share not only a sense of crisis regarding the current political and social situation but also a heavy sense of responsibility towards dealing with Hong Kong as a subject of academic research.

In Hong Kong, retrospective histories of various fields and subjects have continued to be published since the latter part of the 1990s. In what ways will Hongkongers who have awoken to their own history engage with society? At the same time, there is also criticism that, with the collapse of the Umbrella Movement, Japan is once again on the verge of forgetting about Hong Kong. In such circumstances, this book will undoubtedly become a starting point for divining Hong Kong's future.

(Written by Masayuki Yoshikawa, Associate Professor, Graduate School of Arts and Sciences / 2018)
Try these read-alike books: