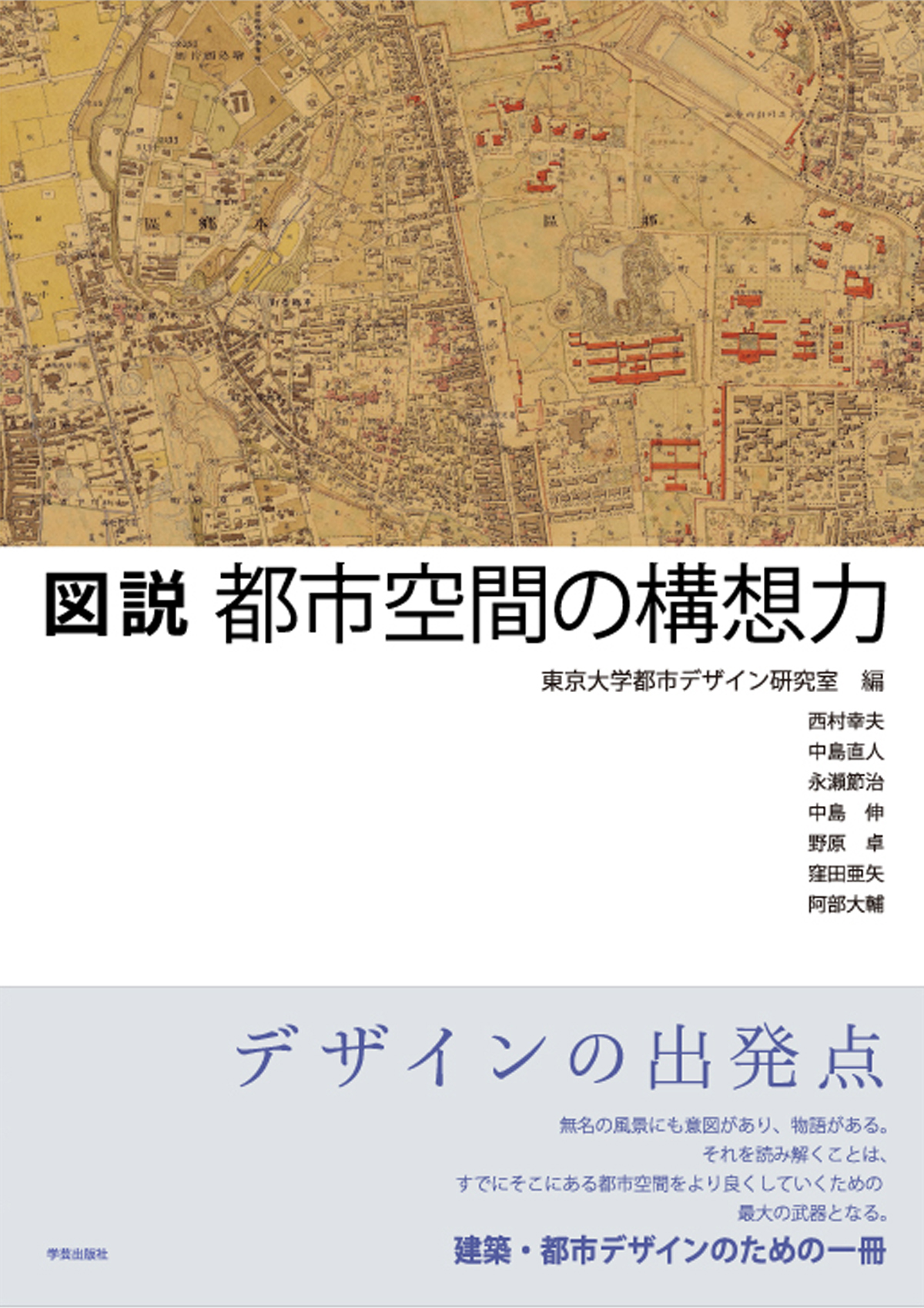 Zusetsu: Toshi-Kukan no Kosoryoku
(Illustrations: Imaginative Power of Urban Space)
As evinced by the word "Illustrations" in its title, this book presents many original pictures to communicate the following message: "No matter how disordered an urban space appears, there is a unique grammar of space in that place. It is simply that such a grammar which exists in the interaction of many people with cities has become difficult to parse. So, if people search urban spaces more carefully, that which should be called the "intention" of the space which is attempting to express through its grammar will appear. The future form of cities will appear by reading and comprehending the imaginative power that is inherent in urban space." Its imaginative power is contained within each building and on each street, which are consistently invested with why they have taken a certain form; in other words, the future form conveys an intention of some kind. Revising one's view of modern day-to-day urban space and scenery as aggregates of such intentions results in the view that imaginative power is inherent in urban space itself. As such, the original contribution of this book lies in its transformation of our view of urban space.

Therefore, to comprehend the imaginative power of urban space in modern Japan, which perspectives can be adopted? This book selects six perspectives and its chapters are organized around reflections on each. The six perspectives are: "building on the earth," which centers on the location of the city; "arranging the streets," which refers to the foundations that control the form of a given city; "reliance on details," which describes the relationship of parts of a city with its whole by focusing on details such as urban architecture; "unifying the whole," which similarly comprehends the relationship of the parts with the whole by focusing on its entirety (the mesh of a net); "moving everything," which addresses the interaction between space and the behavior of people; and "marking time," which understands the interaction of space and time. In addition to the illustrations mentioned above, the words used to express imaginative power are also carefully selected. As evinced by its section titles, its creators have striven to express the dynamism of imaginative power by using sentences such as "Topography can summon a city," "The whole can be included in the individual," and "Taking advantage of stories hidden in the scenery."

Even if it is perceived that an examination of such imaginative power constitutes the starting point of urban design, to what extent do you suppose that this imaginative power will penetrate the practice of previous iterations of richly creative urban design? While this is not addressed in this book, in the Urban Design Lab of the Department of Urban Engineering at The University of Tokyo, an effort is underway to advance the exploration of various city scenes from the point of reading comprehension to that of practice. The concept of imaginative power links reading comprehension with practice.


(Written by NAKAJIMA Naoto, Associate Professor, School of Engineering / 2018)
Try these read-alike books: