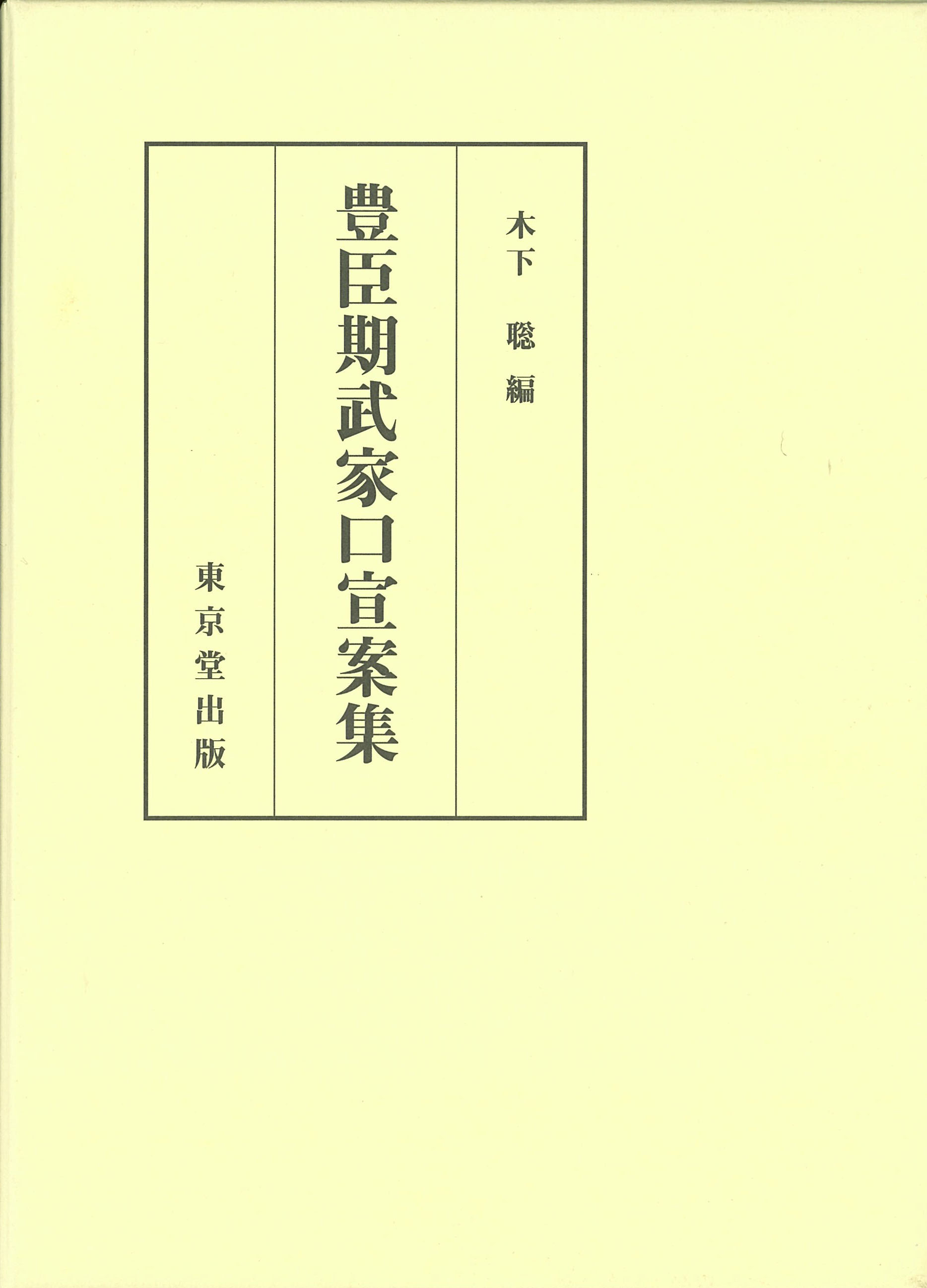 Toyotomiki Buke Kuzenan-shu
(Collection of Writs of Military Appointments during the Toyotomi Régime)
"Writs of appointment" here refers to official documents that were issued by the imperial court from the medieval period onwards when people were appointed to official posts or elevated to a higher rank, and they were also issued when a shrine official became a priest or a Buddhist monk received the title of sōjō or kokushi. This book brings together such writs of appointment that were issued to warriors during the Toyotomi régime established by Hashiba (Toyotomi) Hideyoshi.

The Toyotomi régime functioned as an entity ruling over all of Japan roughly from 1590, when it brought northeastern Japan under its control, to about 1603, when Tokugawa Ieyasu was appointed shogun (literally, "barbarian-subduing generalissimo") and broke away from the Toyotomi family, renouncing his associated political position. However, after Hideyoshi became regent in 1585 major changes were made to the way in which warriors had been appointed under the Muromachi shogunate, and these changes were carried over by the Edo shogunate with minor modifications.

Previously there had existed rankings based on the official ranks of the Muromachi shogunate, but from the Toyotomi régime onwards daimyō came to be ranked in accordance with court ranks and the corresponding positions of officials of the junior fifth rank (lower grade), chamberlain, major general, and middle counsellor and above. But there are few examples of appointments recorded in diaries and so on from around the time of the Toyotomi régime, and because the majority of such records are those kept by court nobles, who had little interest in warriors, they are brief, making it difficult to gain an overall picture.

Accordingly, this book, with a view to assisting future research, contains about 540 writs of appointment covering the period from 1582, when the Honnōji Incident occurred, leading to Hideyoshi's dramatic rise in power, through to the fall of the Toyotomi family in the fifth month of 1615. After the Battle of Sekigahara in 1600 the majority of appointments were made not by the Toyotomi family but by the Tokugawa family, and these too have been included.

There are not very many writs of appointment that have survived in their original form, and the majority of those included in this book are based on collections of draft documents that were kept by officials involved in issuing official documents at the court. But since these drafts had not previously been typeset and made available in printed form, their inclusion in this book will be of great convenience to researchers.

In addition, at the end of the book there is a list, arranged by year, of all those who held a rank of junior fifth rank, lower grade, and above from 1582 to 1600 as can be ascertained from old records, writs of appointment, and official documents. The ranking of daimyō in each period can be seen at a glance, and their position under the Toyotomi régime is shown in a readily comprehensible form.

(Written by KINOSHITA Satoshi, Assistant Professor, Graduate School of Humanities and Sociology / 2018)
Try these read-alike books: