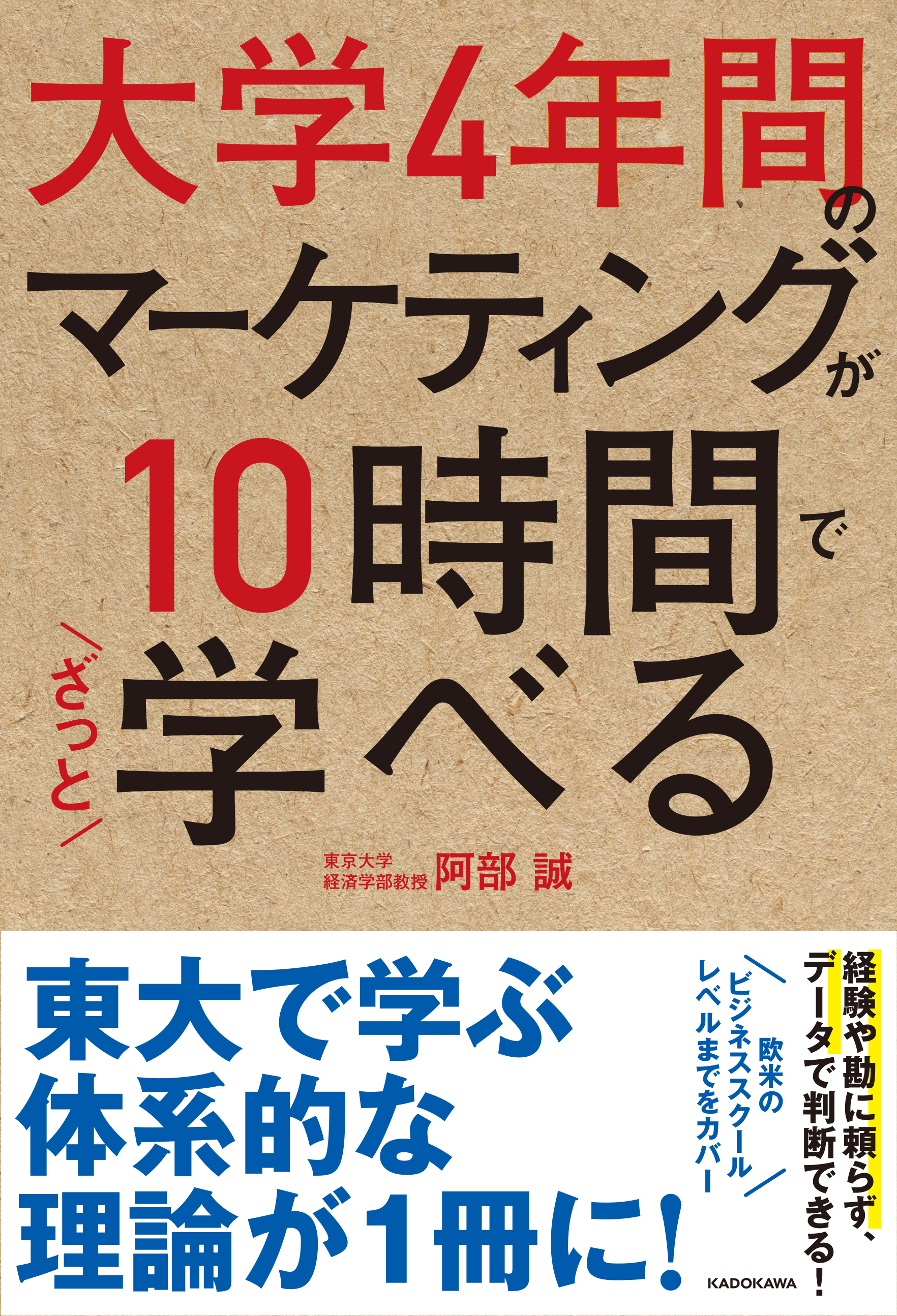 Daigaku Yo-nenkan no Marketing ga 10-jikan de Zatto Manaberu
(Learn Four Years of University-Level Marketing in Just 10 Hours)
Society is overflowing with books proclaiming that there are "rules for success" (e.g., "if you do this, you will definitely be successful"), but unfortunately, such rules cannot guarantee certain outcomes. In the business world, there are innumerable factors that affect results. Even when we think of the widely-known 3 Cs marketing model, there are countless factors, such as those regarding the company, its systems, and the stakeholders (Company); factors concerning the market and the environment (Customer); and factors regarding competition within the same industry and across different industries (Competitors). These factors do not represent the same conditions. Many examples and cases in business describe mere correlations, so we must not jump to conclusions and confuse them with causal relationships.

It is, however, too soon to give up on marketing just because there is no definite promise that you will succeed. By adopting an objective perspective on marketing, it is possible to increase the "odds" of succeeding. Going through the Plan→Do→Check→Act (PDCA) cycle while continuing to learn from customers objectively and systematically is important if you want to increase the odds of continuously creating best-selling products.

For business marketing, both the scientific aspects (objectivity, theory) and artistic aspects (creativity) are necessary. This book offers a compact compilation of the scientific aspects that are taught in university classes—in other words, the principles and rules of marketing.

The advantage of approaching business scientifically and learning that "what cannot be measured cannot be controlled" is that you are able to learn the language necessary for sharing the marketing management process as a system. Thus, it is possible to create a mechanism that allows you to learn systematically from customers; by repeatedly making decisions based on data and logic, you can improve your decision-making accuracy.

If you are busy and overloaded with work every day, there may be times when you are simply not in a position to think logically and systematically. It would make us happy if this book could help you master how to think scientifically during such times. On the other hand, to master the artistic aspects, you must learn as you go (as you gain real business experience). Even if you take in the contents of this book, you will have to actually "get your hands dirty" and gain experience through successes and failures in order to revise, improve, and expand the information you have acquired and apply it to the marketing environment unique to your field. By being conscious of theory and logical thinking, you should be able to increase your trial-and-error efficiency dramatically.

I taught marketing in the business school at the University of Illinois in the United States for six years and for 20 years at the University of Tokyo at both the undergraduate and graduate levels. Much of what I have learned thus far from undergraduate, master's, and doctoral students is reflected in this book. The topics presented throughout the book allow you to learn two years of business school marketing in just 10 hours. Business schools in Europe and America are what we call professional graduate schools, but the areas of study that the students major in during their undergraduate years vary from the arts to the sciences. As a Master's of Business Administration (MBA) program does not require a background in marketing, it does not differ a great deal from the University of Tokyo's four-year undergraduate marketing program in terms of content.

(Written by ABE Makoto, Professor, Graduate School of Economics / 2018)
ABE, Makoto
The author has held positions as a visiting professor, associate professor, and research scholar at Humboldt-Universität zu Berlin (Berlin, Germany), UCLA (Los Angeles, California), Yale University (New Haven, Connecticut), and the University of New South Wales (Sydney, Australia). He has published several papers in academic marketing journals in both English and Japanese, including a collaborative work with a winner of the Nobel Memorial Prize in Economic Sciences. In 2003, in the Journal of Marketing Education, he was chosen as the number one marketing scholar in Asia-Pacific universities. Since 2010, he has served as the chief editor of the Japan Institute's Journal of Marketing Science.

His major works include An Introduction to Marketing Science: Scientifically Managing Responses to the Market (new edition, Yuhikaku Publishing Co., Ltd.), The Science of Marketing―Analyzing POS Data (Asakura Publishing Co., Ltd.), and [Illustrated] Learn Four Years of University-level Marketing in Just 10 Hours (Kadokawa Corporation).

Try these read-alike books: