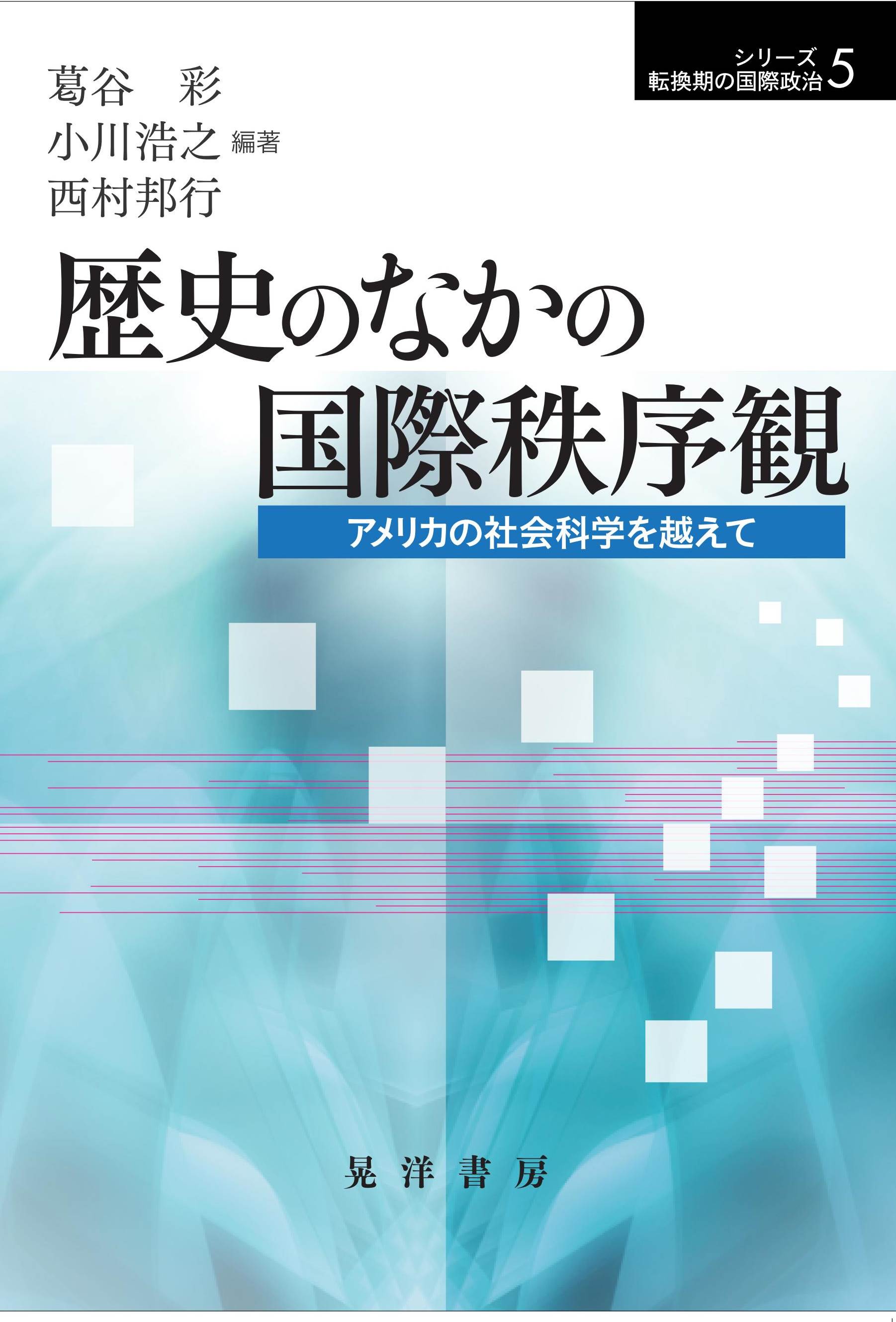 International Politics in a Time of Change 5
Rekishi no naka no Kokusai-Chitsujo-Kan
(Perspectives on International Order in History - Beyond the "American Social Science")
The subtitle of Perspectives on International Order in History is "Beyond the 'American Social Science.'" This subtitle references the title of Stanley Hoffmann's 1977 work, "An American Social Science: International Relations" (Daedalus, Vol. 106, No. 3, 1977, pp. 41–60). Over his long career, Hoffmann studied international relations, military conflicts, American diplomacy, French politics and diplomacy, European integration, and so on. He passed away in September 2015 at the age of 86, following a long battle with illness. Now that three years have elapsed since Hoffmann's passing, we can expect to see an outpouring of research into his manifold accomplishments in the years ahead. Such a development would echo the way in which the works of E. H. Carr, who died in 1982 at the age of 90, has attracted much scholarly interest since around the turn of the century. Carr's accomplishments spanned three fields: international relations, Soviet history, and philosophy of history. Indeed, there were said to be "three Carrs", while some recent studies attempted to synthesize these separate understandings into "one Carr" or "Carr as an entirety" (Yamanaka, H., Beyond Nineteenth-Century Liberal Internationalism: Rethinking the Works of E. H. Carr, Nakanishiya Co., 2017). That said, Perspectives on International Order in History is not intended to be an analysis of Hoffmann's works. Rather, it presents the findings of a joint research project on international relations, the academic discipline that emerged and developed in the U.S.A. The authors of this project closely examined the particularities and problems of this discipline, which Hoffmann raised in his 1977 work, with a view to finding ways to overcome its shortcomings, if only in part.

I will now deviate slightly to provide a brief synopsis of Hoffmann's life and work, as this provides some context behind what we set out to achieve in Perspectives on International Order in History. Stanley Harry Hoffmann was born in Vienna, Austria in 1928 and, while still a baby, he and his family moved to France. Although Hoffmann was baptized as a Protestant at birth, the Nazis classified his mother's side of the family as Jewish. Consequently, much of Hoffmann's youth was spent hiding from the Gestapo in Nazi-collaborating Vichy France, including in Southern France after the Germans occupied it. Having survived the hardships of Nazi rule, Hoffmann studied at Paris' Institut d'Études Politiques (Sciences Po) and graduated at the top of his class in 1948. After studying in doctoral programs in France and the U.S.A., he became an instructor at Harvard in 1955 and then received tenure in 1959. Hoffmann retired in 2013. During his 58 years at Harvard, Hoffmann engaged in a wide range of research and education, which I describe above. From 1969 to 1994, he chaired Harvard's Center for European Studies, which was renamed as the Minda de Gunzburg Center for European Studies in 1986 (the synopsis delineated above is a summary of Hoffmann's obituary in the Harvard Gazette, (https://news.harvard.edu/gazette/story/2015/09/stanley-hoffmann-harvard-professor-and-scholar-86/)).

Hoffmann's work is noted for its wide-ranging perspectives and deep scholarship, underpinned by his keen insights into the politics, foreign policy, history, law, thought, and societies of both Europe and the U.S.A., which befits one whose life spanned the Atlantic. In his 1977 paper, Hoffmann argued that a disregard of history and overemphasis on the contemporary constitute the defining characteristic, as well as a shortcoming, of international relations as an "American social science." According to Hoffmann, the remedy to this shortcoming is "triple distance," meaning that the discipline of international relations must move away 1. "from the contemporary, toward the past," 2. "from the perspective of a superpower … toward that of the weak and the revolutionary," and 3. "from the glide into policy science, back to … traditional political philosophy" (Hoffmann, "An American Social Science," p. 59). This "triple distance" serves as the structure to Perspectives on International Order in History. The first section discusses theories of international relations in Europe; the second discusses perspectives on international order among some of the major American allies during the Cold War; and the third discusses some political philosophies that underlay international relations before it became an "American social science." In this way, Perspectives on International Order in History critically examines international relations as "an American social science" grounded in American intellectual and political hegemony. As a way of augmenting the discipline, it also advocates a more classical (historical) approach with greater emphasis on history and philosophy.

Finally, while not directly related to our book, it is worth mentioning a French-language publication that Hoffmann co-authored in his late 20s. The book, titled Le Mouvement Poujade (Paris: Librairie Armand Colin, 1956), closely examines the Poujadist movement. Poujadism (named after its leader, Pierre Poujade) was a populist right-wing movement of disaffected farmers, artisans, small shopkeepers, and other groups who felt left behind by modernization. In examining this movement, Le Mouvement Poujade provided an example of research that foreshadowed the populism we see around us today. Poujadism itself was short-lived, partly because of infighting, but one can connect the movement to the populist right-wing movements of today. For example, Jean-Marie Le Pen, who would go on to found the Front National (FN) party in 1972, launched his political career on the back of the movement, winning an election to the National Assembly in 1956, at the age of 27. France's populist right-wing movements can be traced back, if only in part, to fascism and colonialism (indeed, Poujade had been active in the fascist French Popular Party headed by Jacques Doriot that strongly supported the Vichy regime and, along with Le Pen, fiercely opposed Algerian independence from France). Moreover, these movements remain heavily steeped in racism and anti-Semitism. Hoffmann retained his deep emotional and personal ties to France, the country where he grew up, where he received his education, and which occupied much of his scholarship, yet he also remained in "a kind of exile" (Stanley Hoffmann with Frédéric Bozo, Gulliver Unbound: America's Imperial Temptation and the War in Iraq, Lanham, MD: Rowman & Littlefield, 2004, p. vii). His research into Poujadism, which he conducted while still young, provides a glimpse into another side of Hoffmann—namely, his willingness to tackle something head-on that hit very close to home at the time and remains no less relevant today.

(Written by Hiroyuki Ogawa, Associate Professor of Graduate School of Arts and Sciences / 2018)
Try these read-alike books: