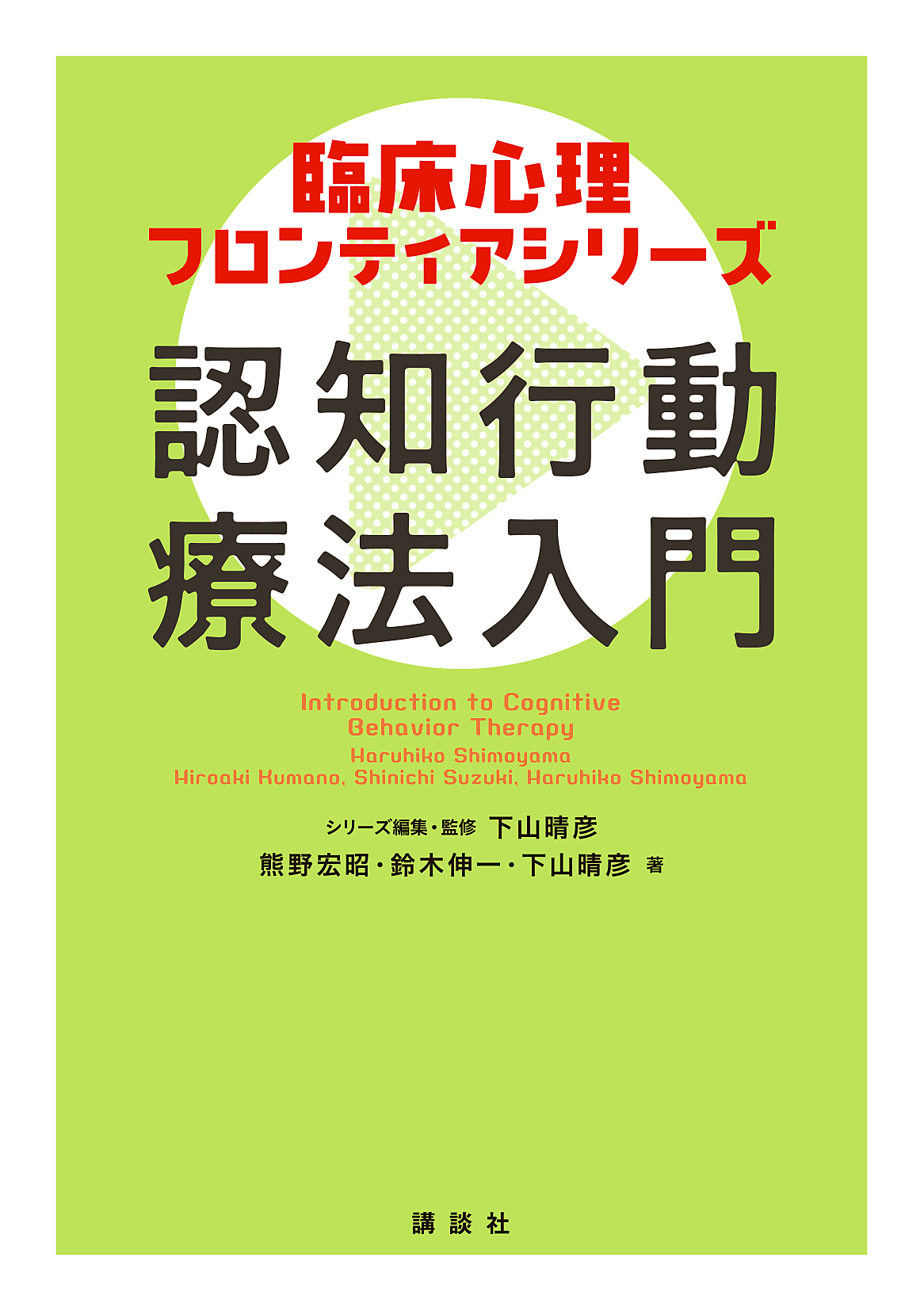 Clinical Psychology Frontier Series
Ninchi-Kodo-Ryoho Nyumon
(Introduction to Cognitive Behavior Therapy)
This book is a must-have for those students aiming to become a certified public psychologist, a profession specialized in helping solve psychological problems (requiring a national license).

Mental health in Japan is facing serious problems. For instance, the number of patients suffering from depression, including bipolar disorder, increased about 3.5-fold during the past 20 years to reach and remain above one million. However, it is estimated that the actual number of depression sufferers is approximately four times that number as the ratio of those consulting medical practitioners is low. Furthermore, in the area of mental health treatment, the problem of overmedication—i.e., doctors overprescribing psychiatric medications—has heightened patients' distrust of psychotropic treatment, for instance, fearing getting addicted to medications. In a bid to address these mental health problems, the Certified Public Psychologists Act (Act No. 68 of 2015) was implemented in 2017. As such, certified public psychologists are counted on as a key leverage for solving mental health problems in Japan.

Thus, the University of Tokyo has established undergraduate- and graduate-level training curricula for students wishing to obtain qualification as a certified public psychologist. Students are required to have learned psychology at undergraduate school to obtain basic knowledge before moving on to learn practical skills and techniques for solving psychological problems. The most important of such psychotherapeutic skills and techniques is cognitive behavior therapy, which is empirically proven to be as effective as psychiatric medication therapy.

This is the best book for learning cognitive behavior therapy. There are two reasons for that: one is its format as a learning medium and the other is its content. First, as a learning medium, it is an e-learning material for combined use with corresponding lecture videos. This book is designed in such a way that it allows students to learn core subjects of the training curricula for prospective certified public psychologists in collaboration with the Clinical Psychology Frontier (https://cpnext.pro/), a series of videos in which experts lecture on their specialized themes. Of course, students can learn cognitive behavior therapy just by reading this book. However, the combined use of those videos and the book will dramatically enhance learners' mastery of cognitive behavior therapy knowledge and skills. Furthermore, the content of the book is structured in such a way as to enable students to learn cognitive behavior therapy from the very basics to its latest trends in a step-by-step and systematic manner. Part I sheds light on the characteristics of cognitive behavior therapy as compared to psychoanalysis and counseling, and presents basic attitudes required in practice. Part II explains basic therapeutic techniques such as the exposure method, operant conditioning, and cognitive restructuring. Part III introduces case formulation, a process in which a policy on therapeutic interventions is developed. Lastly, Part IV explains next-generation cognitive behavior therapy as the latest trends.

Cognitive behavior therapy is also a self-help technique that can be utilized by those suffering from mental health problems to better understand and cure themselves. Therefore, we invite not only those students wishing to become a certified public psychologist but also many of those wanting to improve their mental health to utilize this book.

(Written by SHIMOYAMA Haruhiko, Professor, Graduate School of Education / 2018)
Try these read-alike books: