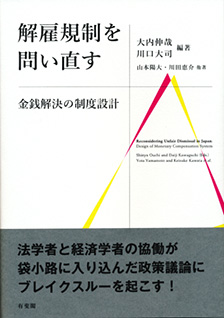 Kaiko-Kisei wo Toinaosu
(Re-examining Japan's Dismissal Legistration)
388 pages, A5 format, softcover
With demographic aging and a decline in the working-age population, the number of female, elderly, and foreign workers in Japan has risen, as employment patterns become more diversified. The traditional practice of recruiting new graduates fresh out of school and then employing them for life, is gradually changing. It is important to facilitate career mobility to ensure equal treatment of a diverse workforce and allocate human resources such that the right worker is placed in the right job. The belief that increased career mobility will foster economic growth is gaining ground in Japan. However, there are others who strongly believe that job security and a stable livelihood form the basis of healthy economic growth. Should the Japanese society aim for career mobility? Or should it seek even more job security? Any discussion of these two questions almost always leads to Japan's dismissal legislation.

The proponents of career mobility claim that Japan's dismissal legislation is too restrictive and hinders optimal human resource allocation and economic growth. On the contrary, the defenders of job security profess that the legislation is by no means restrictive, and a fair regulation forms the basis of economic growth by creating job security and good labor relations. It is worth noting that in this dispute over the restrictiveness of Japan's dismissal laws, the supporters of both camps use international standards for comparison. What needs to be seen is which side has a more accurate perception.

In this study, specialists from various national legal systems introduce the dismissal legislation of developed countries and examine the OECD indicators often used in international comparisons of dismissal regulations. The results of their analysis show that Japan's dismissal regulations do not seem restrictive because compensation for dismissals is not legally stipulated; hence, the amount of compensation is a gray area. In other words, Japan's dismissal legislation is distinctive due to the uncertainty in the compensation amount, and this is one factor behind the managerial class's perception that Japan's dismissal regulations are restrictive. This study applies economic theories to elucidate the characteristics of financial compensation that should be paid upon dismissal and, based on Japanese wage data, calculates compensation amounts in line with those characteristics.

Our analysis clearly shows that comprehensive rules establishing compensation standards for workers upon dismissal are desirable. Further, after the calculation of the compensation amounts, we discovered that the financial burden on companies would be considerable. The objective of this study is not to call for a dilution of dismissal regulations, but rather, a greater transparency.

(Written by Daiji Kawaguchi, Professor of Graduate School of Public Policy / 2019)
Try these read-alike books: