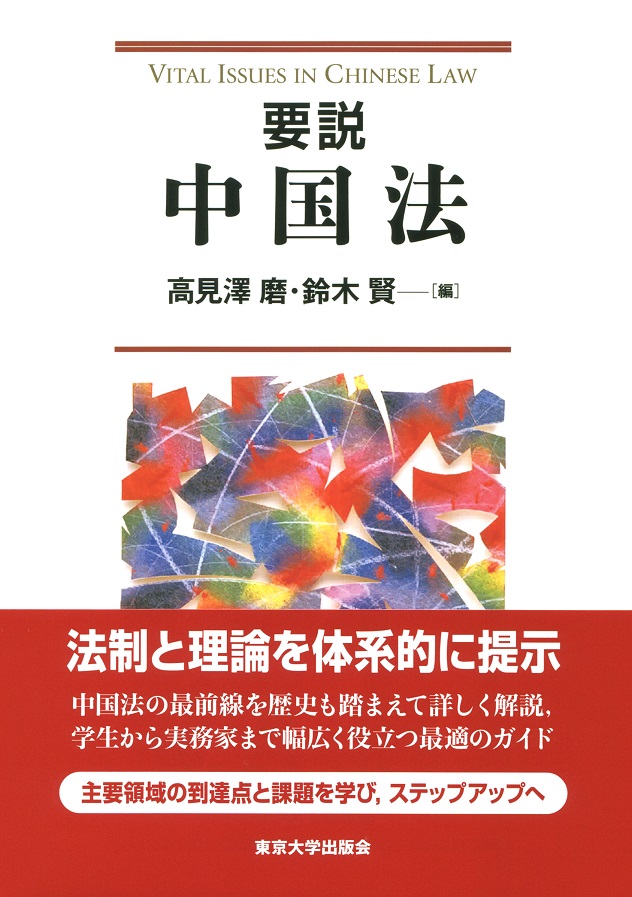 Chugokuho
(Vital Issues in Chinese Law)
University of Tokyo Press
This book is an intermediate-level textbook for studying the laws of the People's Republic of China, intended for use in the classroom or for self-study. As such, I believe that this text will likely have few counterparts. "While intended as a guidebook providing a systematic knowledge of current issues for researchers of positive law interested in Chinese law as well as graduate students and practitioners who have already studied the foundations of jurisprudence and modern Chinese law (including the Chinese language), the text presents the achievements and challenges associated with legislation, legal affairs, and jurisprudence in China" (translated from the Preface to the Japanese edition, page i).

Texts intended for use in law schools include Gendai Chūgoku-hō kōgi 3-pan [Lectures in Contemporary Chinese Law, 3rd edition] edited by Nishimura Kōjirō (Hōritsu Bunkasha, 2008), Gendai Chūgoku-hō 2-han [Contemporary Chinese Law, 2nd edition] edited by Koguchi Hikota and Tanaka Nobuyuki (Seibundō, 2012), and Gendai Chūgoku-hō nyūmon 7-han [Introduction to Chinese Law, 7th edition] edited by Takamizawa Osamu, Suzuki Ken, and Udagawa Yukinori (Yūhikaku, 2016). The assumed readership of the present text consists of those who, having completed their reading of these texts and having learned the fundamentals of the Chinese language, as well as Japanese law, have completed the introductory stage of learning about Chinese law. For advanced readers who are pursuing their studies or research, a reference manual may be found in the "Study Guide" included in the text. This text is an intermediate guidebook, linking introductory and advanced levels of study. As the organizing editor, I would be delighted if readers would feel reading this text as something similar to the stage of aiming to excel in sports, foreign-language study, or a similar context.

The authors of each chapter, while presenting the goals and challenges associated with legislation, legal affairs, and jurisprudence in their respective subfields of Chinese law, have also aimed to present achievements and challenges for the study of Chinese law in the Japanese context. Although published in September 2017, and therefore reliant on information current as of the first half of that year, the book showcases the prospect of Constitutional amendments in March 2018 as well as of further new legislation and legal revisions that will continue in the future. Regarding China now being the world's second-largest economy in scale, following the full introduction of market mechanisms in the 1990s, we will examine Chinese law, primarily concerning civil and commercial law, allowing us to find dialogue with these subjects that students will have learned in the classroom. Meanwhile, how the Communist Party rules and makes national decisions can also be seen within each legal arena. I would like this book to be used by readers who are honestly puzzled by the seemingly endless disparate images presented by China as a tool for discovering their individual perspectives.

The inception for the publication of this work was to commemorate the life and work of Asai Atsushi (1931–2012), an active scholar of Chinese law since the 1950s. Asai joined the faculty of Aichi University after serving as a research assistant at the Institute of Social Science at the University of Tokyo (1958–1962). During this period, he served in a longstanding role teaching Comparative Law B (Chinese Law) as a part-time lecturer in the Faculty of Law at the University of Tokyo. While authors on the faculty of the University of Tokyo at the time of publication include only two people, Xu Xing and Takamizawa (who also served as an editor), this book also constitutes a part of the academic achievements of the University of Tokyo.

Rather than plan the text as a memorial festschrift, I decided to try to make it more meaningful as a textbook, as a systematic text organized under a deliberate policy (which is not to deny the text's significance qua memorial festschrift)


(Written by Osamu Takamizawa, Professor of Institute for Advanced Studies on Asia / 2018)
Try these read-alike books: