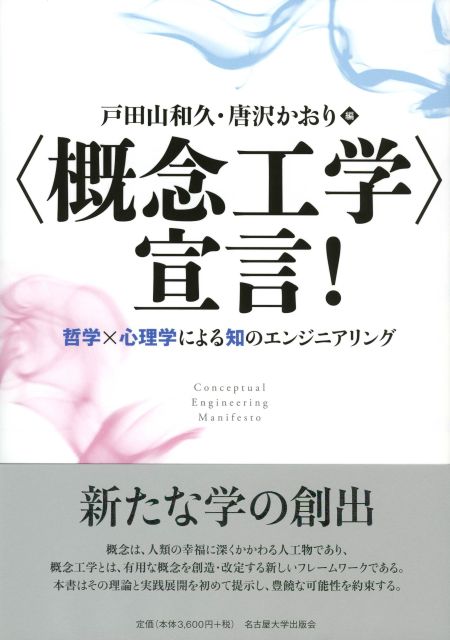 'Gainen-Kogaku'Sengen!
(Conceptual Engineering Manifesto - Engineering of knowledge through philosophy combined with psychology)
292 pages, A5 format, hardcover
The University of Nagoya Press
Philosophy and social psychology share some of the same research targets. They both seek to explore fundamental concepts for human beings, such as free will, the self, agency, responsibility, and causality, while simultaneously questioning these concepts and how people understand them. In the shared area, a discipline called "experimental philosophy" has also emerged.

Given these considerations, this book seeks to explore a novel form produced by the collaboration between philosophy and social psychology. To accomplish this, it is first necessary to have a clearer understanding of the commonalities and differences in research purposes, research methods, and basic assumptions between philosophy and social psychology. This is to recapture in clearer terms how both disciplines approach specific topics such as free will and the self, and how each requires support from the other.

In view of these efforts, we must use the collaboration between these two fields to build an ideal picture regarding what must be accomplished, and how. In this book, we use the term "conceptual engineering" to designate this collaboration.

Conceptual engineering is a research area that aims to design or revise (i.e., engineer) concepts that are essential for our lives and for the survival of human beings, in order to contribute to the betterment of society and personal livelihood. The basic idea of this book is that this notion of conceptual engineering lays the foundation for a fruitful collaboration between philosophy and social psychology. In order to connect this notion to the development of a novel research area, discussions proceed in the following order.

In Part I, Principle, the theoretical development of conceptual engineering will be delineated by two editors, one from a philosophical point of view and the other from a socio-psychological point of view.

In Part II, Practice, readers will be presented with how, as a matter of fact, conceptual engineering techniques can be applied to the concepts of the mind, free will, and the self. More specifically, in each chapter, a philosopher and a social psychologist will pair up. First, the social psychologist will provide an overview of psychological findings surrounding the concept in question. He/she will then go on to discuss how the concerned concept can be subjectively represented, as well as how the methods of manipulation and the measurement of the concept can affect the psychological process, judgment, and action of an agent, along with the implications that this may have on society. Given these findings, the philosopher will discuss research developments in the related area of philosophy, precautions for connecting psychological findings to conceptual engineering, necessary conditions and points for the realization of conceptual engineering, as well as what is demanded of philosophers.

Part III, Future Prospects, will be based on the discussions held in Practice, and two editors will once again discuss how social psychology and philosophy can contribute to conceptual engineering, as well as to future challenges.

The aim of this book is to share the notion of conceptual engineering and its challenges with readers through these discussions and to lay a foundation for the development of a novel interdisciplinary discipline.

(Written by KARASAWA Kaori, Professor, Graduate School of Humanities and Sociology / 2019)
Try these read-alike books: