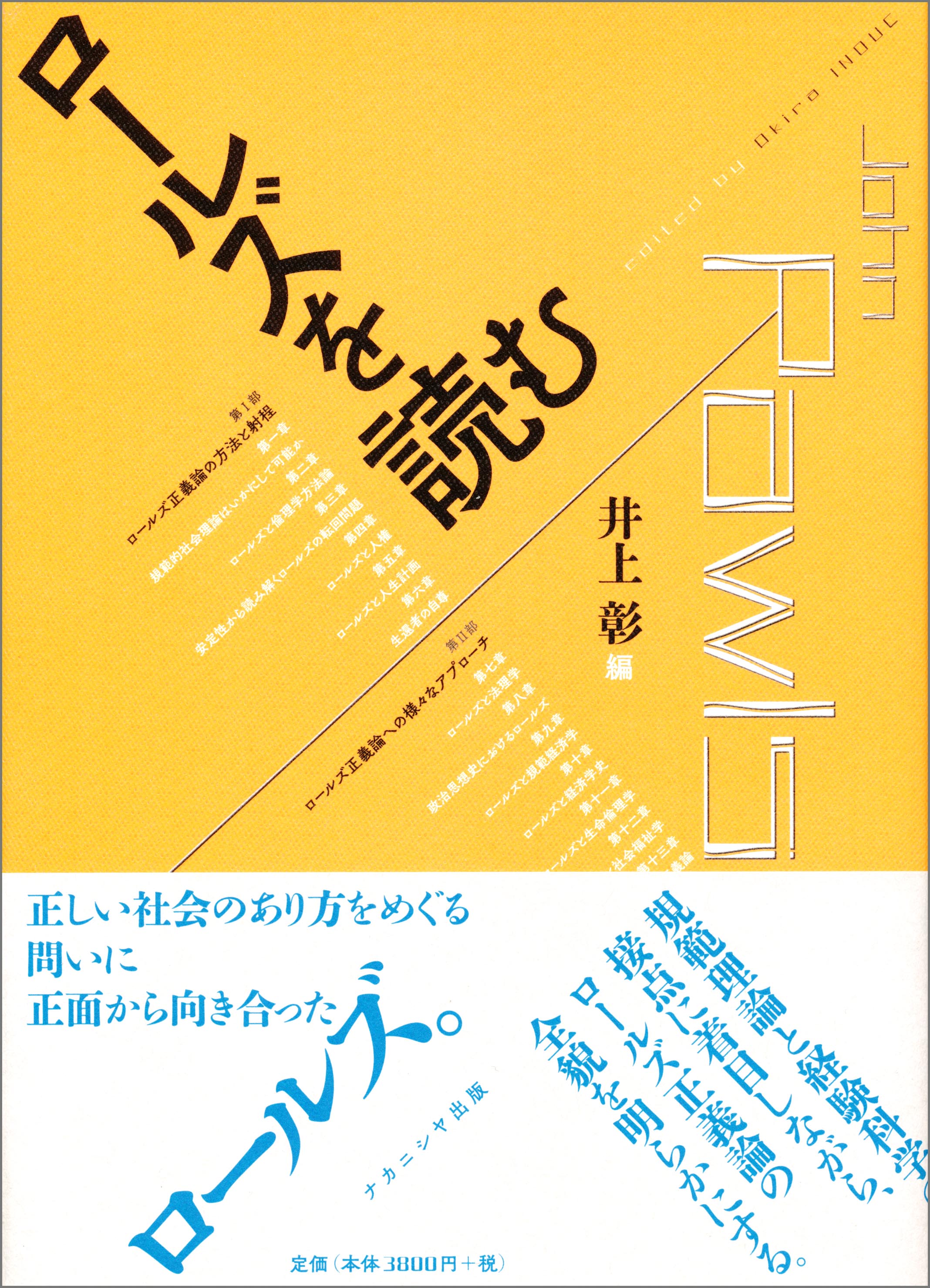 Rawls o yomu
(Reading Rawls)
Rawls's major work, A Theory of Justice, was published in 1971. Since then, it and his subsequent works have continued to be influential in a variety of humanities and social sciences fields. Debates over Rawls's theory remain lively and transcend the boundaries between academic spheres.

This work, Rawls o yomu (Reading Rawls), is a jointly authored project that explores why his theory of justice continues to have an influence on various fields as well as why debates over it have unfolded. The work comprises essays about methodology as well as specific issues such as human rights and social corporate responsibility, jurisprudence, the history of economic thought, and applied ethics, that focus on the significance and limitations of Rawls's theory of justice. Each of these chapters is written by leading scholars in their fields.

This book emphasizes the strong relationship between Rawls's theory of justice and empirical social sciences. Part III of A Theory of Justice is a distinct attempt, by drawing on economics and (moral) psychology, to demonstrate how the conception of justice developed in Part I can be stable in human society. Our book includes essays that delve into this attempt: Masaya Miyamoto's third chapter on Rawls's "political turn," Yoshiki Wakamatsu's chapter on Rawls and life plans, and Koizumi Yoshiyuki's sixth chapter on the self-respect of survivors.

In particular, Miyamoto's essay persuasively denies incorrect and one-sided views that are influential in Japan, such as the views that Rawls's turn from A Theory of Justice to Political Liberalism was prompted by the communitarian critique of the liberal conception of person and that Rawls's "political turn" is evidence that later Rawls renounced the practice of philosophical justification. It is for this reason that I hope that Miyamoto's essay is widely read. I recommend reading it along with Junichi Saito's eighth chapter on the place of Rawls's later theory in the history of political thought.

In addition, this book includes many essays focusing on the applications of Rawls's theory of justice. For example, Susumu Cato's ninth chapter spells out the contribution of Rawls's A Theory of Justice in the field of normative economics. Those in economics and other fields should be more aware of the difference between the axiomatic features of Rawls's theory of justice clarified by Cato and the economics textbooks' treatment of Rawls's theory (regarding, for example, the maximin principle).

Chapter 11, by Yoshio Nukaga, explicates the influence of Rawls's methodology on bioethics. Chapter 12, by Yohei Kadosaki, shows that while Rawls's theory of justice has particularly been criticized in the field of social welfare, it is indeed a normative theory that can positively contribute to this field. Finally, my thirteenth chapter assesses Rawls's theory of justice as a fundamental idea that lays the foundation for corporate social responsibility.

I encourage both those who approve of and are critical of Rawls's theory of justice to read this book.


(Written by INOUE Akira, Associate Professor, Graduate School of Arts and Sciences / 2019)
Try these read-alike books: