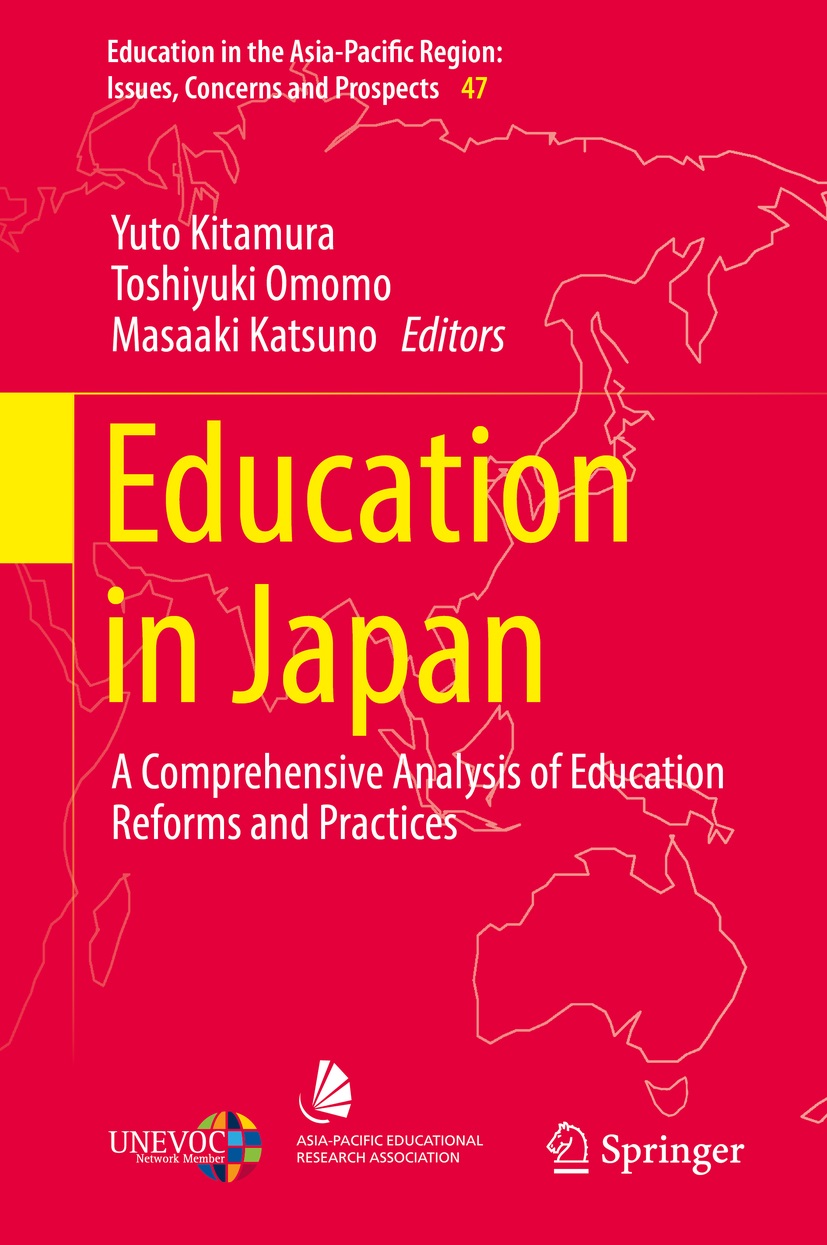 Education in the Asia-Pacific Region: Issues, Concerns and Prospects
Education in Japan
a comprehensive analysis of education reforms and practices
Continual interest has been shown in Japan's education for many years, especially since the era of rapid economic growth, by overseas education experts and practitioners. In the 1980s, the high level of academic performance of Japanese children drew international attention, while coming into the 1990s the various problems including bullying, school refusal/non-attendance and educational disparities also came to light, resulting in heightening interest in the Japanese-style education model. Nevertheless, it cannot necessarily be said that there has been sufficient international transmission of information about the current state of Japan's education. This book has been compiled on the basis of this awareness of the issues.

The book is an attempt by faculty members of Graduate School of Education, the University of Tokyo to describe Japan's education today from multitiered points of view. Consisting of two parts, the chapters in the first part of the book aim to give, as far as possible, a bird's-eye view introduction to Japan's education. In order to achieve this, while based on historical transformations, the book discusses the characteristics of each stage of Japanese education (primary, secondary and higher education as well as lifelong learning) and the kinds of issues faced by each of these. In order to deepen understanding of Japan's education, the second part of the book consists of chapters on individual themes. Thus, part two discusses diverse themes such as teacher narratives, lesson study, English education, university reform, disparity issues among the youth, the education of children with overseas roots, and Education for Sustainable Development (ESD). The chapters in the book are written, as far as possible, based on the latest research achievements and aim to present overseas readers with a glimpse of education research in Japan.

Thus far, academic books on Japan's education have been mainly written by educational sociologists or by overseas researchers of Japan, thereby showing a limited scope in fields and themes, and it is therefore hard to say that diverse aspects of Japan's education have been fully described. In this book, therefore, in addition to the viewpoints of comparative education and educational sociology, specialists in a wide range of disciplinary fields such as educational history, educational philosophy, educational methodology, and language education have struggled boldly with themes that have only very rarely been seen in English, aiming to communicate to readers the abundant knowledge of education research in Japan. (Nevertheless, it is in the first place, impossible to cover the wide territory of pedagogy in one volume, and as one of the editors I frankly admit that it is unfortunate that we could not add chapters on fields such as, in particular, educational psychology and physical and health education.)

It is primarily intended that this book, edited with the abovementioned purpose in mind, become a basic reference for overseas researchers and educational experts and practitioners who have an interest in Japan's education. We also aimed to have this book assist in deepening the understanding of Japan's education research and heartily recommend that overseas students considering studying education in Japan read the book before traveling to this country. Furthermore, for Japanese students and researchers, the book also provides hints on understanding how it is possible to frame problems and develop arguments when having an awareness of writing about Japan's education research in English for overseas readers. We believe this could also be a spark for reassessing Japan's education research.

With this book as a small step forward, while collaborating with large numbers of both university and non-university education researchers, I look forward in the future to engaging in further international communication regarding the knowledge inherent in Japan's education research.

This article is a greatly expanded and revised version of "Book Introduction" (p. 210) published in Comparative Education No.60 (2020).

(Written by KITAMURA Yuto, Associate Professor, Graduate School of Education / 2020)
1. Background and context of education system in Japan (Yuto Kitamura)

Part 1 The education system in Japan

2. Primary and Secondary Education (Toshiyuki Omomo)
3. Higher education in Japan: Its uniqueness and historical development (Hideto Fukudome)
4. Restructuring of social education and lifelong learning, and community governance (Jeongyun Lee)
5. National and local educational administration (Yusuke Murakami)

Part 2 Educational issues in Japan

6. The relationship between teachers' working conditions and teacher quality (Masaaki Katsuno)
7. Lesson study (Yasuhiko Fujie)
8. Teacher narrative description (Sachiko Asai)
9. A history of schools and local communities in modern Japan (Yoshihiro Kokuni)
10. Background of "Individualised Meritocracy" among Japanese youth: Social circulation model of post-war Japan and its collapse (Yuki Honda)
11. Discussing the "Multicultural" in Japanese society (Ryoko Tsuneyoshi)
12. Higher education reform: Focusing on national university reform (Akiko Morozumi)
13. English language teaching and learning in Japan: History and prospect (Yoshifumi Saito)
14. Safety education from the perspective of Education for Sustainable Development (ESD) (Yuto Kitamura)
Postscript: Toward education that truly enhances people's wellbeing (Yuto Kitamura)


Try these read-alike books: