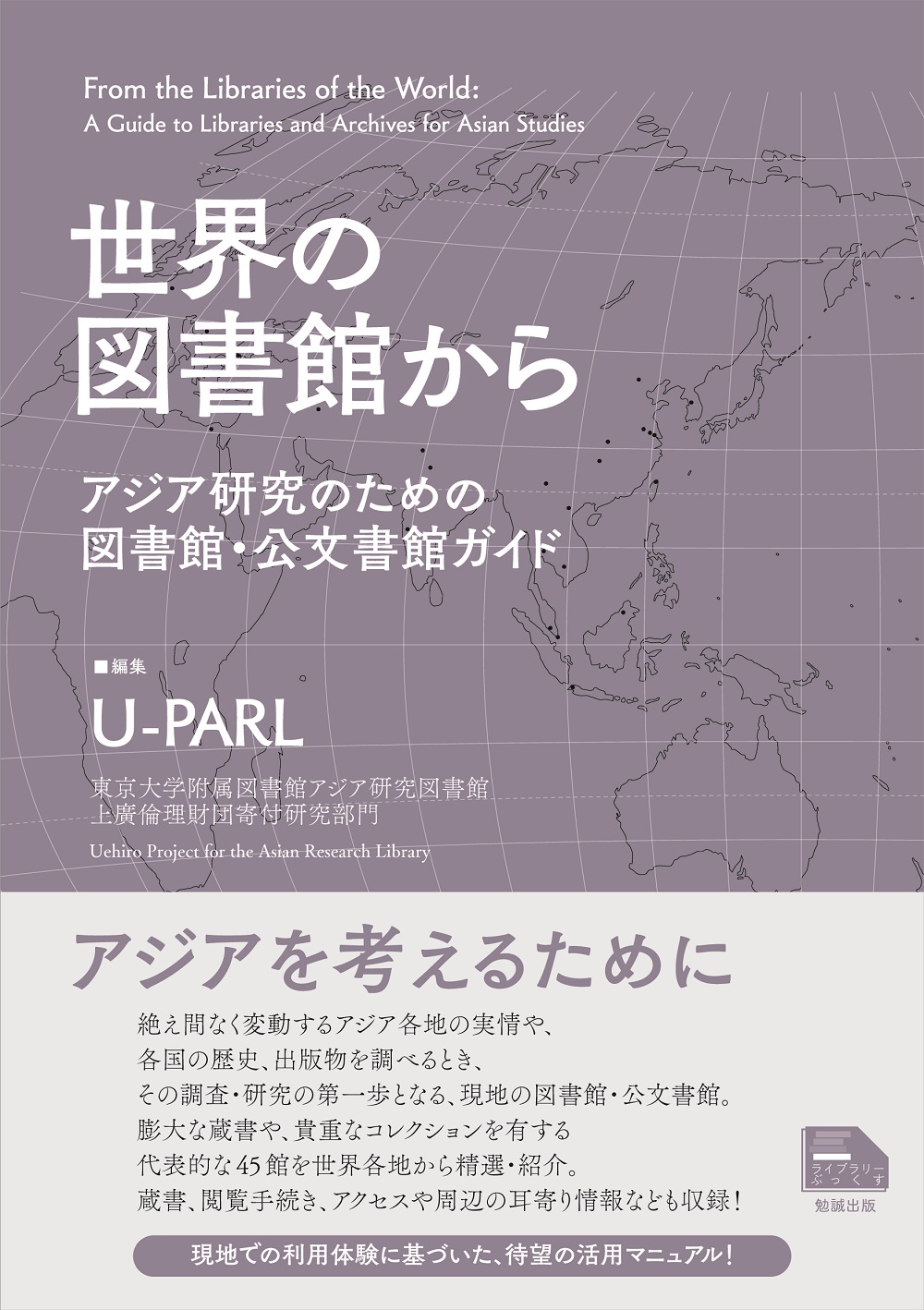 Sekai no Toshokan kara
(From Libraries around the World – Guide to Libraries and Archives for Asian Studies)
232 pages, A5 format, softcover
Benseisha Publishing Inc.
For researchers in area studies, going to a foreign region and conducting research there by interacting with people and searching for materials with their own hands, feet, eyes, and ears is the basic process of research and is also a fun task that allows them to come into direct contact with the unknown world. In fields that deal with documentary records such as history and classical literature, researchers have many opportunities to visit the libraries and archives located in the region of their studies, which often allows them to examine manuscripts and documents and request copies of them.

However, it is not always possible to carry out such studies by solely going to the target region of study. Many libraries and archives do not provide detailed usage guides for foreigners. It is also not uncommon for researchers to find themselves unable to study the way they want due to renovation work that prevents them from using such facilities or usage conditions that have changed in these facilities.

There is always a demand for information on the usage of libraries and archives for research, which is not covered in travel guidebooks. In the past, the Research and Information Center for Asian Studies affiliated with the University of Tokyo's Institute for Advanced Studies on Asia, the library for the Institute of Developing Economies - Japan External Trade Organization (IDE-JETRO), the Documentation Center for Islamic Area Studies of the Toyo Bunko Research Department, and other similar institutions have provided information on the usage of overseas libraries and archives on their respective websites. To meet the demand, the Uehiro Project for the Asian Research Library (U-PARL), which is the editor of this book, has been publishing column articles entitled "From Libraries around the World" on its website (http://u-parl.lib.u-tokyo.ac.jp/) since 2014.

This book comprises articles published up to 2019, which were updated as much as possible, along with four newly written articles. The areas and subjects covered by this book are East Asia, Southeast Asia, South Asia, West Asia, and East European countries closely related to the Ottoman Empire, as well as European institutions and electronic libraries that store a large quantity of Asian materials (please refer to the table of contents for details). Although there may seem to be a bias in the areas addressed in this book, comparisons with the guides produced by the aforementioned institutions will show that the book actually covers a considerably vast range of areas.

The characteristic feature of this book is that, since many of the articles included are originally written as columns, it not only cites the location and usage conditions of libraries but also incorporates the authors' subjective evaluations and impressions, alongside warnings and know-how derived from actual experiences. Articles such as those found in data-centered directories lose their value once the information becomes outdated. However, this book is different as it mainly focuses on the writing style and is aimed at being read as a travel journal. Many of the authors are young researchers, and the know-how they have learned from the difficulties and trials and errors they have experienced will serve as a good guide for students when visiting a region for research. In addition, descriptions of the restaurants near libraries are also very useful information for researchers who study materials from morning to night.

The University of Tokyo's Asian Research Library, which was opened in October 2020 after receiving intellectual support from U-PARL since 2014, strives to be a place where people and books can come together to generate new knowledge, regardless of the region or subject of specialization. With this book in hand, we hope that young researchers will travel to regions abroad to conduct their studies, and will bring back new information from libraries around the world to update the articles.


(Written by TOKUHARA Yasuhiro, Project Assistant Professor, Uehiro Project for the Asian Research Library / 2021)
Try these read-alike books: