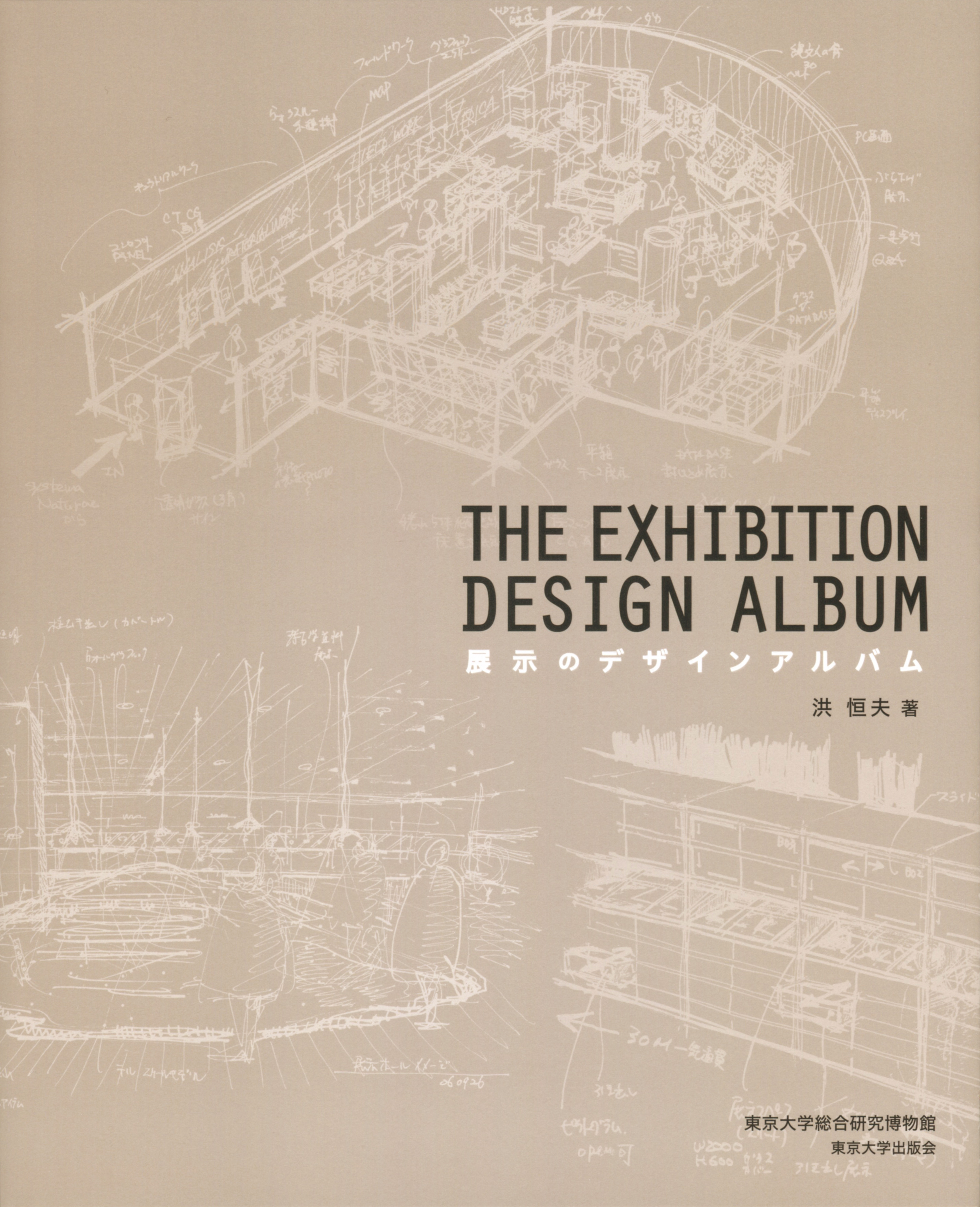 Tenji no Design Album
(The Exhibition Design Album)
University of Tokyo Press
The university museum of the University of Tokyo has been actively transmitting outcomes of daily academic research efforts in the form of "display" in the museum. Among a great variety of information communication media, "exhibition" is a unique channel by which information can be communicated by combining items that trigger various sensations, including vision, hearing, and touch, and thus is expected to have a great communicative effect with a little ingenuity.

The main motif of this book is exhibitions, including special exhibitions hitherto held and organized in this museum by an author who, as a member of the university museum, specializes in planning and designing exhibitions. The author presents the objectives and points in the planning and design of each exhibition from the perspective of a designer as well as a creator.

In developing an open exhibition, we collaborate with those academic researchers who are responsible for planning the details of the exhibition, so as to determine its objectives and appealing points. We then begin to plan a theme, after which we discuss whether the research contents and its outcomes will attract visitors' interest and whether it will bring them enjoyment and promote understanding. In this way, we are able to create an exhibition with a well-crafted design as a method or means of communicating these contents most effectively.

Using numerous visual items, including conceptual charts and design sketches drawn in actual communication contexts, as well as several pictures of the actual exhibition spaces that realize them, the book presents the process of creating an exhibition that readers rarely see under normal circumstances, as well as unusual points emphasized by the creators.

As an open facility for external visitors, the university museum serves as an interface between academia and society. This means it bears some responsibility as an interpreter of science and technology. Given this, the book's presentation of exhibition sites in the university museum is a presentation of actual cases of science communications, and the presentation of the process of embodying these ideas is a presentation of "design" sites, as the book title suggests. Moreover, as a practice of curating activity in the museum, it is useful to represent a design backed up by academic research as an exhibition, i.e., as one form of communication.

There are various ways to disseminate academia-related information to society and this book is a unique how-to book, which places a particular focus on the function of "exhibiting," the primary function of a museum. It highlights the background of stage-making by delineating the process by which the exhibition space is created and made publicly available as well as the concept behind it, which aims at eliciting the benefits of the exhibiting function.

(Written by KO Tsuneo, Project Professor, The University Museum / 2019)
PROLOGUE
Mounds and Goddesses
The earliest Farmers in Upper mesopotamia

Space-time design

PALEONTOLOGY OF THE UNIVERSITY OT TOKYO

MEMORY of STONES
HIROSHIMA-NAGASAKI

Siebold in 21st Century

Bones of Africa, Bones of the Jomon

Archæometria

EEL EXPO TOKYO

School Mobile Museum

Togakushi Museum of Natural History

UMUT OPEN LAB

Ultimate Insect Specimens
Treasured Entomology Collection of The University of Tokyo spanning the Edo to Heisei eras

Systema Naturae

EPILOGUE




Page sample 1
http://www.utp.or.jp/files/topics/61138-1.jpg
Page sample 2
http://www.utp.or.jp/files/topics/61138-2.jpg
Page sample 3
http://www.utp.or.jp/files/topics/61138-3.jpg
The exhibition introduced in the book:
Mounds and Goddesses
The earliest Farmers in Upper mesopotamia
Space-time design
PALEONTOLOGY OF THE UNIVERSITY OT TOKYO
MEMORY of STONES
HIROSHIMA-NAGASAKI
Siebold in 21st Century
Bones of Africa, Bones of the Jomon
Archæometria
EEL EXPO TOKYO
School Mobile Museum
Togakushi Museum of Natural History
UMUT OPEN LAB
Ultimate Insect Specimens
Treasured Entomology Collection of The University of Tokyo spanning the Edo to Heisei eras
Systema Naturae
Try these read-alike books: