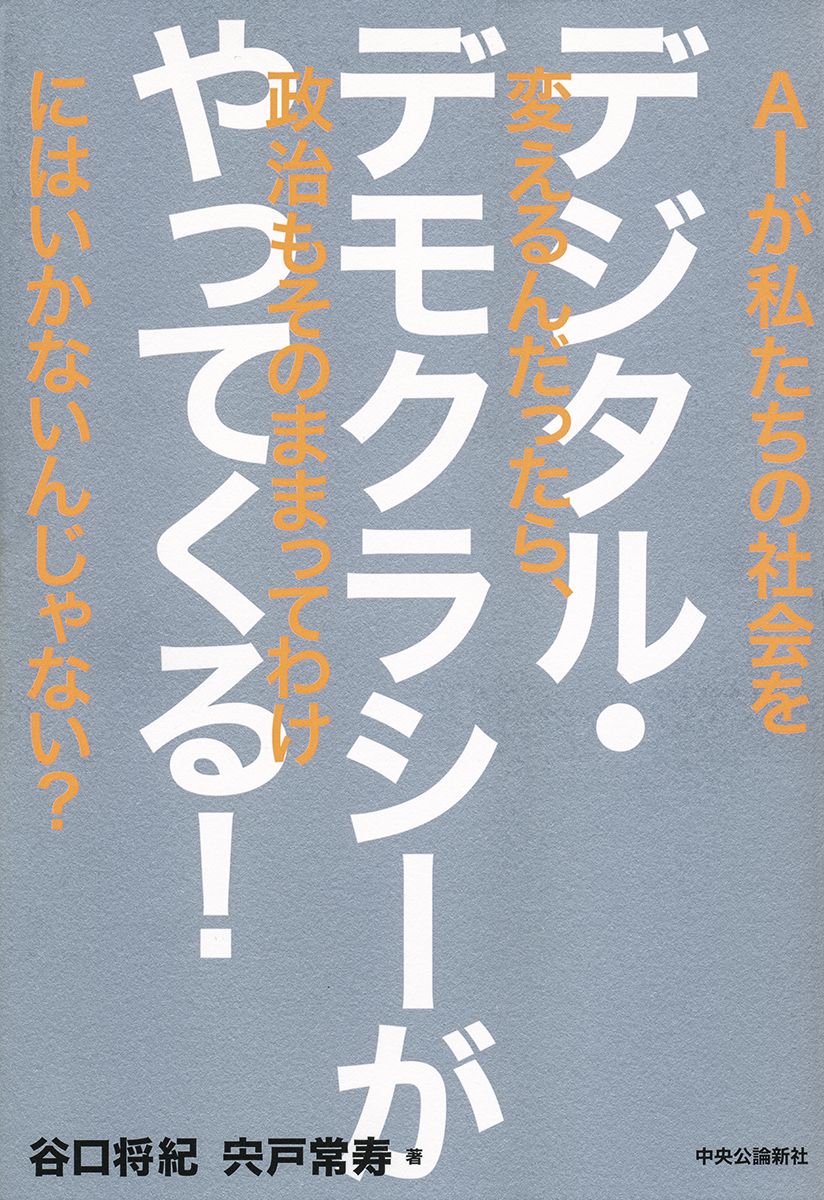 Digital Democracy ga yattekuru!
(Digital democracy is coming! - If AI will change our society, it will not leave politics unaffected, will it?)
How does the fourth industrial revolution change democratic politics? This book explores this theme based on three major aspects.

The first aspect is the change in the distribution of political information. In the past, mass media has been the gatekeeper of information when political parties or politicians transmit it to the public. However, the development of the Internet enabled political information to be transmitted or acquired without the mediation of the mass media, allowing political information to which people have access to be customized. Part I of this book focuses on these changes in political communication.

The second aspect is the new consensus-building mechanism in democratic politics facilitated by the fourth industrial revolution. Is it possible, using new technology, to implement deliberative democracy, a form of democracy that tries to analyze information from various perspectives and reflect public opinion obtained through debates among conflicting opinions instead of scooping up transient emotional responses through the public survey? Part II discusses democratic politics from both theoretical and practical perspectives.

The third aspect is the attempt to reform political institutions using various technologies that make up the fourth industrial revolution. For example, the Ministry of Internal Affairs and Communications has organized a study group to discuss the feasibility of introducing a mechanism that allows electronic voting via the Internet from home without having to go to the polling place, first for overseas voters. Similarly, the Diet has proposed the idea to digitalize some of the materials distributed to Diet members and the idea to permit electronic voting for those who cannot attend meetings due to maternity or other leave.

In contrast to my other book, Gendai Nihon no Daihyosei Minshu Seiji: Yukensha to Seijika [Representative Democracy in Contemporary Japan: Voters and Politicians], published at about the same time, this book aims to introduce a serious topic in plain language. The avatars of myself and Joji Shishido, the co-author of this book, appear as "Taniguchi-san" and "Shishido-san" respectively as representing the readers who discuss in casual terms with an expert on the topic of each chapter, and an informal title and binding were used. The outbreak of the novel coronavirus disease (COVID-19) around the time of its publication in March 2020 unexpectedly increased the relevance of this book to issues surrounding the nature of information distribution concerning infectious diseases, the effectiveness of the communication strategy used by the state government for various measures, elections under the state of emergency and the stay-at-home request, and the feasibility of holding an online congress to avoid congestion. The book drew much attention and was reviewed by Yomiuri, Asahi, and Nihon Keizai newspapers. I look forward to examining what will happen to the problems dealt with in this book in the future, in the hope that the situation will change from the time of its publication.


(Written by TANIGUCHI Masaki, Professor, Graduate Schools for Law and Politics / 2020)
Try these read-alike books: