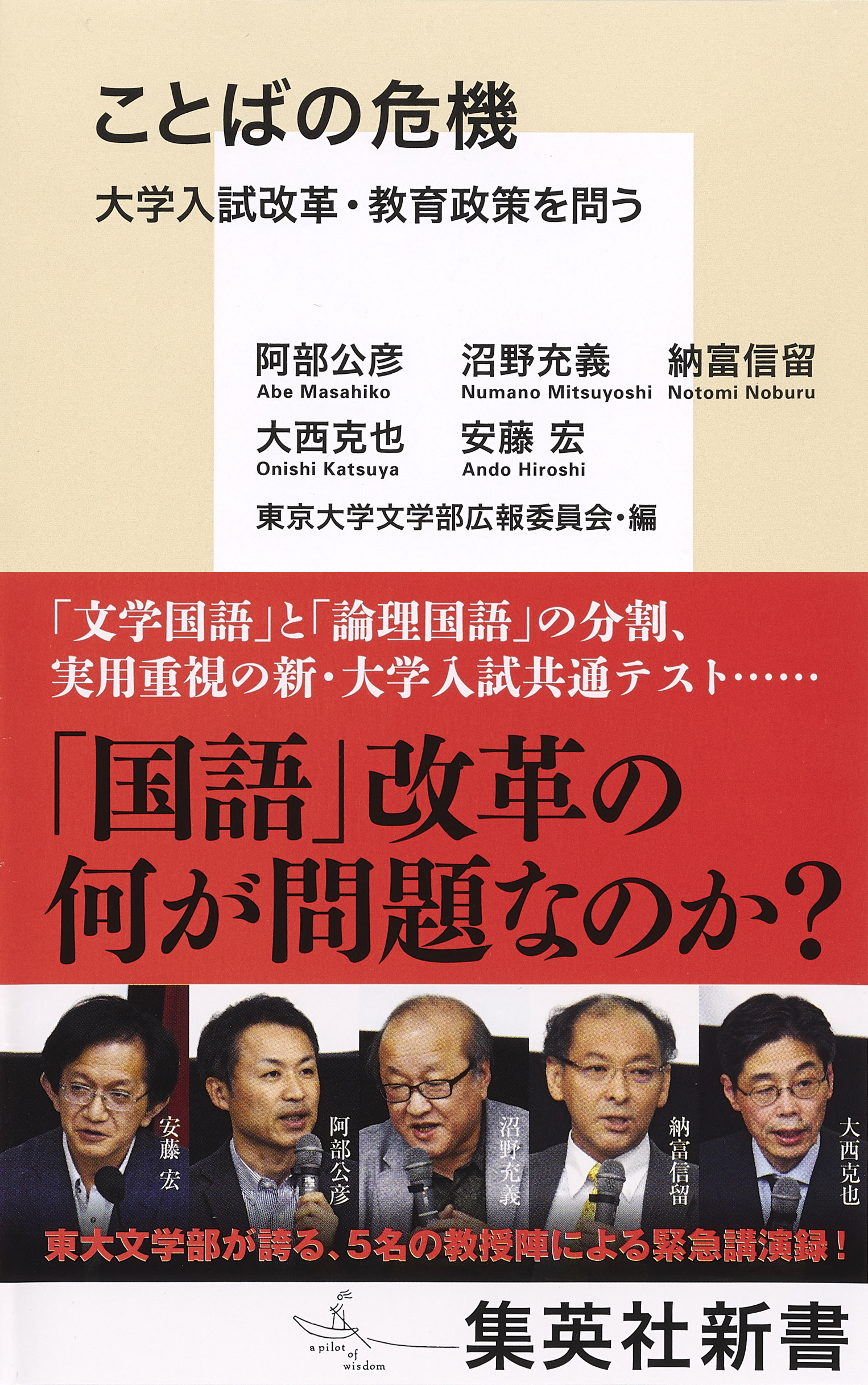 Shūeisha Shinsho 1024 series
Kotoba no kiki
(The Language Crisis - A Re-examination of University Entrance Exam Reform and Educational Administration)
This book is an edited and reworked compilation of the contents of a symposium,"The Language Crisis: A Re-examination of Entrance Exam Reform and Educational Administration," sponsored by the University of Tokyo's Faculty of Letters on Homecoming Day 2019.

The Ministry of Education, Culture, Sports, Science and Technology (MEXT) has been spearheading an overhaul of Japan's university entrance exam system and attempting to implement changes in educational curriculum guidelines that are geared toward an emphasis on a "utilitarian" approach in Japanese classes. In the discussions on the proposed reforms, words like "practical," "information," and "logic" are being carelessly bandied about in an alarming manner that suggests the concept of "usefulness to society" is understood only on a very superficial level. In the symposium, a panel of four instructors from the Faculty of Letters passionately debated the following topics: What is the significance, first of all, of the fact that humans communicate with others through words? Is it becoming increasingly prevalent in society to simply reject anything that seems incomprehensible or is difficult to understand? And is it not precisely because of this that literary intelligence and imagination are more important than ever?

In this book, each of the symposium panelists contributes a chapter on the topics that were discussed. In Chapter 1, Professor Masahiko Abe of the Department of English Language and Literature points out that "reading comprehension," which has been the subject of much debate in recent years, is actually treated as the same thing as "attentiveness" and argues that there is diminishing respect for the ambiguity and depth of meaning in words. In Chapter 2, Professor Mitsuyoshi Numano of the Department of Contemporary Literary Studies warns that communication skills are deteriorating in contemporary society and notes that there is a danger in assessing language skills solely on the ability to communicate information, as he found out when his own text appeared in a National Center Test for University Admissions. In Chapter 3, Professor Noburu Nōtomi of the Department of Philosophy criticizes the idea that words can be treated as a practical tool. Words, he says, are the foundation for forging relationships between 'me" and others. To consider words as mere tools is to abandon dialogue with others and turning oneself into a tool as well. In Chapter 4, Ōnishi Katsuya of the Department of Chinese Language and Literature expresses alarm at the disregard for the inherent politeness (consideration for others) of contemporary language. He also points out the danger of treating classical works as objects of "information processing," giving as an example the Chinese literature questions (pre-test) in the "new test" that will replace the National Center Test for University Admissions.

The symposium was so well received that there were requests to have it put into print and in response the panelists wrote down their contributions for publication. The critiques in this book pose critical questions, and the fact that these questions come from a university literature department gives added weight to the warnings they convey to the world.


(Written by ANDO Hiroshi, Professor, Graduate School of Humanities and Sociology / 2020)
Try these read-alike books: