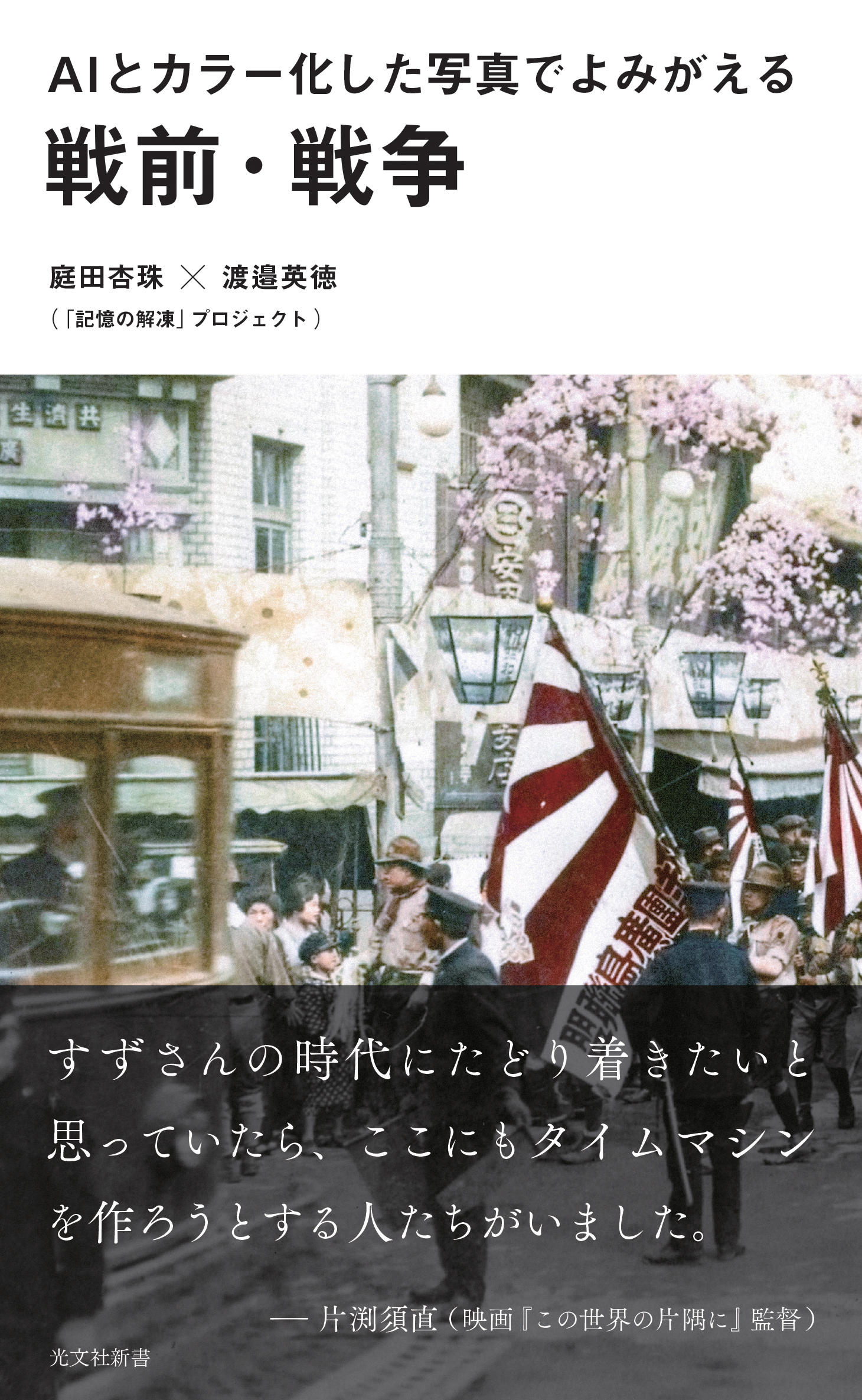 Kobunsha Shinsho
AI to color-ka shita shashin de yomigaeru senzen senso
(Rebooting Memories of Prewar & War Through Colorized Photographs in Collaboration with AI and Human)
This book compiles the results of a jointly-pursued project entitled Kioku no kaito ("Rebooting Memories") by Anju Niwata, a University of Tokyo student, and Professor Hidenori Watanave at the university's Interfaculty Initiative in Information Studies. The book presents the work that had been completed as of the Spring of 2020. The project, which began when Ms. Niwata was a high-school student in Hiroshima City in 2017, has been expanding ever since.

Photographs from the prewar era to an era in the immediate aftermath of the war are all monochrome. Since we are used to color photographs, the black and white photographs may appear lifeless, static, and frozen to us. This is likely why we often feel far-removed from the war and fail to view it as part of our own history.

Efforts to colorize these photographs began in order to address this problem. Ms. Niwata and Professor Watanave are working on a project to "reboot" the memories of the war and foster dialog by colorizing the photographs through a collaboration between artificial intelligence (AI) and humans.

"Rebooting Memories" is an attempt to cultivate conversation through photographs that are colorized with the use of AI. Photographs that have been frozen in time are defrosted using the latest technology, which turns them into a "flow," rather than a "stock," triggering communication to carry our past memories into the future.

In the project, monochrome photographs are automatically colorized and manually edited based on conversations with people who have experienced the war, comments posted on social-networking platforms, and various documents from that era. During the process, past events come alive in people's minds and enable dialog.

The activity, initiated by Ms. Niwata in the former Nakajima district (now Hiroshima Peace Memorial Park), has been greatly expanded. The photographs recreate rich "colors" of the memories that have been resurrected through conversations with former residents. The colorized photographs, posted on a social-networking site by Professor Watanave, are widely viewed, and many people join conversations regarding events related to the war. As such participants provided various pieces of information, more facts came to light .

This book contains 355 colorized photographs, which result from the "Rebooting Memories" endeavor. It conveys the memories of Hiroshima, Okinawa, and other areas of Japan prior to the war. Furthermore, it unveils the memories of the war itself – its beginning, the Pacific War front, the Battle of Okinawa, air raids, the dropping of nuclear bombs, and the end of the war.

This book aims to encourage people who have hitherto been uninterested in war and peace to consider these issues as having a direct bearing on their lives and communicate their thoughts and feelings to others. Those who have overcome their feelings of hatred and sadness after experiencing the war have a noble desire to ensure that henceforth, nobody will ever endure such an experience. It is hoped that their thoughts, along with the empathy of the public, will permeate society through the "colors" of resurrected memories and be passed down to future generations.


(Written by WATANABE Hidenori, Professor, Interfaculty Initiative in Information Studies / 2020)
Awards:
new!
The 11
th
Hiroshima Book Award (August, 2021)
https://prizesworld.com/prizes/various/hrsm.htm
Co-Author NIWATA Anju won The University of Tokyo President's Award for Students (The University of Tokyo March 4, 2021)
https://www.u-tokyo.ac.jp/ja/students/events/h12_03.html#
Chuokoron-Shinsha 2021 Best new books 20 (Chuokoron-Shinsha 2021)
https://chuokoron.jp/shinsho_award/
ACM SIGGRAPH ASIA 2019 Art Gallery/Art Papers (Full art papers), Accepted: Anju Niwata and Hidenori Watanave: "Rebooting Memories": Creating "Flow" and Inheriting Memories from Colorized Photographs; (ACM SIGGRAPH ASIA 2019 Art Gallery/Art Papers Nov, 2019)
https://dl.acm.org/doi/10.1145/3354918.3361904
United For Peace Film Festival (UFPFF) 2018 Student Award
""Rebooting Memories" Hiroshima's time advancing and breathing by colorized photographs" Director: Anju Niwata(Hiroshima Jogakuin Junior and Senior High School/Japan), Tetsuya Yamaura (Tokyo Metropolitan University/Japan) (UFPFF Sept. 22, 2018)
https://www.ufpff.com/en/archives/16554
Broadcast:
NHK Naoki Matayoshi HEUREKA (NHK broadcasting Feb. 24, 2021)
https://www.nhk.jp/p/heureka/ts/17QXZG4M75/
Interviews:
Memories Reborn: AI-Based Photo Colorization (Nippon.com Dec 7, 2020)
https://www.nippon.com/en/japan-topics/g00966/
Melting 'frozen memories,' AI helps Japanese recall war days (The Washington Post August14, 2020)
https://www.washingtonpost.com/business/technology/melting-frozen-memories-ai-helps-japanese-recall-war-days/2020/08/13/639c94ea-ddd9-11ea-b4f1-25b762cdbbf4_story.html
Paper:
Anju Niwata and Hidenori Watanave: "Rebooting Memories": Creating "Flow" and Inheriting Memories from Colorized Photographs; Proc. of SIGGRAPH ASIA 2019 Art Gallery/Art Papers (Full art papers), Article No. 4, 12 pages, 2019.
https://dl.acm.org/doi/10.1145/3354918.3361904
Try these read-alike books: