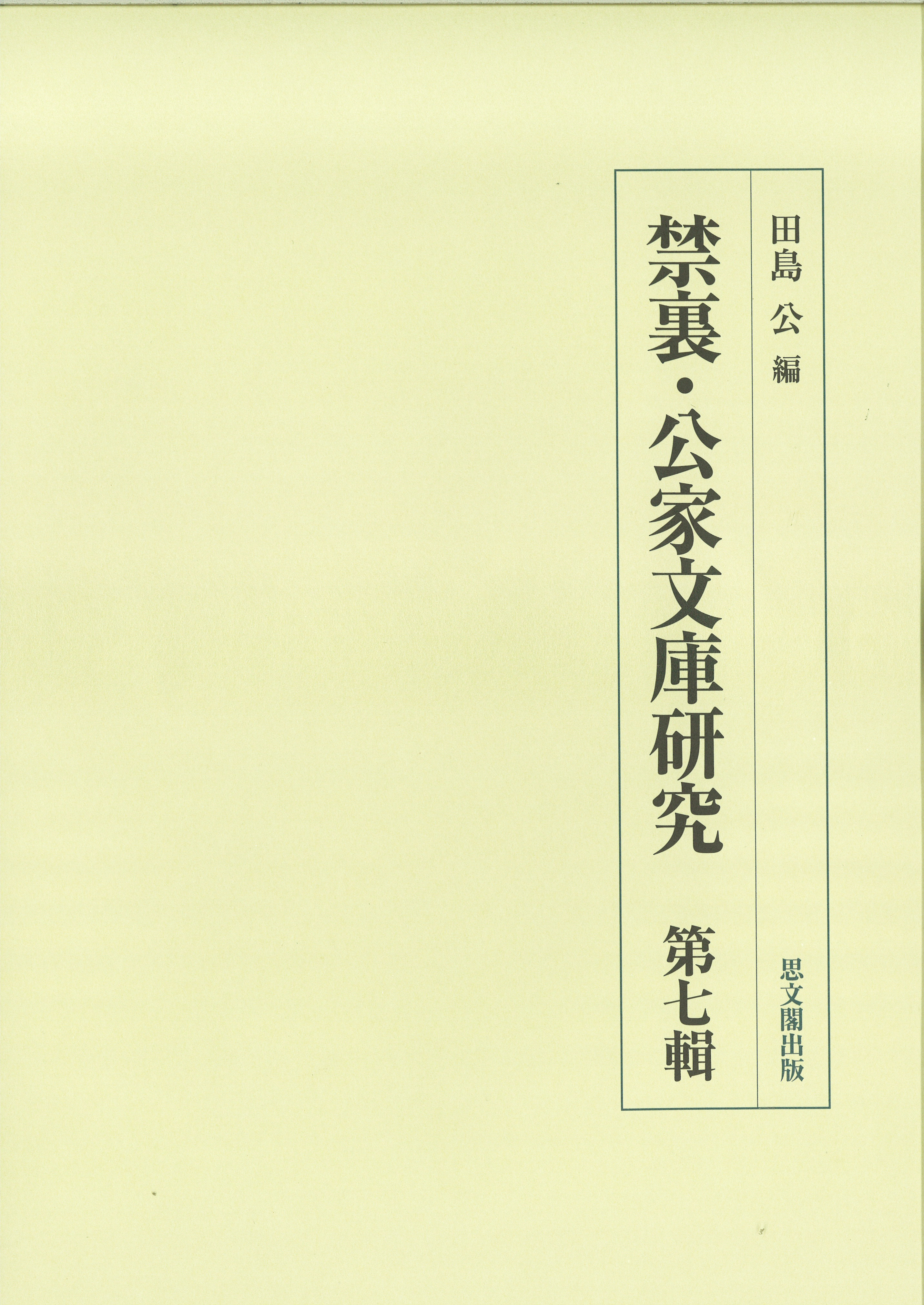 Kinri・kuge bunko kenkyū
(Research on Royal and Noble Archives – VII)
390 pages, B5 format, hardcover, slipcase
This volume gathers studies, introductions to historical documents, and database information pertaining to 1) manuscripts held principally by the Kyoto Gosho Higashiyama Obunko and other early modern royal collections (the contents of which were hitherto imperfectly understood due to imperial strictures), 2) manuscripts of archives formerly associated with princely lineages such as the Fushimi no miya-ke, and 3) manuscripts held by various noble lineage collections such as the Konoe-ke, Kujō-ke, and Yanagiwara-ke. The present collection is Volume 7 of a series meant to share the results of one of the very few large-scale research projects in the humanities supported over the course of roughly 20 years by 5 rounds of JSPS funding.

A preface by Yōmei Bunko Director Osamu Nawa is followed by thirteen essays, introductions to historical documents, and records of archival catalogs relating to Royal and Noble Lineage Archives. Their themes are diverse. Together they constitute the leading edge of research in the field. Below is the abstract of the opening essay, an English-language work by Jason P. Webb entitled, "East Asian Bibliographic Traditions and Current Japanese Premodern Archives Studies" (東アジアの目録学伝統と近年における日本の前近代文庫研究).

The history of the book during Japan's early modern period has garnered considerable interest lately in English-language scholarship. Each year a number of international symposia and document-reading workshops are devoted to this theme, taking as their chief focus Edo-period xylographic or printed materials. Collectively these scholarly events serve to heighten the appreciation of books as material objects that deserve to be surveyed, explicated, and analyzed from a variety of perspectives. However, in the realm of English-language scholarship on Japan, manuscripts and manuscript culture are much less well known, especially the manuscripts produced during centuries prior to the early modern period. These are precisely the materials taken up by current Japanese practitioners of Premodern Archives Studies (bunkoron 文庫論) and Premodern Archives Catalog Studies (mokurokugaku 目録学). This study takes as its starting point a famous pronouncement by venerable early twentieth-century Sinologist Naitō Konan: "Japan has no Catalog Studies" (日本に目録学なし). It then proceeds to survey the origins of manuscript-based Confucian and Buddhist bibliographic traditions of ancient East Asia and to introduce some of the basic underlying methodologies of a uniquely Japanese Archives Studies and Archive Catalog Studies advocated in recent times. In order to elucidate various topics and problems that arise from such methodologies, the study next turns to the concrete example of current research on the collection of Konoe-lineage premodern journals held by the Yōmei Bunko in Kyoto. As a whole, this study is intended to raise awareness about the recent achievements and future prospects of contemporary Japanese research on Royal and Noble Lineage Archives (kinri kuge bunko kenkyū 禁裏・公家文庫研究).

Webb's article is the first in English to place front-and-center Catalog Studies-oriented research on the manuscript holdings of premodern Japanese royal and noble lineage archives, and as such surely will be remembered as an important contribution to the field.

The publication of this volume in March 2020 roughly coincided with the commencement of open internet access, via the University of Tokyo Historiographical Institute database Hi-CAT Plus system, to approximately 560,000 images gathered from the Imperial Household Agency Archives Holdings' Lineage Manuscripts (家分け本); specifically, digitizations of Fushimi no miya-ke hon, Kujō-ke hon, Yanagiwara-ke hon, and other manuscripts. We now are ushering in a period of broad-based access to handwritten premodern documents. It is hoped that this volume, together with the six volumes already published, will serve as foundational research on premodern Japanese manuscripts here and abroad.

(Written by TAJIMA Isao, Professor, Historiographical Institute / 2021)
Introduction
Yōmei Bunko's Information Outreach Made Possible by Kaken Funding
Nawa Osamu

Part I
East Asian Bibliographic Traditions and Current Japanese Premodern Archives Studies
Jason P. Webb
Mihakkō, the Journal of Konoe House Official Taira no Tokikane
Onoe Yosuke
The Lost Early Modern Ichijōke Lineage Collection: A Survey of Early Modern Archives Research
Hayashi Daiki
A Study of Corrective and Restorative Editing of the Benkan Bunin and the Hirohashike Archives Manuscript of Benkan Bunin: With a focus on the First Revised and Annotated Edition of Benkan Bunin edited by Iikura Harutake
Tajima Isao
Introduction and Compositional Background of Yukinari's "Jinnosadamebumi of Kankō 3 (1007), Seventh Month, Third Day," in the Kujōkebon Shodō Kanmon / Shinkyō of the Imperial Household Agency Archives
Innami Shiho

Part II
Kujōkebon Sadayoshi kyōki burui (Classified Journal of Fujiwara Sadayoshi) of the Imperial Household Agency Archives, Part 3, Gyōkei (Royal Excursions), and Part 5, Saishō-kō ge (Lecture on the Sutra of Golden Light, Part II)
Fujiwara Shigeo
Kujōkebon Sadayoshi kyōki burui of the Imperial Household Agency Archives, Part 4, Miya Somurai narabi ni Shin'nō Jugō senge ki (Opening Ceremony for Prince / Princess's Board of Retainers and Ceremony for receiving the title of Prince, Princess, or Jugō)
Yamaoka Hitomi
Introduction to Inchū Oyudono no Ue no nikki (Tenshō 16 (1589), First-Third Months)
Endo Tamaki

Part III
A Bibliographical Introduction to the Chonōshō held by the Kyoto Gosho Higashiyama Obunko (with reproduction)
Ogura Shigeji
The Illustrated Scroll of Legends of Mibu Jizō held by the Kyoto Gosho Higashiyama Obunko (with excerpted reproduction)
Ishii Yuka and Fujiwara Shigeo
An Introduction to the Konoeke Archives Catalog held by the Kanō Archives of Tōhoku University Library (with reproduction)
Itoga Yuri

Part IV
A Survey of the Takamatsu no miya Archives Catalog
Edited by Yoshioka Masayuki, Tajima Isao, and Ogura Shigeji

Try these read-alike books: