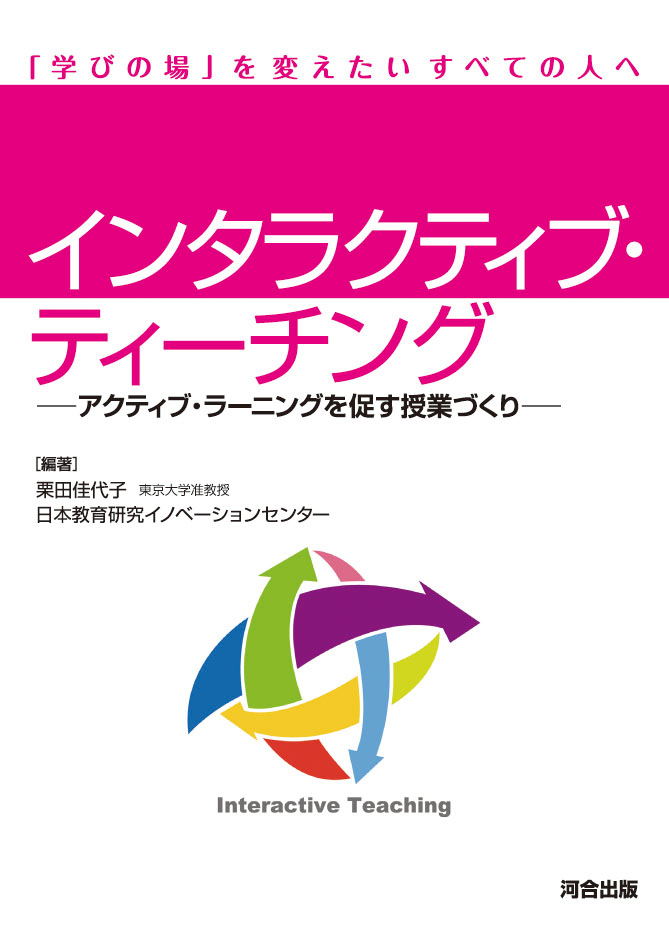 Interactive Teaching
(Creating classes to promote active learning)
Education is now at a major turning point, a transition period from "how teachers should teach" to "how students should learn." In short, what is sought is education in which learners are centered. A term related to this kind of education is "active learning." This refers to education that is not directed in one direction from the teacher to students but instead is learning from the learner's perspective. How then should teachers create a place in which this active learning is established? The answer lies in "Interactive Teaching," the title of book. Interactive teaching is a teaching method that emphasizes interaction so students are centered in learning.

Over several themes, this book teaches practically how to create leaner-centered classes. A range of theories on teaching are explained in an easy-to-understand manner and their practical applications given. The book is composed so that even readers with no experience as a teacher learn teaching from the basics.

This book is a written version of the online course "Interactive Teaching." Video materials for this course can be viewed on the University of Tokyo Faculty Development website (www.utokyofd.com/mooc/attend).

The online course originally consisted of eight modules. Each module was composed of three parts: knowledge session, skills session, and story session.

In the knowledge session, learners learn about that the ways of teaching that promote interactive learning. They are also presented thoroughly with themes necessary for teaching, such as active learning methods, the science of learning, syllabus creation, and evaluation. In the skills session, they learn methods to create a learning space in which leaners are centered through acting and expression. Furthermore, in the story session, leading researchers and practitioners in their respective fields discuss issues of teaching and how they practice teaching.

The contents of the online course are reorganized in the book. Chapters 1-8 compile the knowledge sessions, Chapter 9 the skills sessions, and Chapter 10 the story sessions. End-of-chapter questions help readers personally digest what they have learned.

This book also serves as a textbook for the University of Tokyo's Future Faculty Program (UTokyo FFP). The original online course was created as the foundation of UTokyo FPP. If you are interested in learning what is written in this book with diverse students, be sure to enroll in UTokyo FFP.

(Written by KURITA Kayoko, Associate Professor, Center for Research and Development of Higher Education / 2020)
Try these read-alike books: