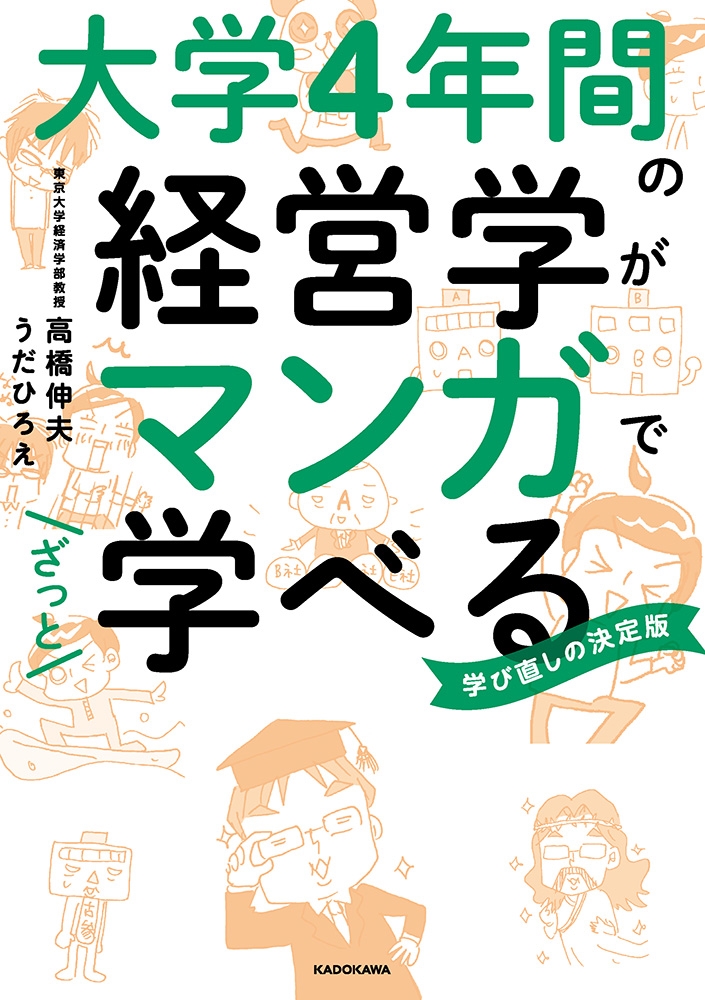 Daigaku 4 Nenkan no Keieigaku ga Manga de Zatto Manaberu
(Learn the Essentials of four Years of University-Level Business Administration with Manga Comics)
TAKAHASHI Nobuo's 'Daigaku 4 Nenkan no Keieigaku ga 10 Jikan de Zatto Manaberu' (Learn the Essentials of four Years of University Level Business Administration in 10 Hours) (KADOKAWA, 2016) sold very well, and spurred on by this success, an illustrated version (2017) and a Kadokawa pocket edition (2019) were also published. A Korean language version was published in Korea (2017) and a Chinese language version in Taiwan (2018). Following on from this, it has finally been made into a manga comic.

While there are many ways to turn a text into a manga, in the case of this book, the style of the manga is one featuring Hiroe Uda, her husband, and myself. Hiroe Uda is a manga artist who also ran a café in partnership with her husband (who used to be an office worker and is now a financial planner (FP)). They become the protagonists (in short, real people) and I, myself, 'TAKAHASHI Nobuo, Professor at the University of Tokyo' suddenly jump into their interesting and enjoyable conversations inserting bits of information here and there, explaining the field of business administration. That is why, in this piece of theatre, a caricatured and quite distinctive version of 'me' appears.

When I met Mrs. Uda Hiroe, she sketched out a caricature of me on the spot, so I thought, 'I would probably appear like this'. However, by the time it appeared in the manga, the caricature had become a unique and powerful character in both words and deeds. I was surprised to know how I was seen, and while I thought this was an inevitable part of manga, ultimately, at the stage when I was editing the galley proof before publication, I was quite uncomfortable with it. Then, when it was published, I had almost tried to forget it had ever existed.

It is for that reason that I gave away almost no complimentary copies to anyone, and for a while after it was published, I didn't even open the book to look at it. However, one day, I received an e-mail message from another professor of Business Administration at other university whom I was friendly with and, despite not having provided him with a complimentary copy, he stated that the book was great and that he had recommended it to his students, who enjoyed it. As human beings can change their minds quickly, when I heard this, I took out the manga version of the book that I had partially locked away and began to read it once again. It is certainly true that it is an easy read. 'TAKAHASHI Nobuo, Professor at the University of Tokyo' is a character in manga and not me in reality; I am pleased to say that he is relatable to the reader and seems a lovable and funny professor. I read the book in no time.

However, even though I didn't notice this when I was proofreading it meticulously, I understood that, in the same way as a video, while manga comics may be easy to read, they have the drawback that the reader does not stop and take the time to consider what they have read. There is more to reading than simply understanding the story; if you wish to properly understand what is written, you have to read the same sections several times or reread it after a while. However, conversely, I do think that this manga will come as good news to those who struggle with difficult sections of textbooks or those who have never finished reading a full book. I am not naïve enough to believe that turning something into a manga makes it truly easier to understand, but it does make it easier to make your way through the full book. Having done so, it is not too late to understand the details. In that sense, this book has challenged me by teaching me the possibilities of manga. If you are someone who is frustrated by university lectures and textbooks, I would recommend this book to you.


(Written by TAKAHASHI Nobuo, Professor, Graduate School of Economics / 2021)
Try these read-alike books: