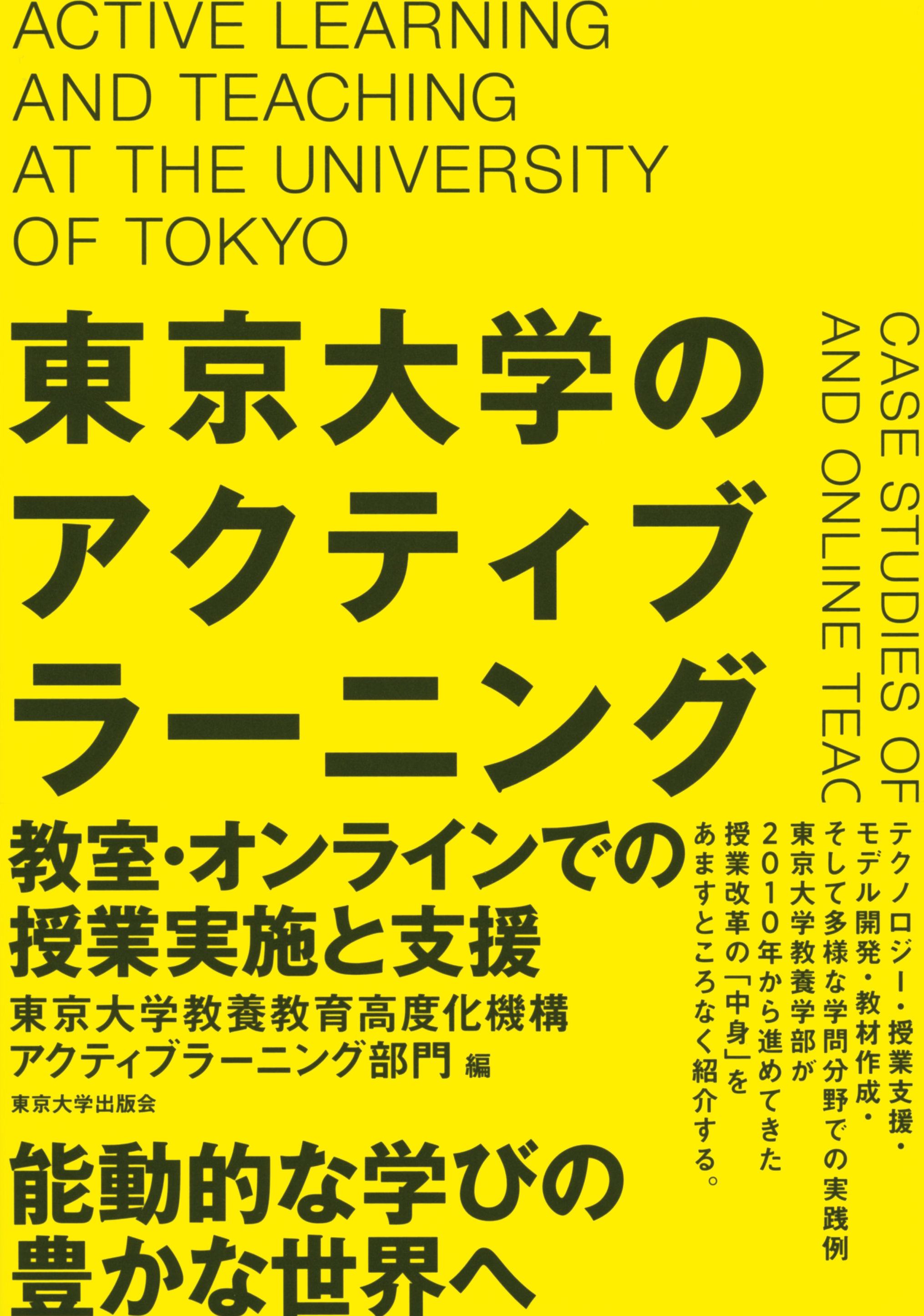 Tokyo-Daigaku no Active Learning
(Active Learning and Teaching at the University of Tokyo: Case Studies of Classroom and Online Teaching)
University of Tokyo Press
This book has been compiled to reflect upon the University of Tokyo's efforts so far in the domain of active learning (AL) and to envision the development of the ideal form of AL in the future. We hope that it is read by not only those working in universities but also those involved in the field of education, including, of course, students taking daily classes, that is, the protagonists in the journey of AL.

AL has been popular among the masses for quite some time now. While this phenomenon has been welcomed by those in the field, there have at times been worries about whether AL itself has become the goal. It is as if AL has become the buzzword, even adopted only in form. However, AL is not an end but simply a means to an end. After clarifying the class objectives and goals, that is, the level students should reach at the end of it, to make this easier for them, AL techniques, namely group discussion, role play, jigsaw method, flipped classroom, and project-based learning, should be considered.

This book, compiled considering the abovementioned issues, is divided into two parts. Part 1 "Active Learning-type Classes" (Chapters 1–9), which follows the introduction, comprises three cases each from the fields of Humanities and Social Sciences, Natural Sciences, and Teaching Development, offered as specific examples of AL-type classes at the University of Tokyo. The instructors of each class themselves introduce the devices used and directions for improvement. Each of them, while constantly striving for improvement, reflects on whether the class objectives and goals were appropriate and whether an AL technique befitting these was chosen. We believe these detailed descriptions of the trial and error involved are quite valuable.

In part 2, "Initiatives that Support Active Learning-type Classes" (Chapters 10–12), teaching assistants (TA) and staff themselves, through a round-table discussion, discuss such themes as the classroom support provided by TAs and the Division of Active Learning and Teaching, Komaba Organization for Educational Excellence, and efforts to create teaching materials such as commentaries on AL. Thus, it is not just educators who are trying to improve the classes. We would also like you to focus on the specific descriptions of the trial and error involved in support work.

In the final chapter, based on the trial and error explored till that point, we discuss the potential future forms of how classes may be supported and implemented. Whether in the classroom or online space, this trial and error to determine the form of AL that facilitates more effective learning will continue. It is good to see the increasing implementation of AL in elementary and secondary education. We hope that this book can help increase opportunities for the exchange of opinions in a manner that goes beyond school type as well as the teacher-student relationship.


(Written by NAKAMURA Nagafumi, Project Assistant Professor, Graduate School of Arts and Sciences / 2021)
Try these read-alike books: