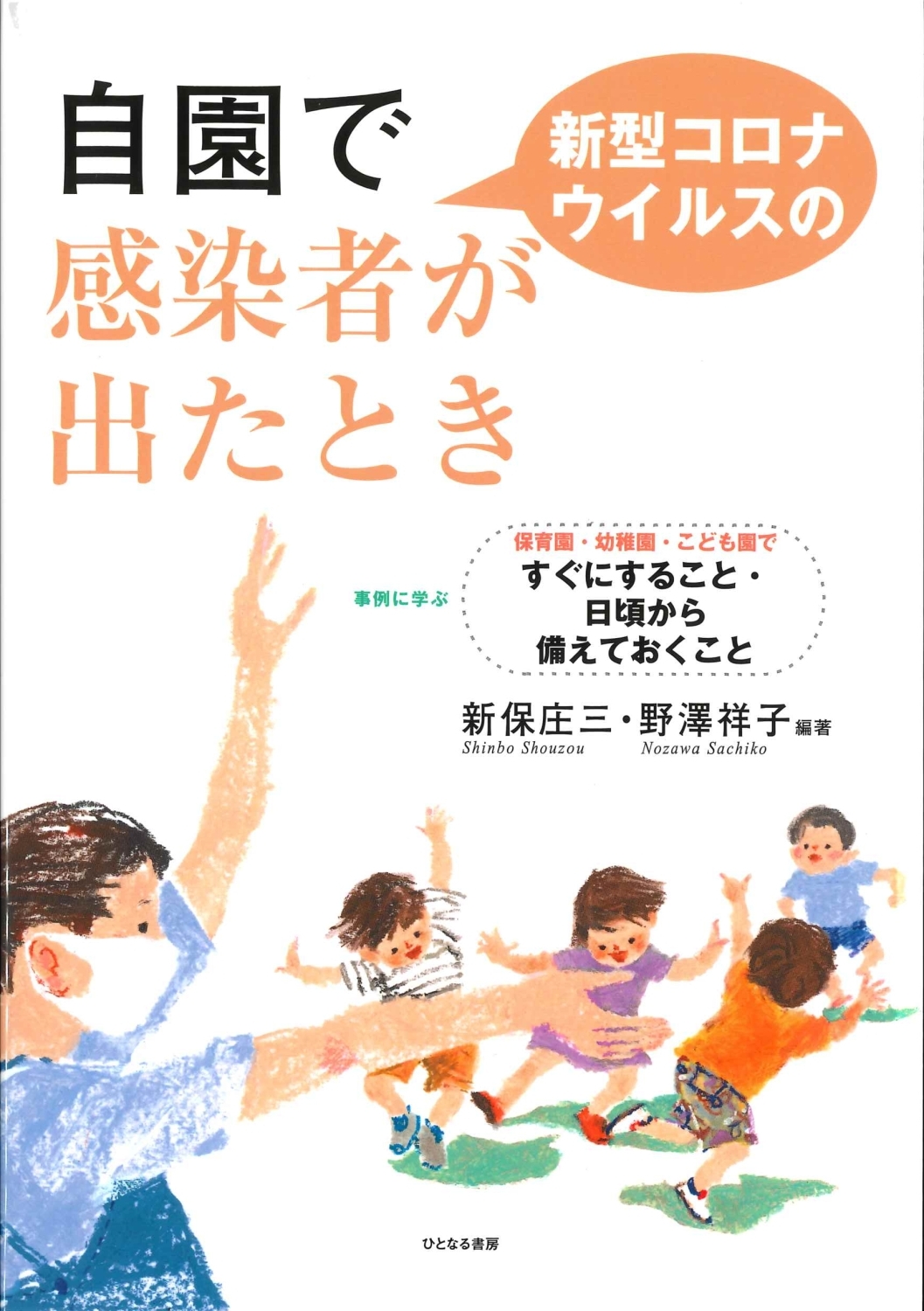 Jien de Shingata Corona virus no Kansen-sha ga detatoki
(When COVID-19 Breaks Out in Your Childcare Facility: Learn from Case Studies: What to Do Immediately and How to Prepare Each Day at Nursery Schools, Kindergartens, and Certified Child Centers)
From the beginning of 2020, the spread of COVID-19 has had a great impact on society. In particular, avoiding crowds, wearing masks, and hand sanitizing were declared as important measures, and urgently enforced in nursery schools, certified child centers, and kindergartens alike. However, as young children are only able to grow in environments where they can interact with others, it has been very difficult to avoid crowding in childcare facilities. In addition, responding to COVID-19 outbreaks at childcare facilities has also proved to be extremely difficult. During outbreaks, staff at childcare facilities have been unsure of how to respond, how to inform other staff, how to contact local governments, when and how to inform parents and guardians, as well as how to protect the privacy of those infected. Therefore, worry has been spreading among staff as they are experiencing this predicament for the first time and have no correct answers.

In light of these circumstances, the response of childcare facilities during COVID-19 outbreaks, and their ideas for ensuring the development of children while preventing the spread of infection, have been detailed in this book, which was written for childcare professionals in collaboration with Mr. Shozo Shinbo of the Hoikusha Shien Kyoukai (Japan Childcare Provider Support Association).

In the first half of the book, interviews conducted at some of the childcare facilities that had positive cases in the early stage of COVID-19 in spring 2020 are presented as case studies and summarized in points. Here, the book describes, as realistically as possible, the chaotic situation and uncertainty at the time, along with the response of the directors and staff, and the comments made by the directors in chronological order. Given that response methods differ between local governments and childcare facilities, this book does not intend to serve as a manual on how to respond to outbreaks, but instead tries to enable childcare professionals to vicariously experience the cases mentioned, and imagine and consider what specific responses they would implement at their own childcare facilities.

In the second half of the book, a summary is given of the ideas put forth by childcare facilities to ensure the development of children while preventing the spread of infection, along with the configuration of workplaces to support childcare. As mentioned in the beginning, young children are only able to grow in environments where they can interact with others, which means that it is very difficult to simultaneously "avoid crowding" and "guarantee development." Given that measures for preventing infection are expected to be in place for a long time, the contents of this book allows readers to think about how they can balance infection prevention measures while prioritizing child development, rather than focusing on such measures exclusively.

This book was written to provide readers with an indication of how they could respond to the spread of COVID-19 in the early stages. Moreover, as the situation changes rapidly, all of the methods described may not necessarily be applicable at all times. However, I believe that this book will carry significance as a guide to emergency responses in childcare facilities, and will be valuable as a collection of historical record that demonstrates how childcare facilities responded to an unprecedented situation.


(Written by NOZAWA Sachiko, Associate Professor, Graduate School of Education / 2022)
Try these read-alike books: