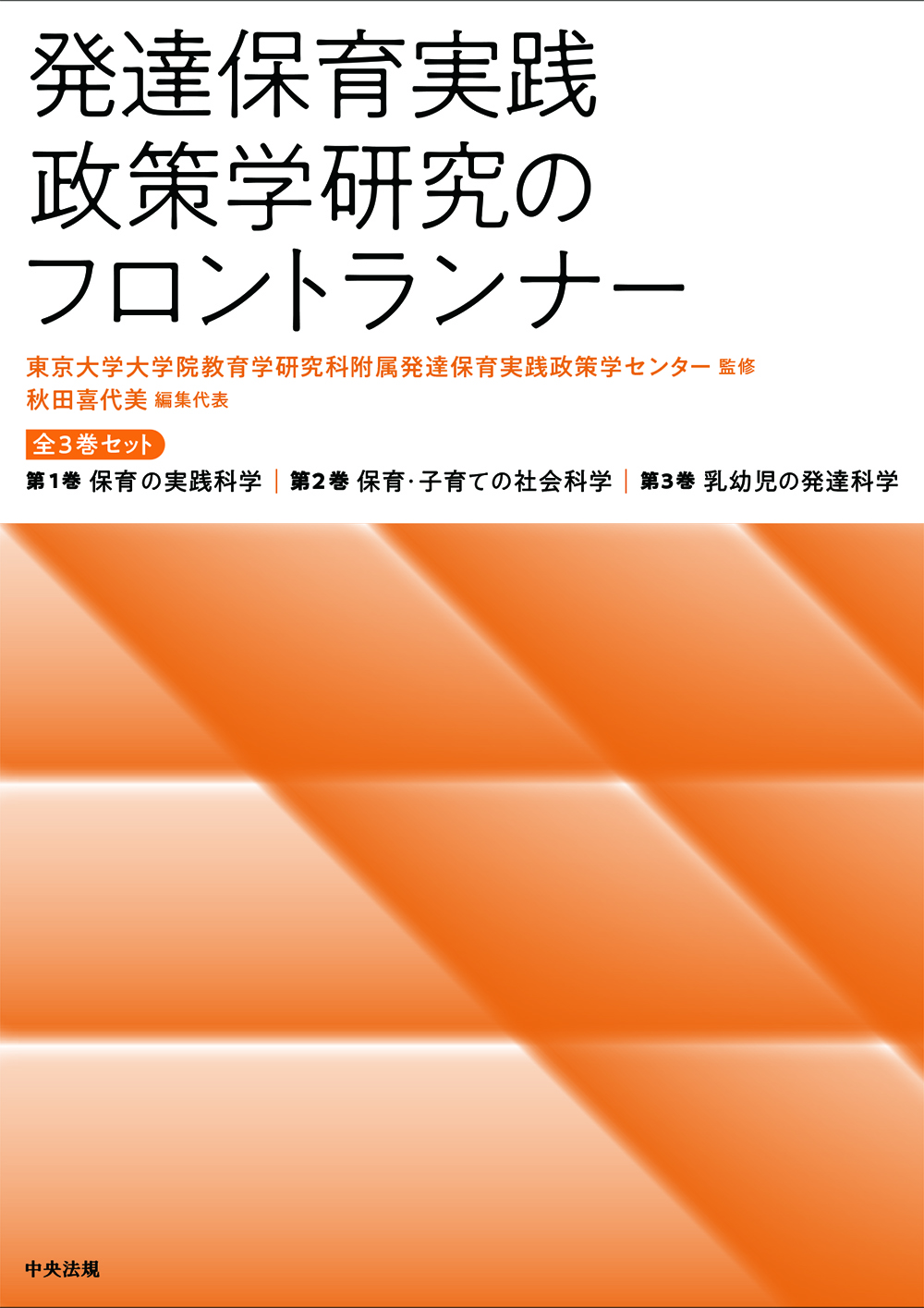 3 volumes
Hattatsu Hoiku Jissen Seisaku-gaku Kenkyu no Frontrunner
(Frontrunners in Early Childhood Development, Education, and Policy Research)
946 pages, A5 format, softcover
Chuohoki Publishing Co., Ltd.
This book is a three-volume collection of 30 studies conducted as part of the "SEED Research Project" between 2015 and 2019 at the Center for Early Childhood Development, Education, and Policy Research (CEDEP), which was established in July 2015 within the Graduate School of Education at the University of Tokyo. It presents the research questions, methodologies, results, and discussions of those studies in an easy-to-understand manner to those interested in early childhood development, education, and child-rearing.

Early childhood development, education, and policy research is an integrated academic field that was conceived in order to aggregate and further research on early childhood in the natural sciences, humanities, and social sciences, and contribute those findings back to society. The CEDEP was built to be the hub for this field and has advanced a multitude of research projects from diverse perspectives. Among them is the "SEED Research Project," which takes its name from the idea of sowing the seeds of a new academic field. Led by faculty from the Graduate School of Education, it has facilitated joint research both at and outside the university by young researchers and graduate students. Even those belonging to the same graduate school may not have many opportunities to become familiar with each other's research if they are in different fields. The guiding principle for this project is early childhood development, education, and policy research; by creating a space for researchers in fields that were previously isolated from one another to share and discuss their findings, it has led to new ideas and knowledge.

However, while five years seems like a long time, it is not sufficient time to try something new. This book is not intended to be a finished product with regard to early childhood development, education, and policy research. Rather, we hope that the book will grow, like a sprout, and pave the way for new possibilities in the future.

Volume 1, "The Implementation Science of Early Childhood and Education," is a compilation of 12 studies on questions relating to the implementation of education. They cover relationships between childcare workers and children, relationships between childcare workers, and relationships between children; the organization of childcare spaces and environments, and the perception and behavior of people in those spaces; and the expertise of childcare workers.

Volume 2, "The Social Science of Childcare and Child-rearing," is a compilation of 10 studies that take humanities- and social sciences-based approaches to issues in childcare and child-rearing. They include studies on social circumstances and policy regarding childcare and child-rearing, studies on the relationship between education in the home and childcare, and studies that approach education from historical and philosophical perspectives.

Volume 3, "The Developmental Science of Early Childhood," includes eight fundamental research studies on early childhood developmental processes and mechanisms and the factors involved in them.

These three volumes would normally be separate books, but combining them exposes readers to a wider range of issues. Readers can start from any topic, and we believe that the connections between topics become more concrete as one progresses through the book. We hope that this book helps readers to perceive the breadth and complexity of issues in child-rearing and childcare and leads to new questions.

(Written by NOZAWA Sachiko, Assistant Professor, Graduate School of Education / 2022)
Try these read-alike books: