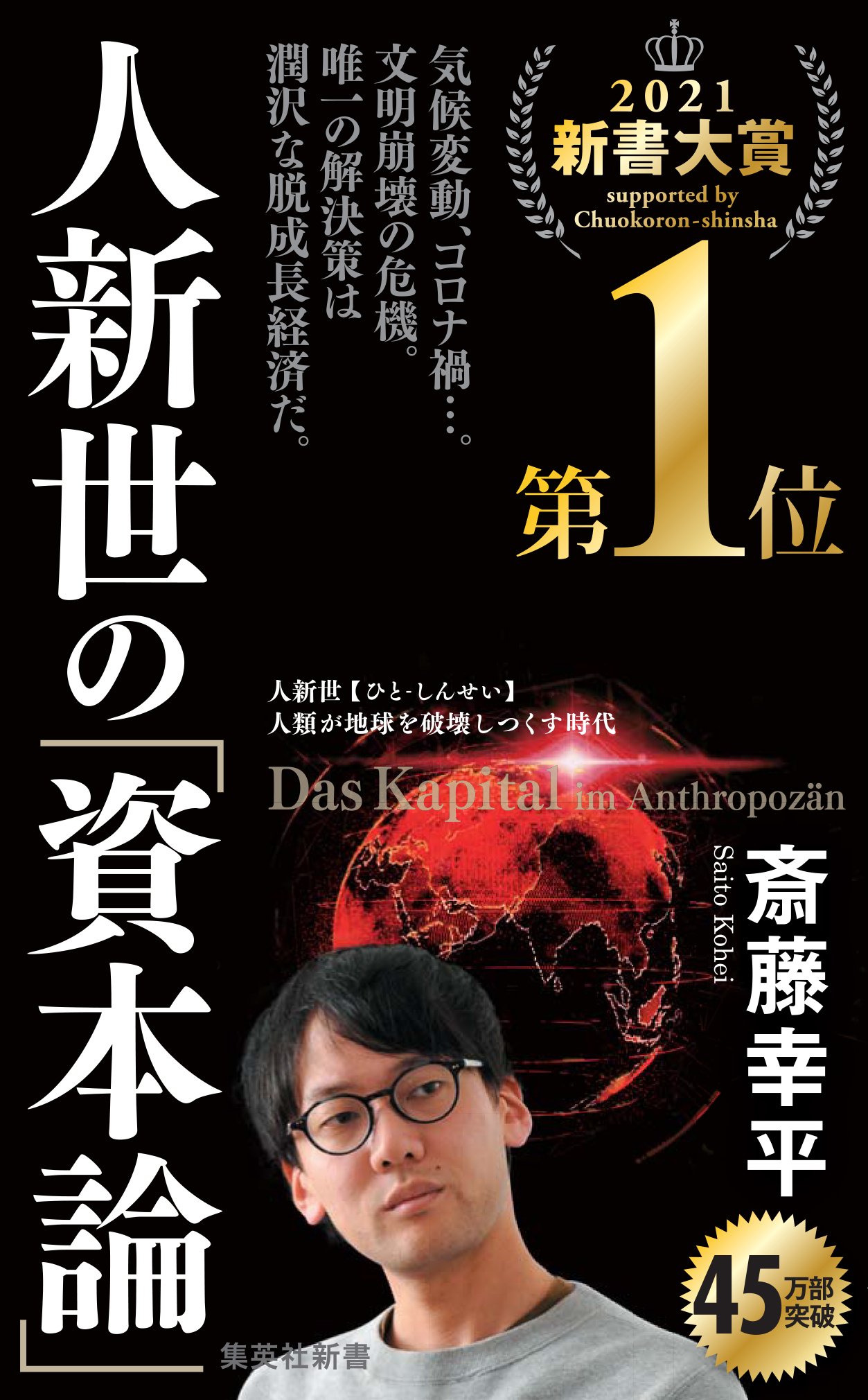 Hito-Shinsei no Shihon-ron
(Capital in the Anthropocene)
384 pages, paperback pocket edition
As a geological epoch, the Anthropocene designates the situation in which the traces of human economic activities have fully covered the earth and fundamentally modified it. The magnificent human force has cleared up forests worldwide, extracted rare metals, and consumed a massive amount of fossil fuel. This was how rapid economic growth was achieved. Paradoxically, this enormous force has been causing irreversible and uncontrollable changes such as climate change and the extinction of species, threatening the prosperity of civilization.

The crisis of the Anthropocene is tightly linked to the rapid development of capitalism. Capitalism, seeking after profits, pushed forward globalization, in the process of which it devastated the cheap labor force, food, energy, and resources. Its contradictions have been largely externalized to the Global South, but the earth is finite after all. Thus, endless economic growth will sooner or later explode this contradiction on a planetary scale, from which the Global North is not exempt.

In the face of this planetary crisis, this book draws up Karl Marx's Capital. Of course, it has no intention of repeating its old dogma. Rather, the author utilizes the new collected works of Marx and Engels, Marx-Engels-Gesamtausgabe, to put forward a radically new interpretation of the late Marx. This is the post-capitalist idea of degrowth communism.

Marx was often criticized as a productivist and Eurocentric thinker who naively praised the capitalist modernization. Contrastingly, the uniqueness of the book is its reconstruction of a wholly new aspect of Marx's critique of capitalism, using his late notebooks (its academic version is published as Marx in the Anthropocene: Towards the Idea of Degrowth Communism from Cambridge University Press).

The book combines the textual analysis of Marx's notebooks and manuscripts with the contemporary ecological crisis and envisions a post-capitalist society. This book sold half a million copies, which is extremely rare in humanities and won various prizes, including the Asia Best Book Award 2021.Its translation is already available in Korean and Spanish, but it will be available in other languages such as English, German, and Chinese.

As the climate crisis is expected to worsen, I hope that this book will contribute to the climate justice movement.

(Written by SAITO Kohei, Associate Professor, Graduate School of Arts and Sciences / 2022)
Try these read-alike books: