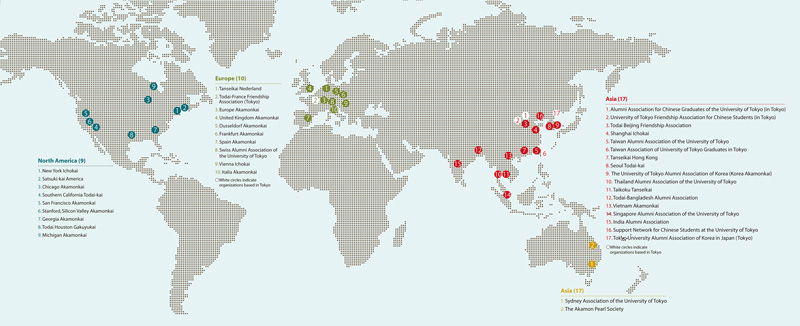 University of Tokyo alumni associations around the world.
Development of overseas alumni associations
On February 15 this year another new alumni association of the University of Tokyo was established in Vienna, Austria. The Wien Icho-Kai is located in Austria's capital city, a center for arts and learning and home to the headquarters of many international organizations. It provides a place for Todai alumni who are engaged in work and study in and around Vienna to come together. In the autumn of last year the SWISS Alumni Association of the University of Tokyo was established in neighboring Switzerland, and on Homecoming Day 2012 held on October 20 last year, the Tokyo University Alumni Association of Korea in Japan was launched at the Sanjo Conference Hall, as an organization for Korean alumni residents in Japan.
Todai's overseas alumni associations are composed of Japanese alumni who are working overseas and former overseas students. Following the university's incorporation in 2004, in October of the same year the University of Tokyo Gakuyukai was established (the name of the organization was changed to Akamon Gakuyukai in April 2008). Since then vigorous efforts have been made to develop a network between the university and its alumni and to date a total of 234 organizations are registered with the Akamon Gakuyukai. At the end of 2004 there were only five registered overseas alumni associations, but in recent years this number has grown considerably. As can be seen in Fig. 1, as of the end of March 2013 there are currently a total of 38 alumni associations worldwide, including nine in North America, 17 in Asia, 10 in Europe and two in Oceania. The total membership of these overseas associations is approximately 4,200, of which half of whom are former overseas students.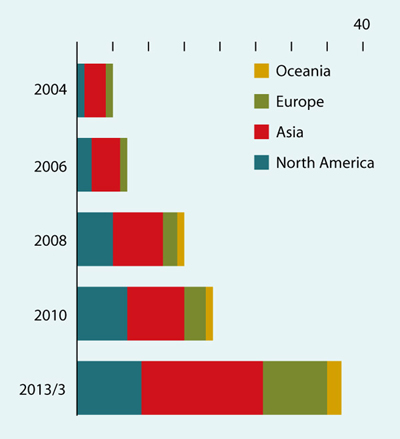 Figure 1: Trends in the number of registered overseas alumni associations.
Alumni associations such as the University of Tokyo Alumni Association of Korea and the Taiwan Alumni Association of the University of Tokyo, have membership rolls numbering in the hundreds, composed predominantly of former overseas students, who have since returned to their own countries. In actual fact the Taiwan Alumni Association traces its roots back to April 1933, when Japanese and Taiwanese graduates of Tokyo Imperial University held a gathering in a cafeteria in Kanda Jimbocho to welcome new students. In China there are the Todai Beijing Friendship Association and the Shanghai Icho-kai. Alumni from China, Korea and Taiwan residing in Japan all have their own alumni associations within Japan. Associations in Thailand and Vietnam in particular are seeing increases in the number of members, predominantly among former students. In February 2012 the India Alumni Association was also established. Many of the students from Asian countries specialize in science and engineering and following graduation they are working actively in various fields in their own countries, including at universities and academic organizations.
The United States, Europe, Hong Kong, Singapore and Australia are home to alumni associations that are predominantly comprised of Japanese alumni, who are now working overseas. Due to efforts to develop business overseas by Japanese companies there are increasing numbers of alumni living in various locations around the world and the internationalization of Todai is expanding together with the number of Todai overseas offices. There are also many former Todai students who are working in overseas diplomatic missions and at international organizations, and it is these people who make up a large part of the membership at the New York Ichokai and the United Kingdom Akamonkai.
Role of overseas alumni associations in the internationalization of the University of Tokyo
It was in April 2009 that the Action Scenario of the University of Tokyo, FOREST2015, was announced. This scenario calls for the "building of a truly global campus," including, among other goals, accepting a greater number of international students and foreign researchers, increasing opportunities for study abroad and other international experience, and reinforcing ties with other Asian countries. In line with FOREST2015, various efforts are being made to institutionalize and expand a variety of short-term overseas programs including summer programs, international internships, and volunteer activities, as well as to organize study-at-Todai fairs and other seminars around the world.
Based on a policy that aims "By 2015, [to] provide all students with some form of international learning opportunity including study abroad programs," it is expected that support from overseas alumni associations will be the key to improving the quality and quantity of Todai students who are able to take on a challenge in the global environment. Aiming towards the introduction of a gap-year system similar to that in use at schools and universities in the United Kingdom and other countries, under the "Hands-on Activities Program," which was launched in 2012 to provide diverse opportunities to undergraduate students, a total of three programs were implemented with the support and assistance of alumni overseas. These programs were the "New York Experience Plan: Learning about careers in the United States," and "Sustainable agriculture experience at an organic farm," which were both proposed by Satsuki-kai America, and "Experiencing French universities and companies and talking with alumni," which was arranged by the Europe Akamonkai. All of these programs were highly appreciated by the students who participated in them. For academic 2013-14, preparations are already underway for more overseas alumni associations to participate in and help support such hands-on programs.
In October 2012 the special course Programs in English at Komaba (PEAK) was established as a means of promoting the further acceptance of overseas students. Given the need to further expand the number of students from Asian countries, there are great expectations that PEAK graduates will promote the course upon their return home. In autumn 2012 a PEAK-related seminar was held in Vietnam, arranged by staff members involved in PEAK at Todai and members of the Vietnam Akamonkai. Given that there is still a lag in internationalization at the undergraduate level, there are increasing hopes that overseas alumni associations will help to promote efforts such as the Hands-on Activities Program and PEAK.
Through programs such as the Todai Forum, President's Council and the International Alliance of Research Universities (IARU), the University of Tokyo is establishing opportunities for interaction with overseas alumni associations. As the university seeks to expand multidisciplinary learning experiences for students and become a truly global campus, the role of overseas alumni associations will only continue to grow even more in the future.
Column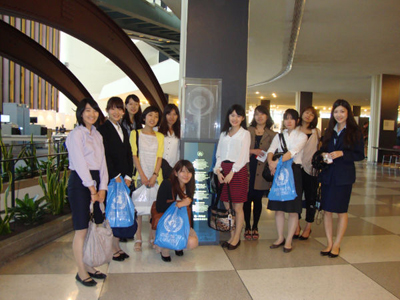 Visit to the U.N. Headquarters as part of hands-on experiences in New York. Ms. Seiko Osako, Ms. Nobuko Sakurai, Satsuki-kai America. © Seiko Osako and Nobuko Sakurai.
Alumni association assists with planning of overseas experiences
From the perspective of helping to nurture the international outlook of Todai students I hope to be able to further increase the number of hands-on experience programs in the future. Such programs also have the added benefit of deepening interest among alumni in their alma mater. I hope that similar activities could be implemented in major cities other than New York, for example in Los Angeles, Washington D.C., London, Beijing and Rome. However, from a security perspective it is necessary to have people accompany students on these experiences, which is where the help of alumni becomes even more important. In New York we have nine locations for hands-on experiences and all the alumni we have approached have provided their time with great generosity.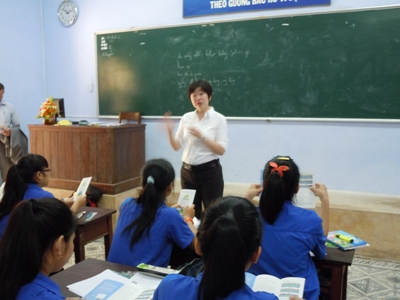 Associate Professor Itatsu explains about PEAK to high school students in Vietnam. Ms. Takako Hayashi, Admissions Section, Internationalization Promotion Division. © Takako Hayashi.
Vietnam Akamonkai plays its part in the PEAK seminar
On visits to Vietnam in 2011 and 2012 we have been well looked after by Todai alumni living in Vietnam. Among former Vietnamese students at Todai, many are now teaching at institutions in Vietnam and they provide detailed and specific knowledge about the status of education in the country. In addition, among the senior management of people working at the offices of Japanese companies in Vietnam there are many Todai alumni, who on previous visits have indicated their willingness to accept interns at their offices. It is exactly this kind of solid global alumni network that will be an important point for top international high school students when selecting a university.