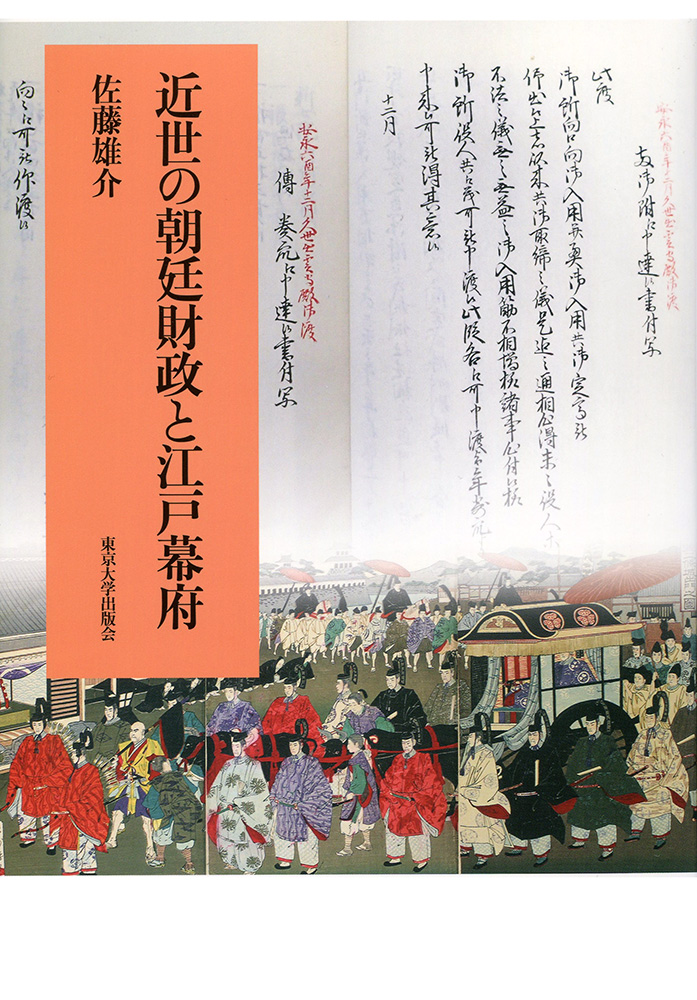 Kinsei no Choteizaisei to Edo Bakufu
(Fiscal Concerns in the Relationships Between the Imperial Court and the Edo Shogunate in Late Premodern Japan)
University of Tokyo Press
This work investigates the financial relationship between the Imperial Court and the Shogunate in the Edo Period. As one of the most significant research topics in modern Japanese history, the Imperial–Shogunal relationship has been extensively analyzed from various standpoints: political, juridical, institutional, etc.

Nevertheless, when the focus shifts to finance, that is, the aspect always considered of paramount importance to define this relationship, the paucity of available historical materials is often lamented. Indeed, since the 1944 publication by Takahiro Okuno, "Research on the Economic History of the Imperial Family (Koshitsu Onkeizaishi no Kenkyu) – Second Volume" (Chuokoron-sha), related historical research has scarcely gained momentum.

Following an exhaustive search for relevant historical materials among the existing (although not abundant) records, this book rigorously reconstructs the finances of the Imperial Court in the Edo Period and the role that the Shogunate played in this respect, particularly in the 18th century and thereafter, elucidating in the process the actual Imperial–Shogunal relationship. The contents of this work are briefly introduced below.

This book begins by delineating the financial guarantees and support that the Shogunate could, to a certain degree, always afford the Emperor, the various underpinning mechanisms, and the personalities who propped them up. Furthermore, the significance of these guarantees and support to the Imperial Court's finances is highlighted.

In more detail, their magnitude was certainly not constant over time, and this work traces the history of these fluctuations. Specifically, in the 18th century and thereafter, finance evolved into a major problem that weighed the Shogunate down. As the urgent need for finance started being a constraint for politics (see Satoru Fujita's "Late Premodern Japanese History (Nihon Kinsei no Rekishi), Volume 4 – The Tanuma Era (Tanuma Jidai)," Yoshikawa Kobunkan, Inc., 2012), the Shogunate's financial status and policies affected the flow of guarantees and support to the Imperial Court. This book clarifies how this financial relationship was modified over this series of events, and points out the progressive Imperial–Shogunal integration, with the Shogunate taking over the Imperial Court.

Guarantees and support dramatically changed in the third year of the Bunkyuu Era (1863), when the Shogun entered Kyoto, the seat of imperial power. Although the Imperial–Shogunal relationship was clearly undergoing radical changes even before then, as evidenced by the imperial sanction of treaties concluded by the Shogunate, this point marked a definitive divergence in the fundamental nature of those guarantees and support. From the financial perspective, this was a profound shift.


(Written by: SATO Yusuke / July 03, 2017)