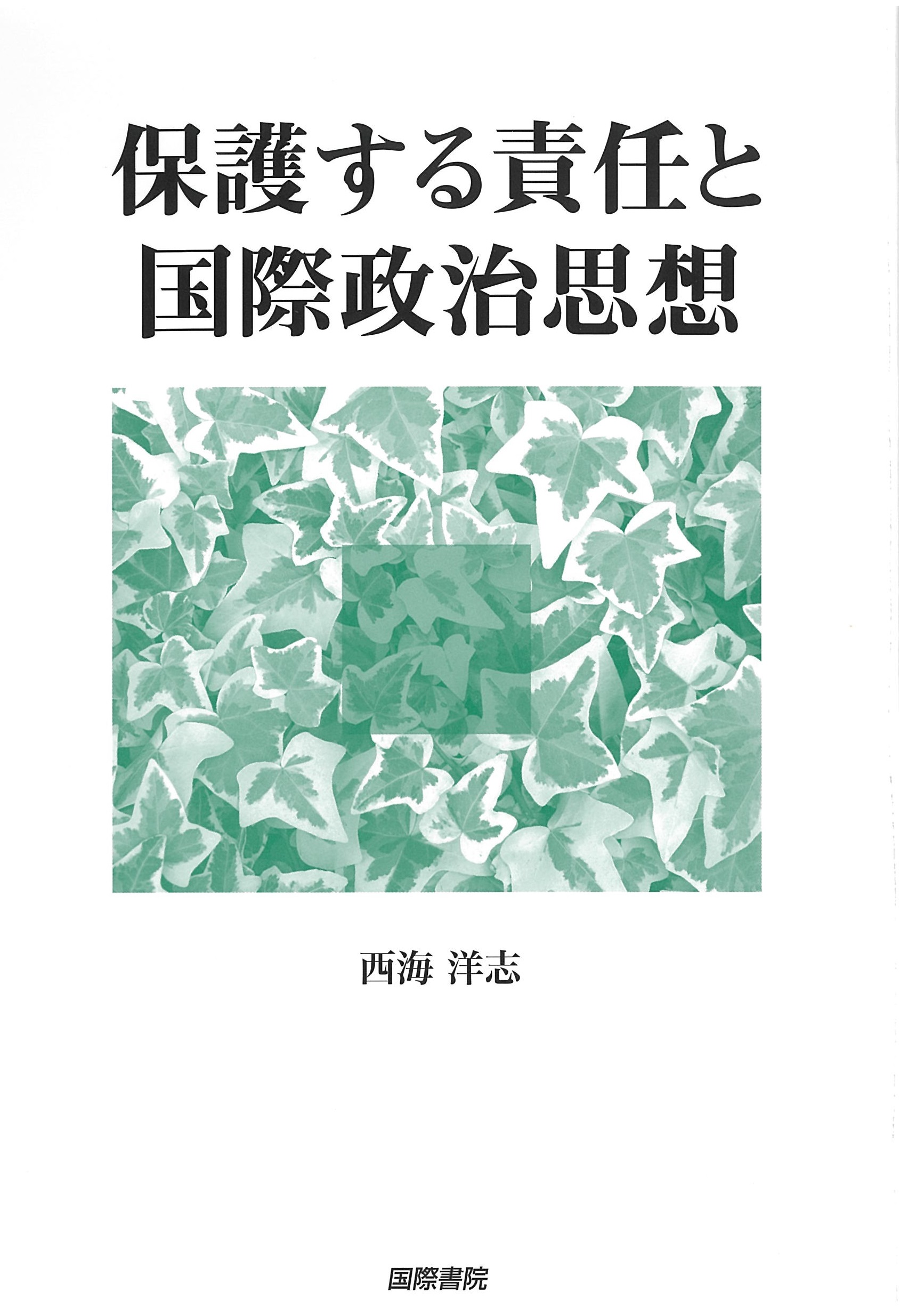 Hogosurusekinin to Kokusaiseizishisou
(Responsibility to Protect in International Political Thought)
Let me start my narrative with my personal eulogies. During my emending of the book, Edward C. Luck passed away. He had a great influence on the development of the "responsibility to protect (R2P)" concept, academically as well as practically as a leading scholar of the United Nations and the former Special Adviser of the UN Secretary-General. Without his engagement, the concept must have followed an entirely different trajectory. The book clarifies there exist "three traditions" in discourses on the concept and sets out the three traditions as a part of the framework analysing the concept's history. The idea of the three traditions actually came from my research on Luck's academic and practical contributions; therefore, the book is in a sense a document tracing his great contributions.

Also, a best and brightest person has been drawn up to heaven around the same time. He has been my closest "mentor" and "role model" to whom I do reverence and owe most. Without his help, I would have pursued a different career. During waiting for the book to be published, I remembered and immersed myself in our emails, words and ideas exchanged, and then realised that his words and ideas and our discussions are livelily reverberating everywhere in my texts. Research and writing are generally considered to be solitarily conducted, but actually not. They are, in reality, conducted inter-subjectively and co-creatively through dialogues with others. With the dialogues continued, scholars live for long, and scholarship/science keeps developing.

Dilating this dialogical reality, whereas usually assumed that we should organise and write a book which is to be completed by itself, a book cannot be immune to "inter-textuality". The assumption should be valid indeed, but a book can be hardly completed by itself. Inter-textuality could be discovered as well in international politics into which various actors' discourses and practices are weaved. In other words, international politics observable for us is, as it were, "textiles" interweaved with various narratives which are weaved from reverberating discourses and practices of various actors. Then, the book presents a study of "international political thought", which aims to ravel out narratives interweaved into international politics, to read into various actors' discourses and practices, and to make visible textures and fabrics of the intertwined narratives.

Furthermore, meaning of writings can change depending on when and where they are read; to put it differently, it is open to "inter-contextuality". The book would be attached different meanings whenever read in a particular context. Shortly before the book was published, the coup was carried out in Myanmar, and a serious humanitarian crisis goes on. For criticising the Myanmar military, 12 countries' defence chiefs, including Japan, issued a joint statement reaffirming R2P. Japan for the first time mentions R2P in its official document, and at this moment we are called into question: how would we Japanese treat R2P and address humanitarian crises? Although most part of the book has been written by 2017 and rarely touches on Myanmar, it deliberately traces the development of the R2P concept with the original analytical framework and will provide meaningful insights for answering the above question.


(Written by: NISHIKAI Hiroshi / January 11, 2022)