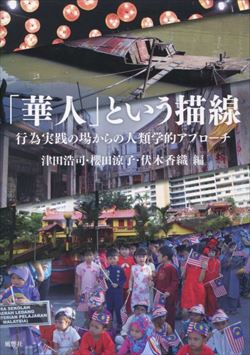 Kajin to iu Byosen
(Describing "Something Chinese" - Anthropological Analysis based on an Action-Centered Approach)
Researchers intending to investigate "Ethnic Chinese people" (or "Overseas Chinese people") go to places where they live and conduct fieldwork, paying attention to "something Ethnic Chinese (Chineseness)" about the subjects of their research, and then, the researchers describe the extent to which the people they have investigated are typical "Ethnic Chinese people".

To date, studies on "Ethnic Chinese people" have often reported how cultural and traditional aspects of "the Chinese people"as well as their normative consciousness, have been maintained or changed and how they have utilized these, based on theories of assimilation (localization, indigenization), or "re-Sinicization." However, the discussion has tended to become a circular argument as described above and somewhat of a caricature. For example, in the late 20th century, studies were conducted under the rubric of localization studies, which investigated people having an identity with places to which they have immigrated and become established. These people were at first considered as "Luoye Guigen (fallen leaves returning to their roots)" and then as "Luodi Shenggen (fallen leaves rooted in a new land)." However, the subjects of these studies were "the Ethnic Chinese people" who were in essence identical ("roots" and "leaves"). Changes in their identity were particularly focused to justify the choice of the subject.

Past studies have tried to investigate "what an Ethnic Chinese is", whereas we tried to approach the subject "by using the Ethnic Chinese". This book attempts to examine how concrete activities and phenomena have been remembered and imagined "by using Ethnic Chinese", aiming to avoid the circular argument described above. The six authors of the book are young researchers who had conducted fieldwork from the perspective of cultural anthropology, area studies, and ethnomusicology, among others. Each author tries to overcome this circular argument in their own way. On the other hand, they all try to minutely describe the contexts and processes of concrete actions and phenomena that have been discussed or understood "by using Ethnic Chinese people", without attributing all the reasons to the single issue, i.e., "Because they are Ethnic Chinese people."

The circular argument is not characteristic of "Ethnic Chinese" studies but is observed in studies on any specific subject. What perspective can we develop when we begin to consider actions and phenomena regardless of their subject (in this case, "Ethnic Chinese")? This type of attitudes might be the key to improving "Ethnic Chinese" studies by breaking out of the circular argument. This book consists of case studies based on this perspective.

(Written by TSUDA Koji, Associate Professor, Graduate School of Arts and Sciences / 2017)
Try these read-alike books: