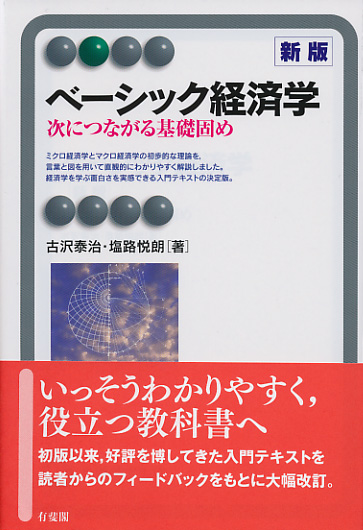 Basic Keizaigaku
(Principles of Economics - Building foundations for the next step, new edition)
454 pages, 127x188mm, softcover
There are many textbooks for principles of economics, published in English or Japanese. Why should you pick this particular textbook? The reason is that this textbook is quite unique as an introductory textbook, as it explains contents in details with plain language and yet keeps rigorous treatment of materials.

This textbook is more mathematically-oriented than other introductory textbooks. Etsuro and I chose this style so that readers will get sound understanding of principles of economics. Introductory textbooks would be much more accessible without rigorous, mathematical treatment of economic issues. Readers may also feel content with "easy-reading" textbooks. But, in our view, it would be better even for first-learners to be exposed to rigorous arguments and analyses. By that way, readers would be equipped with sound economic thinking and understanding of mechanism of the economy. We hope that after reading this textbook, readers will be equipped with skills to understand what is going on in the economy and to enable them to make critical judgments of the government's policies.

As the subtitle suggests, we hope that this textbook will bring readers to their next steps. The next step for those who are freshmen and sophomores learning economics in college is to study more advanced economics as to microeconomics, macroeconomics, labor economics, international economics, and others. For students in other disciplines, businessmen, or people interested in knowing what is going on in the economy, their next steps must be quite diverse. But whatever they are, we believe that obtaining skills to logically analyze economic, or whatever problems through studying economics with this textbook should help them step further in their individual fields.

This textbook for introductory economics is best fit to students who like rigorous analyses even though they may be a bit less accessible. I believe that students in University of Tokyo are just such kinds. This textbook contains lots of good exercises at the end of every chapter. The best way to learn materials is to work on good problems.

This textbook consists of two main subjects, or the foundations of economics: microeconomics and macroeconomics. On the one hand, microeconomics is the study that investigates the economy from the micro level, such as consumers, firms, and governments. Then, it examines the performances of markets where those economic agents interact with each other for transactions of goods and services. It also discusses policy issues, such as the effect of a rise in the consumption tax, and welfare consequences of the market mechanism and policy interventions. On the other hand, macroeconomics investigates the economy as a whole. How are the gross domestic product (GDP) or price level determined? What are the effects of fiscal and monetary policies? How are the effects of those policies different between short-run and long-run? Why do countries grow economically? Macroeconomics gives you the answers to those questions. All of those topics, in microeconomics or macroeconomics, are standard. This textbook is different from others only in how we approach those fundamental economic issues.

Etsuro and I both love economics. It would be our pleasure if we could share our passion with readers.

(Written by FURUSAWA Taiji, Professor, Graduate School of Economics / 2020)
Try these read-alike books: