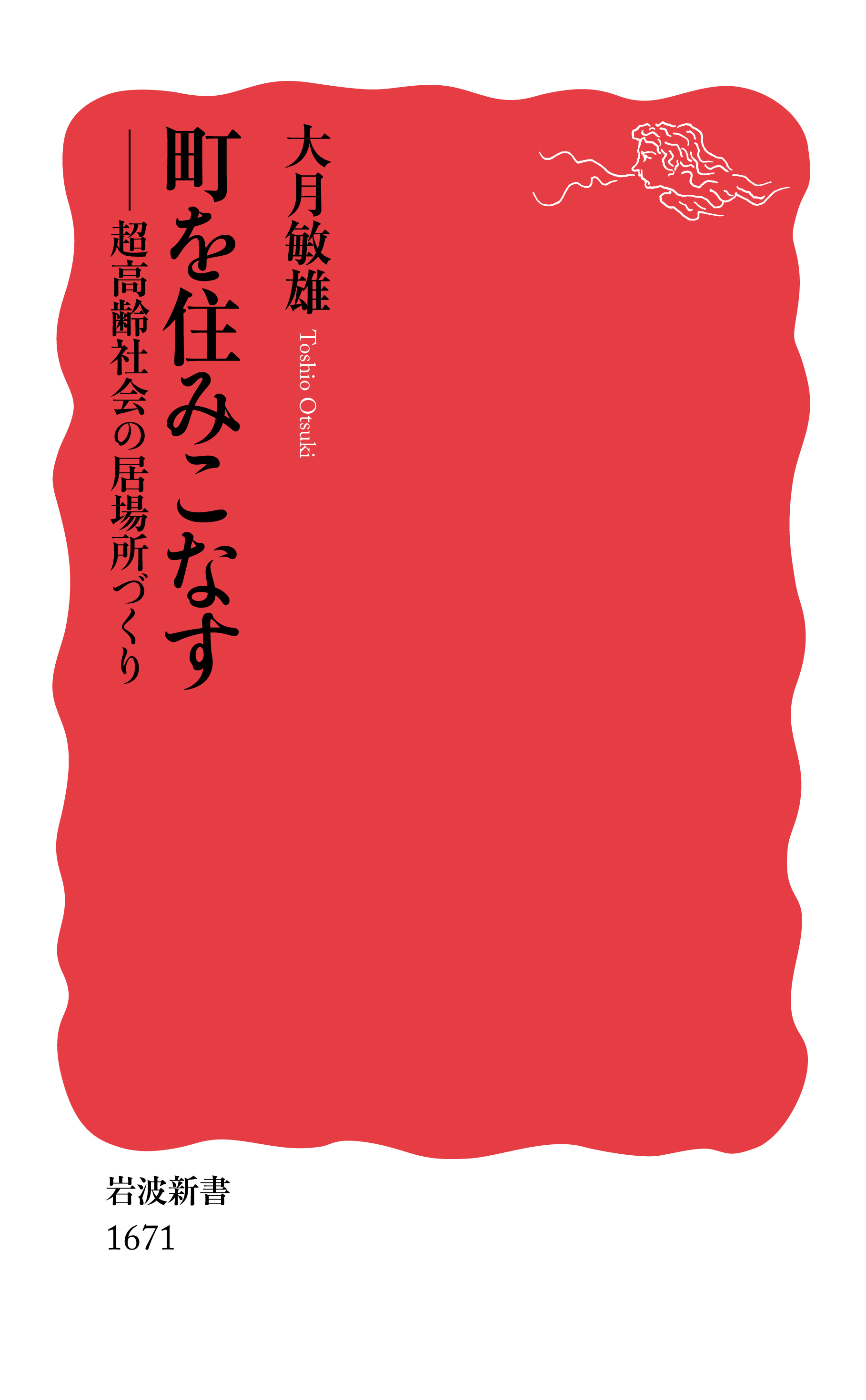 Iwanami Shinsho
Machi wo sumikonasu
(Making residential towns livable for long term – Producing Places of Belonging for a Super-Aged Society)
272 pages, paperback pocket edition
In Japan's residential districts, especially new developments that were created in the post-war metropolitan periphery, the aging of the population has become a serious issue that is turning what were once New Towns into "Old Towns." This book begins by looking at survey data that illustrates how Japan's disproportionately super-aging peri-urban residential districts were formed, what happened to them over the next half-century or so, and what is becoming of them now. From there, it aims to consider what types of policies should be adopted to improve the capacity of neighborhoods that have evolved in such a way.

The Introduction explains the phenomenon of sumikonashi (managing), which is the Japanese title of this book.

Chapter 1 illustrates how the factor of time in residential district plans changes neighborhoods. It explains why people "aged 35, with kids" buy condominium units, why New Towns are turning into Old Towns, and why diversity is the key to the long-term liveability of residential districts.

Chapter 2 focuses on the differences between a household and a family and demonstrates why not everyone lives in the typical pattern of "one household living in a single unit built on a single lot." It explains how the phenomenon of kinkyo, where parent households and child households are separate but still within a short distance of each other, encourages the maturation of residential districts.

Chapter 3 focuses on the surprisingly high number of "short moves," which most people do not usually pay attention to, as they involve traveling over short distances, and of "G-turns," where people move house a short distance away within the same area. These phenomena provide an important perspective for creating neighborhoods where one can decompress from daily life.

Chapter 4 discusses a model of housing design and residential district design that focuses on creating a sense of belonging. Typically, when developers create housing estates, they provide for a meeting hall that ostensibly serves as a place for "community," and the creation of a single large space where everyone in the neighborhood can gather at once is often considered to be the completion of this community facility. However, neighborhoods consist of people for whom the community is important and others for whom it is not. If a large community hall is designated as an open space for all, then there must also be spaces for one person, for two people, and for small groups. This chapter advocates the importance of connecting housing units to the neighborhood by forming spaces for varied sets of people all around it.

Through case studies and suggestions for the real-world implementation of the ideas in Chapter 1 through 4, Chapter 5 discusses policies that lead to neighborhoods that will remain livable for a variety of people and where the whole neighborhood is a place of belonging for its residents.

This is a book for those interested in thinking about what should be done to transform existing neighborhoods into living environments that a variety of people can continue to live in for years to come. It should especially be read by administrators, place-making specialists, architects, and people in municipal governments and local non-profits (NPO).

(Written by Toshio Otsuki, Professor, School of Engineering / 2019)
Awards:
Association of Urban Housing Science Award (2018)
The Real Estate Companies Association of Japan Award (2018)
http://www.fdk.or.jp/f_etc/
Try these read-alike books: