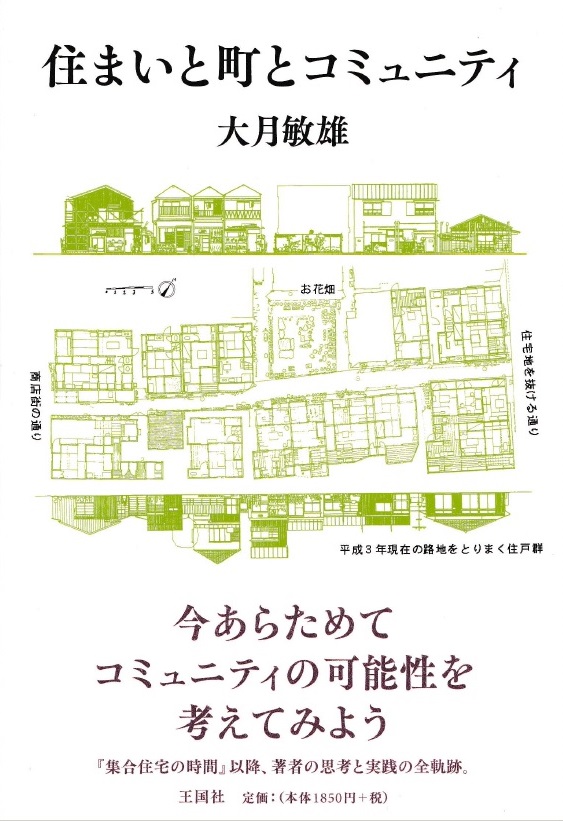 Sumai to Machi to Community
(Homes, Towns and Communities)
This is a compilation of eighteen articles on topics ranging from "hard" fields such as architecture, place-making, and urban planning, to "soft" such as community formation, which were submitted to various magazines and other publications in the roughly ten-year span between 2007 and 2016.

One would expect that at the administrative or specialist level, it should be possible to distinguish homes, towns, and communities and analyze them separately. However, in Japan's vertically compartmentalized bureaucracy, it seems as if there is a three-way tug of war among these three. Seen from another perspective, it looks as if the bureaucracy itself has given rise to Japan's peculiar industrial world and its structure, in which different industries effectively become advocates for homes, towns, and communities in inter-departmental and inter-ministerial conflicts.

However, from an ordinary citizen's perspective, these three are simply indivisible. This can be seen clearly in a post-natural disaster scenario, for instance, where mass temporary housing is constructed. While this housing could be said to provide homes, it is rather difficult to actually make oneself at home there without a connection to a town that is responsible for more than just shelter—health care, welfare, employment opportunities, and so on—and to a community, whose neighbors all work together to help those in need. This can also be said with regard to the redevelopment of residential districts, as well as the empty-house policies and shrinking residential district policies that have become popular recently. That is why I have dared to give this book the title Homes, Towns, and Communities, as it comprehensively encompasses this limitation in contemporary Japanese society.

This book can be divided into the Introduction, Part I, Part II, and Part III, with any of them serving as a good starting point.

The Introduction takes a head-on look at questions such as why this thing called "community" is the subject of repeated discussion and whether communities are really necessary. I will refrain from spoiling the answer for you here.

Part I discusses case studies with rich implications for the potential of floor plan designs and special exterior designs to enrich our daily lives, as I have witnessed from surveys that I have conducted throughout Japan.

Part II uses American residential districts as an example to explain the essential elements influencing Japan, as they have influenced or are currently influencing the design of Japan's residential districts. It also considers the reasons modern-era housing complexes in Japan have been completely erased in the name of "redevelopment," whereas in the West, they typically remain as symbols of the neighborhood.

Part III uses various examples to illustrate points that must be considered in the future shaping of Japan's residential districts. Above all, as the post-disaster place-making process clearly demonstrates, there is a need for variety in residential districts built in the 20th century. Moreover, this book argues that this essential need is a constant in any type of housing, be it post-disaster housing, mining town housing, or suburban detached housing complexes.

(Written by OTSUKI Toshio, Professor, School of Engineering / 2019)
Try these read-alike books: