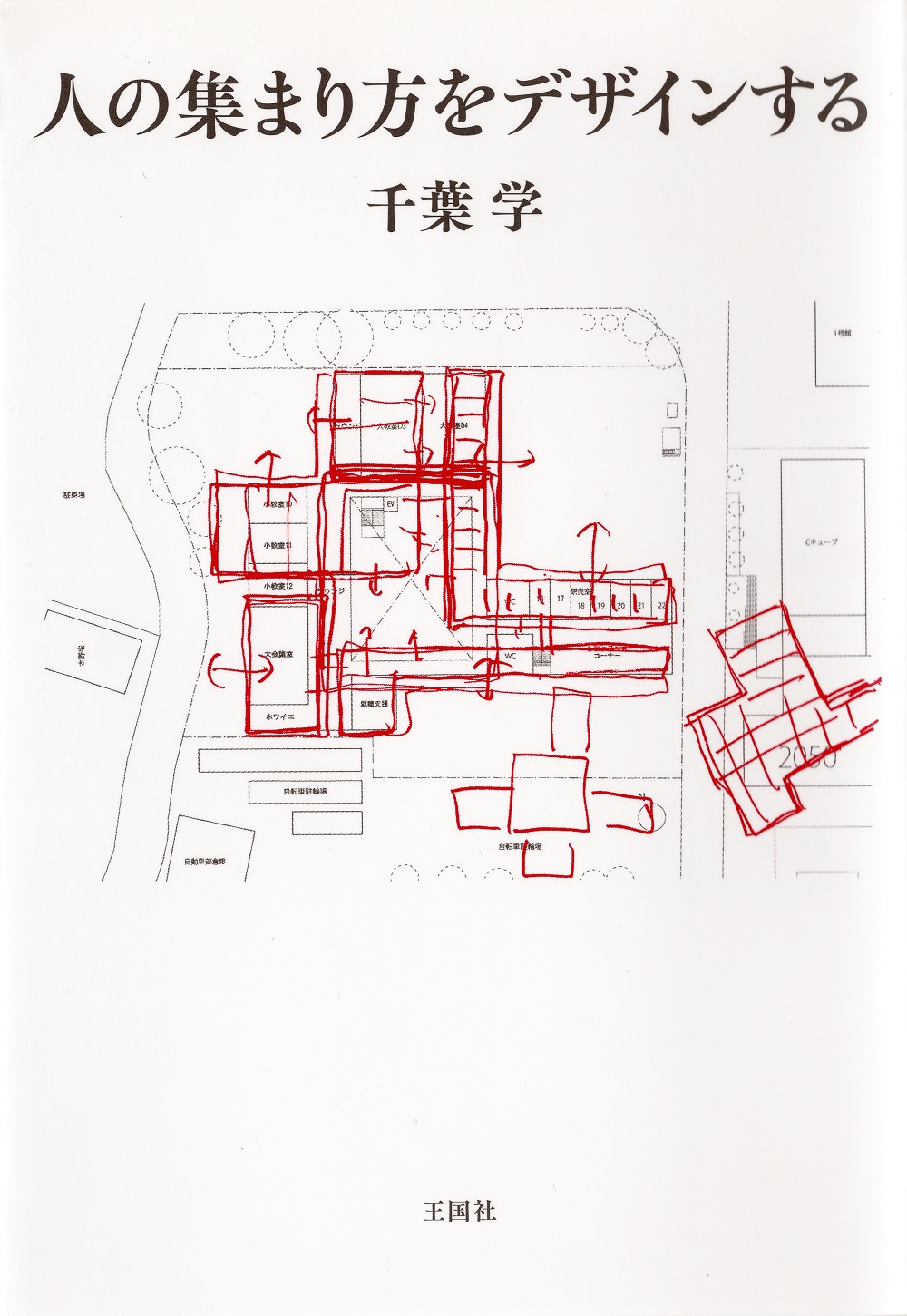 Hito no atsumarikata o dezain suru
(Designing How People Gather)
Hito no atsumarikata o dezain suru (Designing How People Gather) is a compilation of various articles I have written following the completion of each of my architectural works on my thoughts through my design. Looking back, I see two major themes in my own writings. One is on how architecture deals with nature and the other on how architecture can affect the way in which people gather.

Constructing architecture is an activity that is far from nature-friendly. After all, we cut down trees and move soil to create an artificial structure. For this reason we have to apply technologies that will have the least impact on the natural environment. This is an absolute prerequisite for any kind of construction today. I have come to conclude, however, that not even this is enough. The greatest contribution to our environment is to create architecture that enhances our sensitivity to the diverse aspects of the surrounding natural environment. This is because environmental problems are ultimately problems that cannot be solved without first enhancing each person's sensitivity to nature so that they will perceive the surrounding environment not as something only to be observed, but as an extension of their own body. Thus, the quality of a work of architecture should be assessed not in terms of its self-expression or novelty; but by how effective it is in providing a new perspective on the surrounding nature.

My second theme on how architecture can affect the way in which people gather is a topic arising out of recent advances in globalization that have enabled the formation of multiple strata of diverse communities transcending conventional boundaries of place and time. As individualism becomes more pervasive and local, and regional community ties less visible, there is an absolute need today for appropriate spheres in which people can gather to form diverse communities linked by work or shared interests, or by set circumstances, such as the need for a temporary but immediate response to a disaster. I believe the key to providing these spheres or "places" is to design spaces that do not separate people by social status or class hierarchy, but instead help them to maintain a comfortable distance with each other. People instinctively create spaces between themselves; sometimes they want to be close together, sometimes separate, and sometimes they want to maintain a small but comfortable distance. I believe that the careful design of these instinctive distances for place and community – one of architecture`s significant responsibilities – allows for the natural emergence of such interactions between people. Through architecture, people can both share the joy of being together and savor the value of being alone.

We live in a time of experiences rather than material objects. It is, of course, possible to have experiences through other mediums besides architecture. Still, people instinctively gravitate to the spaces and places they feel most comfortable in to chat with friends, enjoy their time with family, or savor precious moments with their lover. Architecture can create these spaces and places.

It is precisely because we live in an era of experiences that we need to reflect on what material objects have to offer. I hope my writings will convey my journey on this quest.


(Written by CHIBA Manabu, Professor, School of Engineering / 2020)
Try these read-alike books: