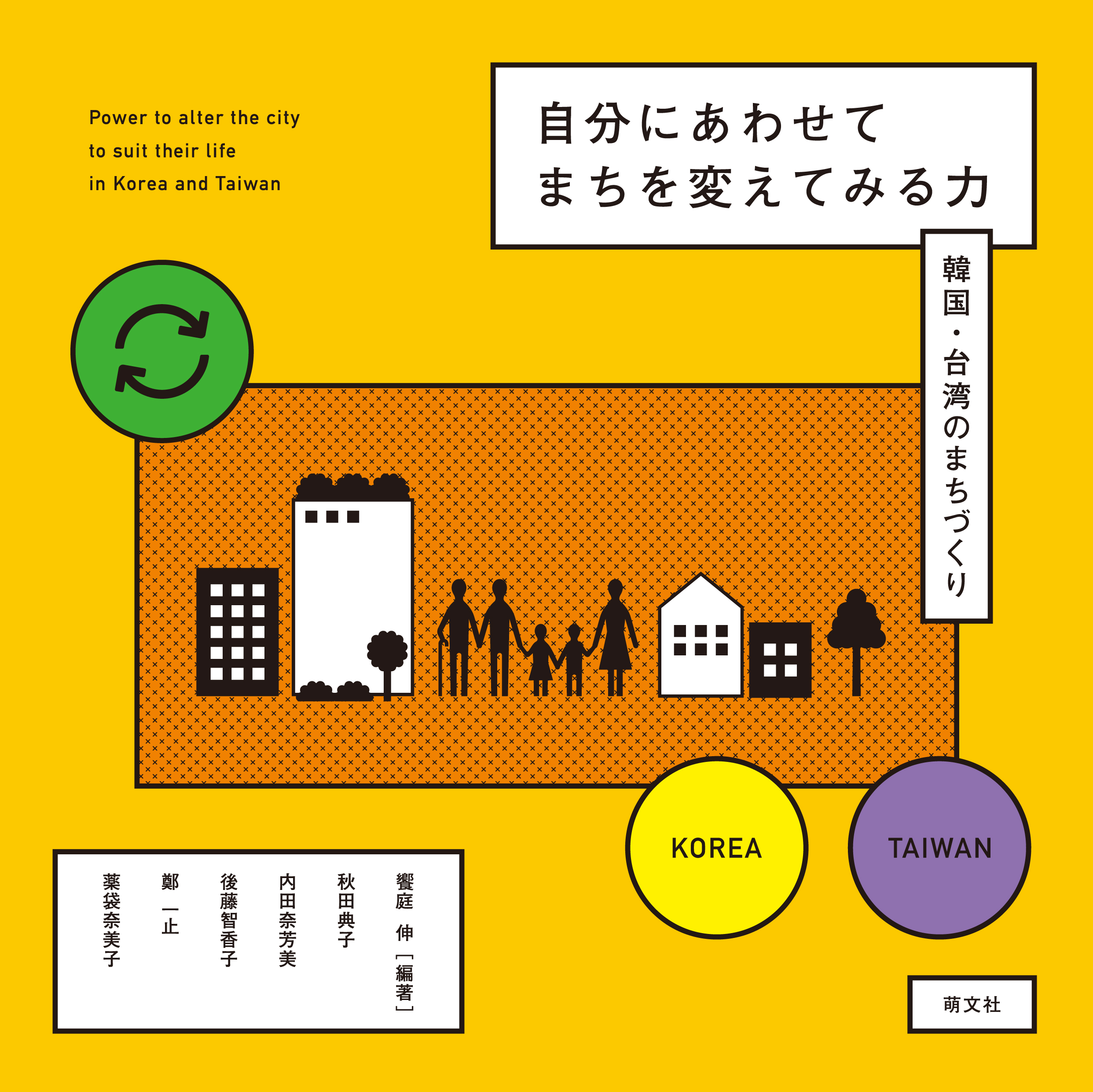 Jibun ni awasete Machi wo kaetemiru chikara
(The Power to Make Cities Our Own to Meet Our Needs – Community Development in South Korea and Taiwan)
156 pages, A4 format, softcover
Hobunsya Publishing Corporation
We all have the power to make the cities we live in our own to meet our needs. This adapting of cities to human needs could be a driving force for social change. This book examines the initiatives behind the urban developments of South Korea and Taiwan, which have, in part, been driven by the people.

Hoping to discover the mutual influences between Japan's community development and that of South Korea and Taiwan, the authors set off in 2006 to speak with ordinary people. This book is a summary of their findings and the narratives of the residents they interviewed. Chapter 1 explains the reasons for studying urban development in South Korea, Taiwan, and Japan and the methods employed to that end by six invitations to the readers as follows.

- Let's view the map of Asia with an open mind.
- Let's visit our neighboring countries.
- Let's learn from a slightly changed world.
- Let's believe in our power to make cities our own to meet our needs when we work on urban development.
- Let's add some democracy to our daily lives.

Chapter 2 outlines 25 ways in which the South Koreans and Taiwanese people in this study were exercising their power to make their cities their own to meet their needs. These ways are not intended to provide a comprehensive encyclopedia but, rather, to serve as an inventory of the authors' observations. The chapter content is as follows.

Theme 1: Customizing the city
- A "handmade" city design
- Small public transit systems
- Gallery shopping areas
- A focus on walls between public streets and private houses
- Gardens using vacant spaces in temporary cities.

Theme 2: Machi, Shequ, Maul
- Communication in gated communities
- Communities that like to relocate
- Health promotion with a focus on education
- Shopping areas that support street stalls and vendors
- Healthy communities
- Enthusiastic public relations strategies

Theme 3: Lifestyle design and life design
- 'Madan' parties that can be held anywhere
- Why not fix your house yourself?
- Young people's brave choices
- Building pillars in the community
- Setting up your own shop

Theme 4: Heritage and local specialties
- Discovering the region's origins
- Anything can be a resource
- The frog that became a tourist attraction
- Let's make urban development souvenirs
- Promoting aesthetic values through handicrafts

Theme 5: Making a circle
- What can we find in our area?
- Protect the environment in every possible way
- Urban development with more focus on protecting local forests
- Creating small green spaces

Chapter 3 relativizes and discusses what it means to have the power to adapt a city to meet our needs through dialogue with four experts: Hajime Ishikawa, Fumitoshi Katō, Akihito Aoi, and Satoru Yamashiro. Finally, Chapter 4 compares the histories of community development of the three countries through the concepts of maul mandulgi (South Korea), shequ-zongti-yingzao (Taiwan), and machi-zukuri (Japan). It discusses how the power to adapt cities to meet our needs emerged and how it has survived in each country.

(Written by Chikako Goto, Project Assistant Professor, School of Engineering / 2018)
Try these read-alike books: