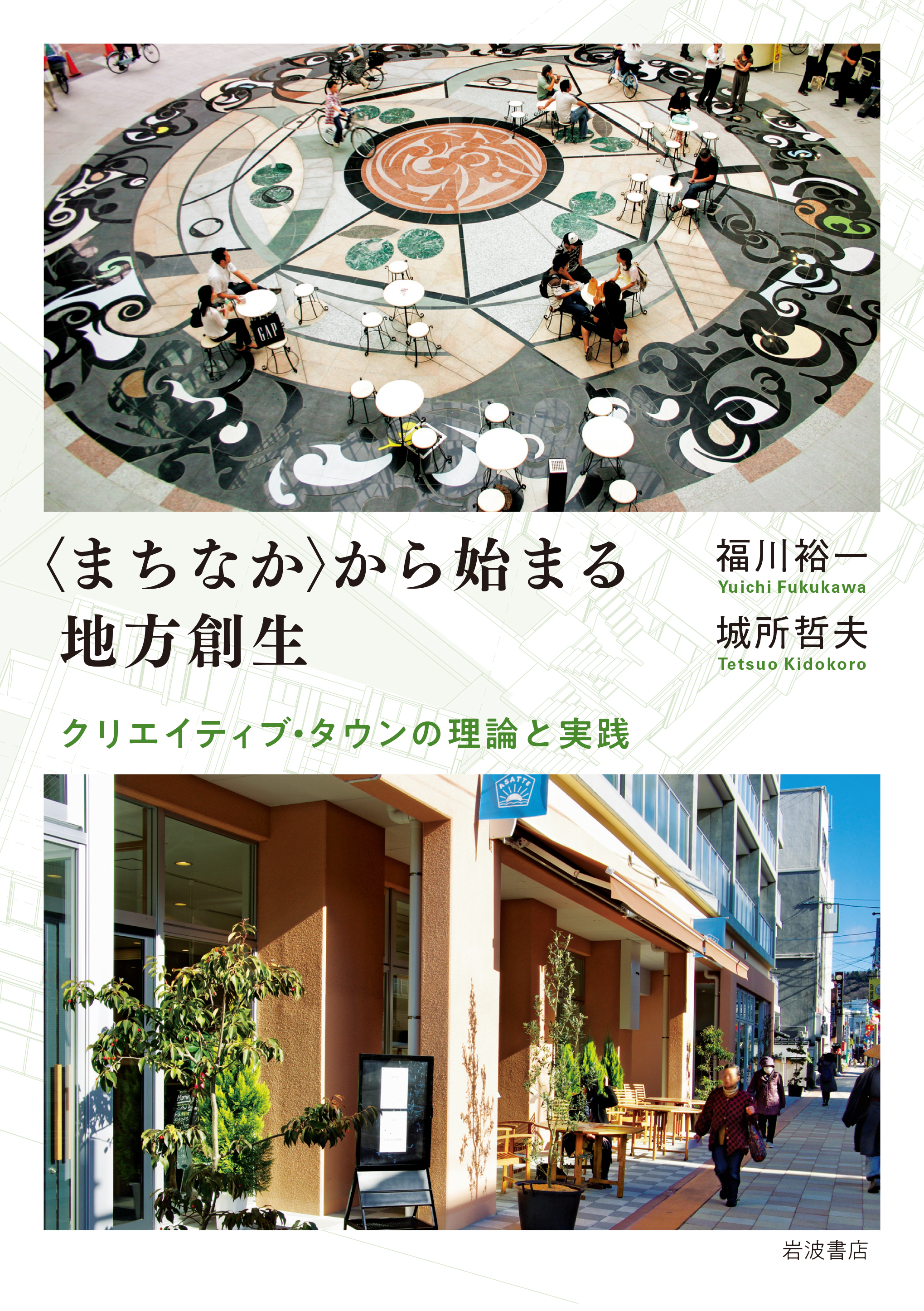 "Machinaka" kara hajimaru Chiho-Sosei
(Regional revitalization that begins "downtown": Creative towns in theory and practice)
208 pages, A5 format, softcover
Shuttered-up streets lined with vacant stores have become just another part of Japan's regional landscape. Given that enormous suburban shopping malls are constantly being built, convenient and attractive with their offer of not only shopping, food courts, cineplexes, and lifestyle services but also new events on a daily basis, it is perhaps not surprising that few people now wish to go out of their way to travel to (and pay for parking at) time-worn central retail districts.

Meanwhile, the central retail area of Ishinomaki, which suffered catastrophic damage in the Great East Japan Earthquake and the resulting tsunami, is expected to be given an entirely new lease on life, very different from previous concepts for such areas. This includes plans for a co-working space that can be easily accessed by anyone, a community café within the old shop buildings, and a downtown children's center where children can engage in independent activities. Although still in its early stages, could a new form of urban development like this one harbor a hidden potential to fundamentally transform regional urban planning across Japan?

Indeed, such developments are not as striking as the struggles faced by disaster-stricken downtown areas that have been forced to rebuild from scratch. However, the phenomenon is beginning to be seen in many ordinary, shuttered-up commercial areas in regional towns and cities across Japan. What characterizes the forces at work here, and what direction should these efforts take? These are the questions this book attempts to unravel.

This book uses the term "creative town" to describe the urban landscapes created by such driving forces. It ultimately finds them to be cities where people with a variety of ideas have gathered and live in the downtown area, exchanging their ideas there, in order to produce continually developing industries with a basis in the lifestyle of the region and its surrounding areas.

Based on the above, the first half of the book discusses the theory of creative towns as well as the situation in Japan's regional towns and cities that has provided the backdrop to their emergence. The second half provides a detailed description of the methods used to make these creative towns a reality, approaching it from three perspectives: design (creating compact towns while taking into account their historical city structure); business (promoting regional development based on local culture, while transforming pride of lifestyle into an industry); and action planning (organizing initiatives and systems rooted in community). In addition, it introduces a plenitude of examples of this in practice, taken from places like Marugame-machi in Takamatsu City, Ichibangai in Kawagoe City, Nagahama City, and Ishinomaki City, and provides practical guidelines for making creative towns a reality. This will be an invaluable handbook for those involved or interested in regional urban regeneration.

(Written by KIDOKORO Tetsuo, Associate Professor, School of Engineering / 2018)
Try these read-alike books: