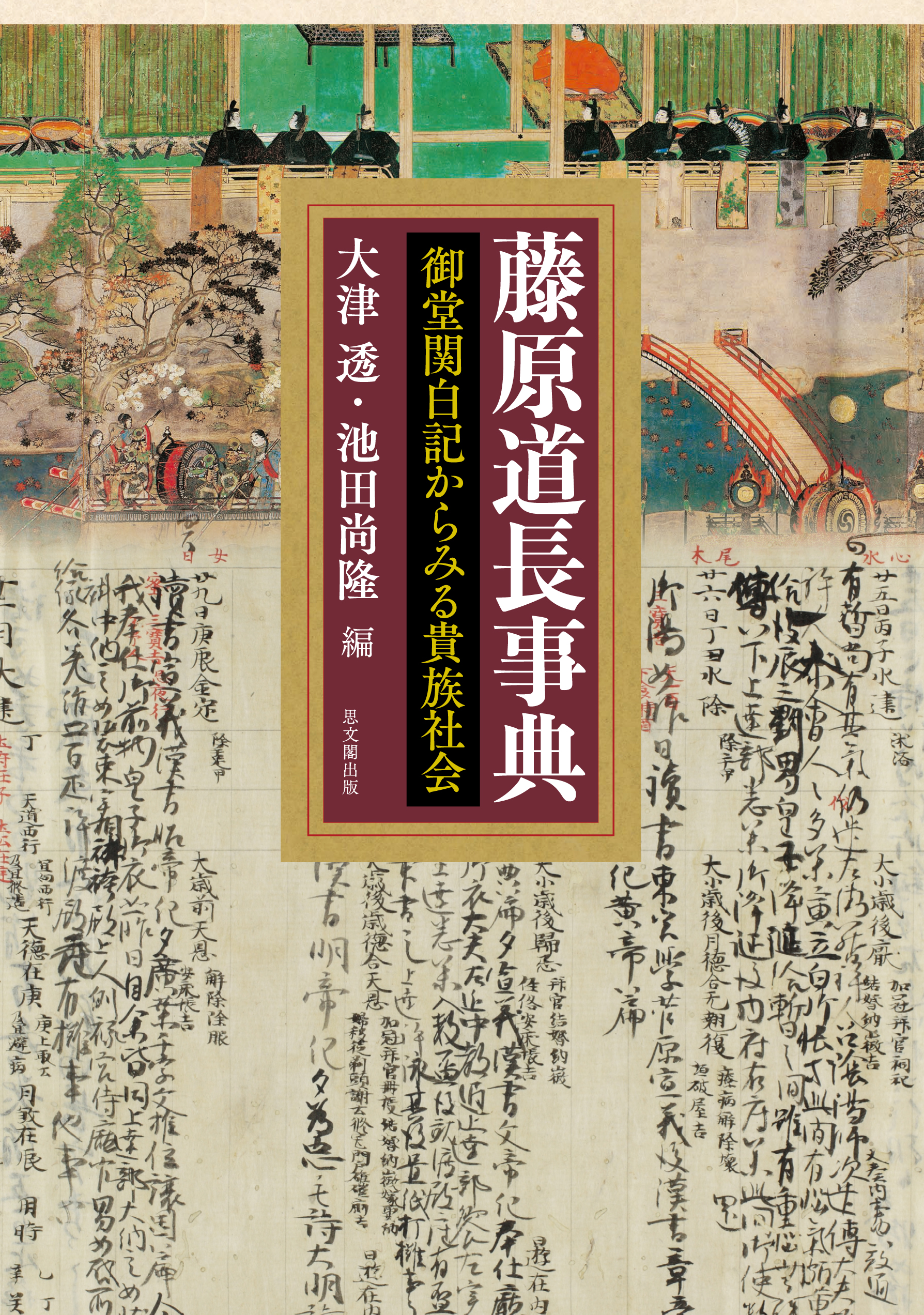 Fujiwara Michinaga Jiten
(Encyclopaedia of Fujiwara no Michinaga: Aristocratic Society as Seen from the Midō Kanpaku Ki)
This book attempts to shed concrete light on the nature of aristocratic society as experienced and seen by Fujiwara no Michinaga in the late tenth to early eleventh centuries, and it takes the form of an encyclopaedia divided into several thematic sections. Based on the fruits of the 16-volume annotated edition of Fujiwara no Michinaga's diary, the Midō kanpaku ki, brought to completion by Yamanaka Yutaka over a period of close to thirty years, starting in 1985 (Midō kanpaku ki zen chūshaku), the present book provides explanations of about one thousand terms that appear with some frequency in the Midō kanpaku ki. These have been classified into eleven thematic sections, ranging from "Political Affairs and Rites" to "Modes of Expression in the Midō kanpaku ki," each of which begins with explanatory remarks explaining the distinctive features of the topic in question during the Regency period. In addition, the book begins with general remarks by the editors Ōtsu Tōru and Ikeda Naotaka, titled "Fujiwara no Michinaga's Goals" and "Michinaga as Depicted in Literary Works," in which an attempt is made to draw closer to Michinaga's role and a true picture of him from the standpoints of history and literature. Even if they existed during the Regency period, institutions and official posts that are not mentioned in the Midō kanpaku ki have not been included, and only those that actually had meaning for Michinaga have been taken up. Encyclopaedias tend to be written in an impartial but bald style, but this book has been written with a focus on the entries' meanings for Michinaga and aristocratic society and his personal relationships so as to delineate the world lived and seen by him, and so a distinctive feature of this encyclopaedia is that it is highly readable.

Research on the Heian period, centred on the Regency period, has made enormous strides during the past twenty-odd years, especially in the study of institutions and rites. These latest research findings have been incorporated, and relevant studies are listed in the bibliography. In particular, the explanations of terms in the sections "Political Affairs and Rites" and "Government Offices and Official Posts" provide concrete examples of terms that cannot be understood by means of lexical explanations alone, and these are of great significance. Michinaga's historical contributions and progressiveness in cultural history as seen in the sections on Buddhism, Shinto rites, scholarship, performing arts, etc., deserve special mention, and these sections, too, draw closer to a true picture of Michinaga in these fields.

When reading old records of the Heian period (diaries of members of the aristocracy), one often encounters terms that are difficult to understand or that appear frequently but are not explained in any dictionaries. This encyclopaedia includes many terms not found in ordinary dictionaries, and this should be helpful for younger people thinking of engaging in the study of the Heian period. In addition, it has been written jointly by specialists in history and literature, which is unusual in academic circles, and this too is a distinctive feature of this encyclopaedia that shows Michinaga's many-sided nature. It could be said that through reading this encyclopaedia there emerges an overall picture of Michinaga.

(Written by OTSU Toru, Professor, Graduate School of Humanities and Sociology / 2018)
Try these read-alike books: