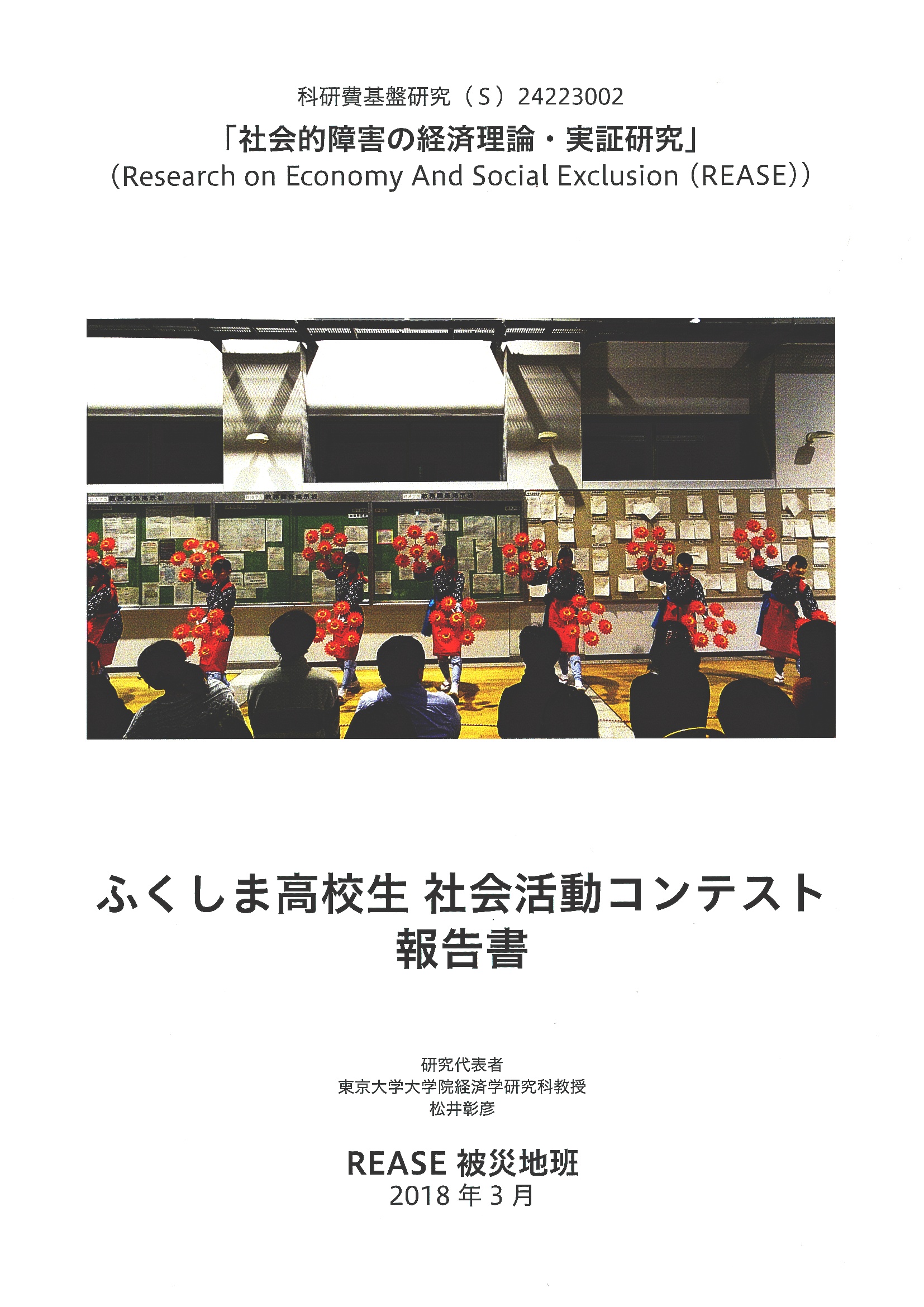 Research on Economy And Social Exclusion
Fukushima Kokosei Shakai Katsudo Contest Hokokusho
(Report on Social Engagement Contests for High School Students in Fukushima Prefecture)
Economy and Disability Press
This report records the social engagement projects organized by high school students in Fukushima Prefecture, which have impressed and inspired us all. The report covers three annual contests for social engagement projects. The first contest was in 2014. In that year, there were eight teams presenting their projects (three schools in Hamadori, two schools and one organization in Nakadori, and one school and two groups in Aizu). The projects included charity projects, disaster recovery projects, international exchanges, local revitalization projects, and product development.

The winner of the 2014 contest was Aizu Norin ("Agriculture and Forestry") High School's project, titled Saotome Odori Conservation Club. Saotome Odori is a traditional dance event that was on hiatus, as there was no one to take over the event. However, the female students of the high school revived the tradition and started organizing the event in Aizu Bange-cho. Originally, nine students participated. Over the next seven years, it grew into a major event, with as many as 36 students (one-third of the entire school) taking part. As adult flute and dance instructors grew too old or too busy to carry out their tasks, experienced senior students took on the instruction roles themselves and trained their junior counterparts. In this way, they established a social engagement project run by high school students both in name and reality.

The second contest, in 2015, created an equally powerful impression. There were many superb projects presented, but the project that earned the top prize one implemented by a team of volunteers from Taira Special Needs Education School in Iwaki City. The team's presenter, Osamu Miura, described his team's project, which involved a blood donation drive and fundraising campaign. In his own words, "As someone with disabilities, I was always the one receiving assistance. I used to think that charity is something done by others. However, when I got involved with the project, which my seniors began, I realized that I can provide, as well as receive, assistance."

No one is an island. No matter how strong we think we are, we all started as weak little babies and we could not have grown up without the loving kindness and compassion of others. In this respect, there is no difference between abled and disabled people.

High school students are in a period of transition from childhood to adulthood. Increasingly, they wish to mature from passive beings to more active, independent beings who engage autonomously in society. Put another way, the high school years are a gateway to the adult world. However, even adults rely on others; living independently does not have to mean living in solitude. We live our lives by supporting others and being supported in return.

In every aspect of adult life, we rely on reciprocal relationships. The students from Taira Special Needs Education School, who give as well as receive assistance, embody this reciprocity principle.

The contests are now run by the residents of Fukushima Prefecture, and there are many fantastic projects being presented. I was deeply moved and inspired by the students' efforts. I hope that through this report I can share these emotions with you.

(Written by Akihiko Matsui, Professor, Graduate School of Economics / 2018)
Event:
The University of Tokyo: REASE (Research on Economy And Social Exclusion) Open Lecture "Social Engagement Contests for High School Students in Fukushima Prefecture"(Jan. 20, 2018 at The University of Tokyo – Hongo Campus)
http://www.rease.e.u-tokyo.ac.jp/img/180120A4.pdf
Try these read-alike books: