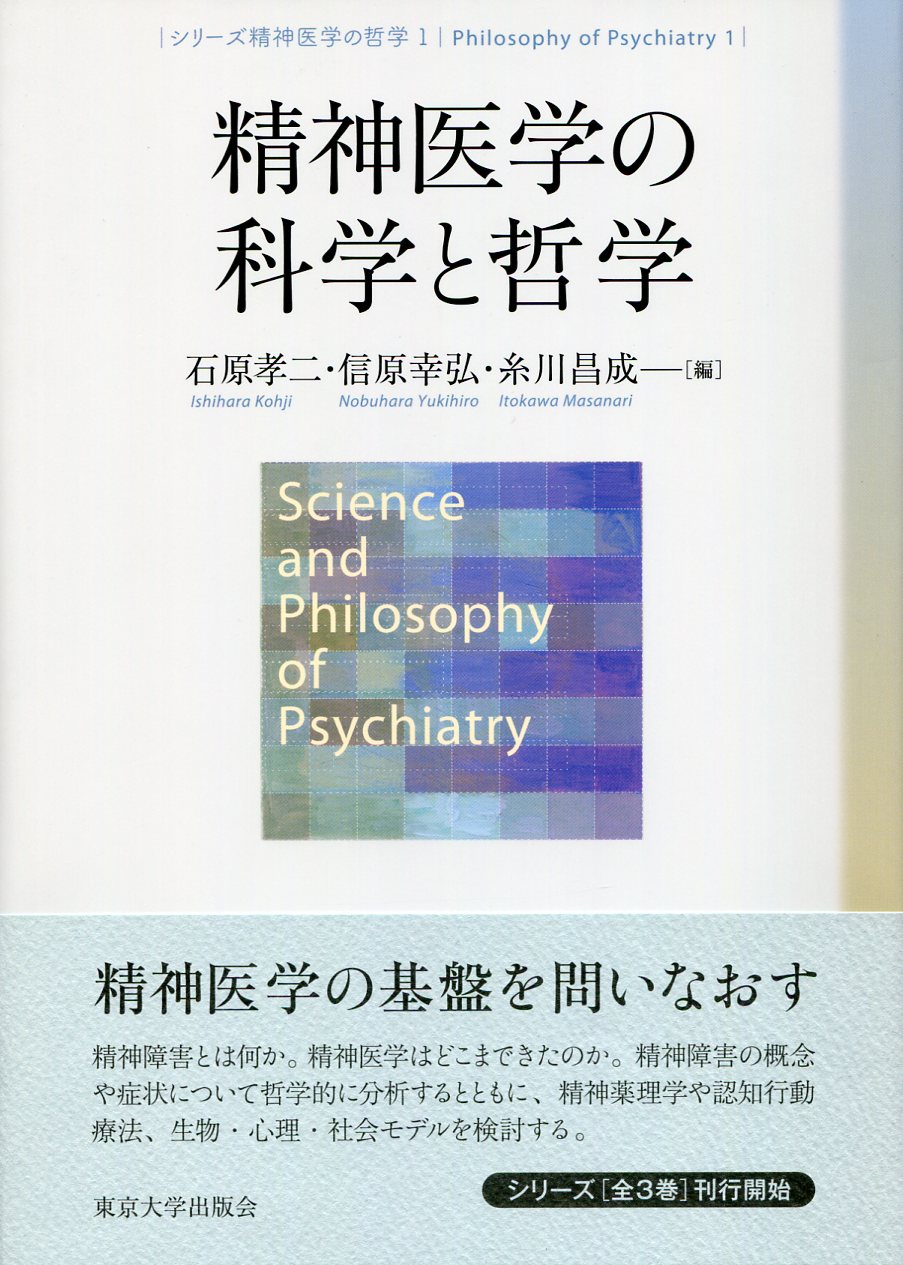 Philosophy of Psychiatry, vol. 1
Seisinigaku No Kagaku To Tetsugaku
(Science and Philosophy of Psychiatry)
University of Tokyo Press
This book was published in 2017 as the first of the three-volume "Philosophy of Psychiatry" series planned for publishing the result of the Japan Society for the Promotion of Science (JSPS) research grant project "Philosophy of Psychiatry: Revisiting the Concept of Mental Disorder" (April 2012–March 2016). The second volume, History and Anthropology of Psychiatry, and the third volume, Psychiatry and Tosjisha, were published the same year. Although many books on philosophy and psychiatry have been published in Europe, including the "International Perspectives in Philosophy and Psychiatry" series by Oxford University Press, few have been published in Japan. The series titled Philosophy of Psychiatry is the first in Japan. The authors of the second volume are historians and anthologists, and the authors of the third volume consist of researchers in psychiatry and philosophy as well as those who have engaged with Tojisha-kenkyu (through self-directed study by patients themselves). Finally, the authors of the first volume are philosophers who are interested in psychiatry and vice versa.

This book is divided into an introductory essay (chap. 1), which is followed by two main sections (chapters 2–4 and chapters 5–9, respectively). The introductory essay (by Kohji Ishihara) examines the concept and diagnostic criteria for mental disorders and reviews philosophical approaches including phenomenology, philosophy of science, and philosophy of mind. The second chapter (by Yukihiro Nobuhara) examines "thought insertion" and discusses the issue of "ownership." In the third chapter, Kengo Miyazono deals with the two-factor error theory of delusions and suggests that a hybrid theory that combines elements of both the approaches is promising. The fourth chapter is Shogo Tanaka's translation of an article by Thomas Fuchs, a leading phenomenological psychopathologist. The fifth chapter (by Kosuke Tshuiki) reviews the relationship between psychoanalysis and psychiatry and investigates the nature of psychoanalysis.

Chapters 6 to 9 were written by psychiatrists. The sixth chapter (by Masanari Itokawa) reexamines the concept of schizophrenia, referring to the history of biological studies. In the seventh chapter, Toshihide Kuroki comprehensively rethinks psychopathology, referring to the historical development of psychoactive drugs and the deadlocking of drug discovery. The eighth chapter (by Takuma Ishigaki) provides a brief overview of cognitive behavioral therapy (CBT) and examines the possibility of adapting CBT to treat psychosis. In the last chapter, Toshiya Murai advocates for value pluralism in psychiatric treatment, drawing on Jaspers' pluralism and Nassir Ghaemi's criticism of the bio-psycho-social model.

As indicated by the many books on the philosophy of psychiatry published abroad, the field of philosophy of psychiatry is quite vast. This book attempts to spark off the discussion of philosophy of psychiatry in Japan.

(Written by Kohji Ishihara, Associate Professor of Graduate School of Arts and Sciences / 2018)
Try these read-alike books: