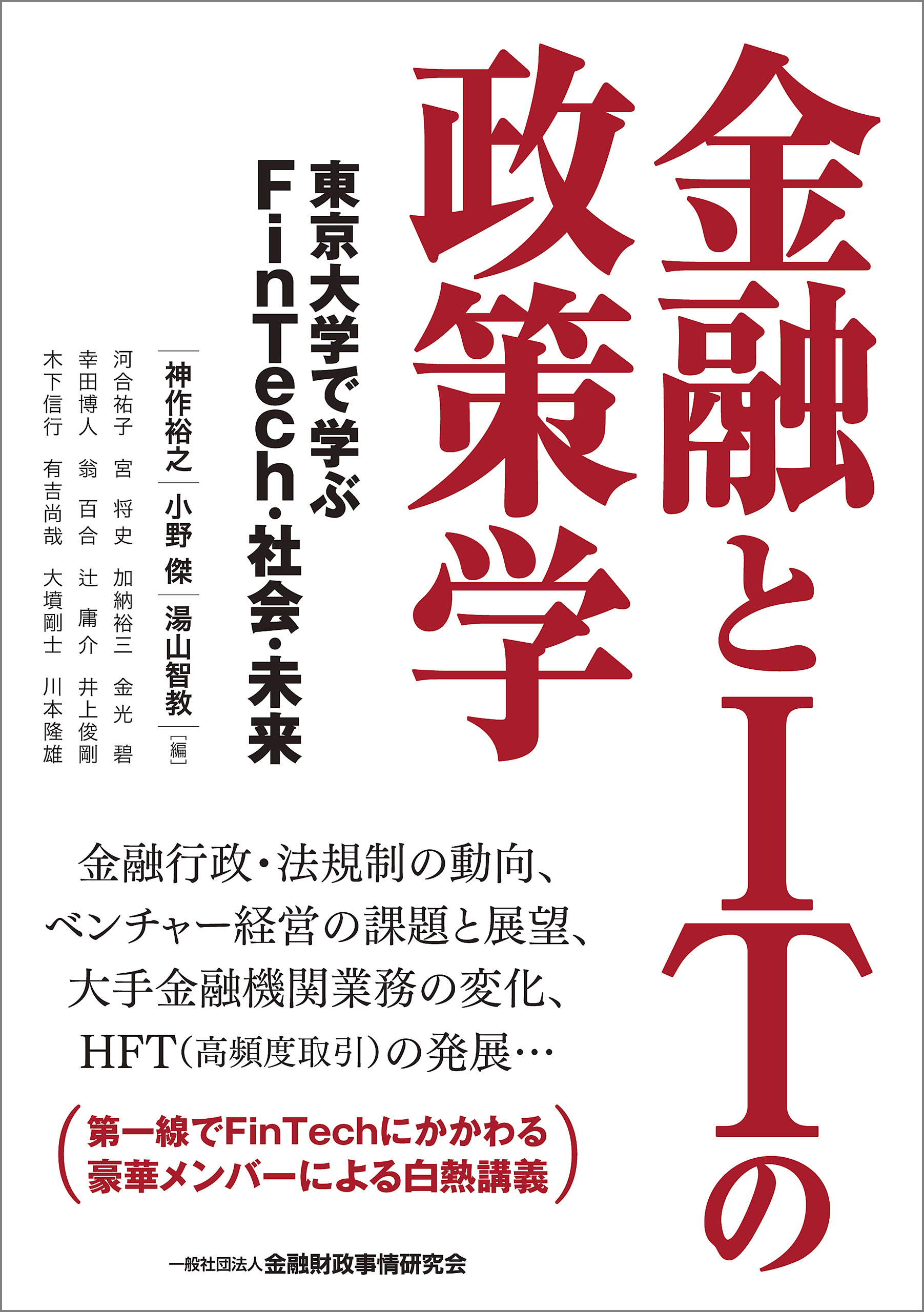 Kinyu to IT no Seisaku-gaku
(Finance and IT policy studies - Learning FinTech, Society, and Future, at the University of Tokyo)
468 pages, A5 format, softcover
Kinzai Institute for Financial Affairs, Inc.
This book is based on and compiled from a series of lectures records given in fiscal 2017 under the theme of "Public Policy and Legal Issues Surrounding Finance and Information Technology: Evolution of FinTech, and Challenges Posed to Capital Markets and the Policy Responses" in the Capital Markets and Public Policy program jointly offered by the University of Tokyo's Graduate School of Public Policy (GraSPP), School of Law, and School of Legal and Political Studies, incorporating necessary clarifications, additions, and changes. This lecture series was offered as part of the Capital Markets and Public Policy program sponsored by Mizuho Securities Co., Ltd. For a series of lectures, we invited experts or practitioners well-versed in the theme "Finance and Information Technology" or having a great deal of relevant experience and knowledge as guest-speakers about cutting-edge practice and theory in alignment with reality, presenting a considerable amount of data and rich experience. We thought it would be beneficial to share such dynamic and insightful lectures by a team of our guest-speakers who are active on the frontlines of their respective fields, including lively and serious questions and answers between them and participating students. Thus, this book is published as a record of those lectures with an intention to share them with a broad audience of readers.

Financial institutions have long been using computer systems in various areas of their operations, such as payments and settlement, risk management, and the provision of services to customers. Meanwhile, financial functions and capital markets are now undergoing big changes brought on by the emergence of the Internet and other networking technologies, the advancement of information technology, the spread of smartphones, etc., as seen in the unbundling of banking services in recent years. Some of the functions traditionally performed by financial institutions are undertaken by new players, typically FinTech firms, as well as in the increased utilization of information technology in financial markets exemplified by high-frequency trading (HFT). More specifically, how will the financial administration and the relevant laws and regulations deal with and change in response to new ideas brought up by FinTech start-ups and further advancement in technology, for instance, in promoting open application programming interfaces (APIs) following recent amendments to the Banking Act as well as in considering the introduction of a regulatory sandbox? What is initial coin offering (ICO)? What will happen to virtual currencies such as Bitcoin? How will blockchains affect our society with their features and mechanisms? What are smart contracts? Is high-frequency trading an unfair practice that poses a threat to securities markets and investors? This book provides clues for imagining what tomorrow's FinTech and society will look like and thinking how we should deal with them. While FinTech innovations exemplified by blockchains, virtual currencies, and ICO attract much attention, they have also given rise to various new questions—including what to do with their modalities and compatibility with the existing sector-specific regulations—along with many issues for public policy and legal studies. As such, we believe that the publication of this is quite timely.

It would be more than we could ever hope for if readers find this book a useful reference in considering challenges and issues surrounding finance and information technology, such as FinTech.
(Written by Tomonori Yuyama, Project Professor of Graduate School of Public Policy / 2018)
Try these read-alike books: