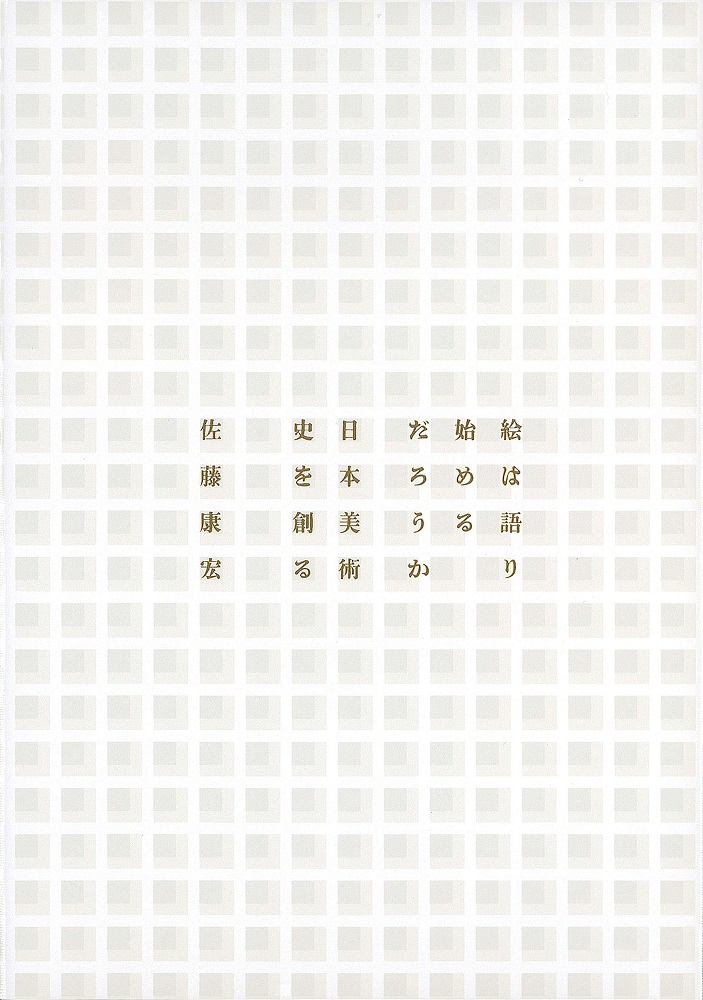 E wa katari hajimeru darō ka
(Let the Picture Tell Its Tale - Rethinking Japanese Art History)
960 pages, A5 format, hardcover
It's 940 pages. It's got a neat book cover designed by Shirai Yoshihisa based on Itō Jakuchū's Hakuzō Gunjū-zu (White Elephant and Animals). I should have also offered a pillow cover so readers could use this thick tome for a pillow. Actually, though, this work is intended as a wake-up call, "Open your eyes! This is no time to be sleeping!"

The title is taken verbatim from an essay published in 1991 in the monthly journal Gekkan Hyakka, Vol. 363, and the first item in the book is that provocative essay, but the remaining content is taken from later writings. Only the last section, comprising translations from English into Japanese and titled "Shintai o seiyōka suru (Westernizing Bodies)," was prepared especially for this book. The term tsukuru in the book's subtitle, "Nihon bijutsushi o tsukuru," is represented with a character that can mean both to "create" and to "damage" or "scar." While I am not trying to totally destroy Japanese art history and its research, I have attempted in my struggles with the topic over the years to "scar" Japanese art history and its research in ways that I have hoped would lead to new "creations." This book is a record of my more than 25 years of trial and error on this quest.

The content is a compilation of 31 of my rather strange essays, including several professional papers on Japanese art history. Examples are musings on fūzoku-ga genre paintings of the Muromachi through the early Edo periods; the forgeries and imitations of the works of Edo-period artists such as Itō Jakuchū, Soga Shōhaku, and Urakami Gyokudō; and my views on the works of artists who were active at the end of the Edo period and into the early Meiji period, such as Watanabe Kazan and Kobayashi Kiyochika. Also included are essays directed at non-specialists that are explanations, appeals, critiques, and translations. Not a few express my opinions about events occurring over the years, such as the changeover of national museums to independent administrative institutions, or the deletion of test questions on exams prepared by the Open University of Japan (Hōsō daigaku). The two texts translated into Japanese that I have included are of one essay and a book chapter written by Norman Bryson, an art historian and one-time strong advocate of New Art History. These translations were included because I felt they were particularly pertinent to Japanese art history research.

Many of my essays are attempts at crafting new interpretations of famous works of art. I also make detailed analyses of claims that certain works purported to be by such artists as Jakuchū and Shōhaku are actually forgeries or imitations. In the chapters of general discussion, I apply a unique perspective to expose factors about all or portions of Japanese art history that have not been sufficiently recognized up to now. The topics covered are wide-ranging and diverse and there is no need to read the chapters in the order they are presented. No matter where you decide to start, I am confident you will find thinking about Japanese art can be fascinating and absorbing.

(Written by SATO Yasuhiro, Professor, Graduate School of Humanities and Sociology / 2019)
Try these read-alike books: