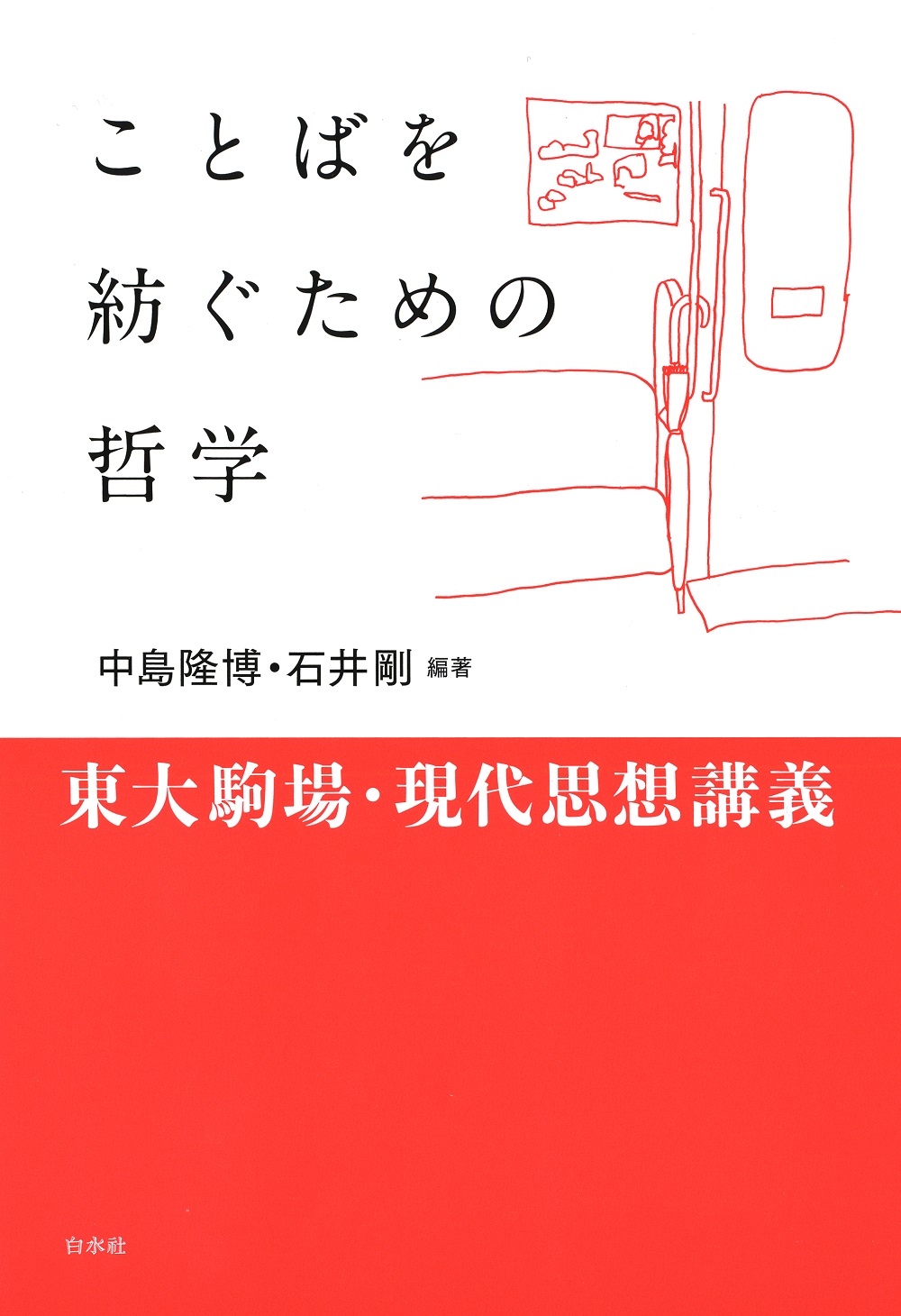 Kotoba wo tsumugu tameno Tetsugaku
(Philosophy to Weave Words - Contemporary Philosophy Lectures at Komaba Campus, University of Tokyo)
This book is composed of lectures from Contemporary Philosophy in the Age of Globalization: From East Asia, a themed, omnibus lecture series held during the winter term of 2014 at the College and Graduate School of Arts and Sciences, University of Tokyo. The lecturers reorganized and rewrote their lectures for this book and were all researchers involved in the KAKENHI Grant-in-Aid's joint research project, Contemporary Philosophy in the Age of Globalization: Reconstructing a Map of Concepts. These researchers are Takahiro Nakajima from Institute for Advanced Studies on Asia, University of Tokyo), Shinji Kajitani, Akiko Shimizu, Kazuyuki Hara, Kohji Ishihara, Mariko Muramatsu from the College and Graduate School of Arts and Sciences, UTokyo, Futoshi Hoshino from Kanazawa College of Art, and myself, Tsuyoshi Ishii. We each chose one or two key verbs in Japanese on which to expand in relation to our respective studies. The KAKENHI project started in the fall of 2012, and its planning took place during a time when society was still in shock by "3.11"—the 2011 Tōhoku earthquake and the resultant nuclear power plant disaster. Through this project, we wished to retrieve humanity. We felt the necessity to visit the actual scene to renew the sharpness of our physical senses and to hone our thoughts—only by doing so could we retrieve a philosophy that holistically enquires the meaning of "human." Therefore, we chose the verbs—Japanese verbs—we considered most familiar to the physical senses of the people living in the world of Japanese language, including ourselves.


This project, with an agenda to re-map concepts, was an engagement to try to bring about a tectonic movement of intellect. By writing about verbs most familiar to our physical senses, we reinvestigated the relationships between the subjects we wrote about and ourselves. This was also an act of reflecting on our interactions with the world. By doing so, we attempted to do philosophy—a process of grasping "philosophy," a noun that has come into use to point to intellect in a certain academic field, as an exercise in progress.

"Eat," "taste," "speak," "listen," "touch," "know," "divide," "wait," "endure," "sing," "write," and "hide"—these were some of the verbs on which the authors of this book chose to expand. Weaved together with thoughts about them, these words could generate ripples among people as an exercise of doing philosophy. The title's "weave words" represent the common wish of the researchers involved in this book's project, which was to link together hope with many people by words during the process of going to and coming back from the actual scene where the actions occur. Ultimately, to do philosophy is to hope.

(Written by ISHII Tsuyoshi, Professor, Graduate School of Arts and Sciences / 2019)
Try these read-alike books: