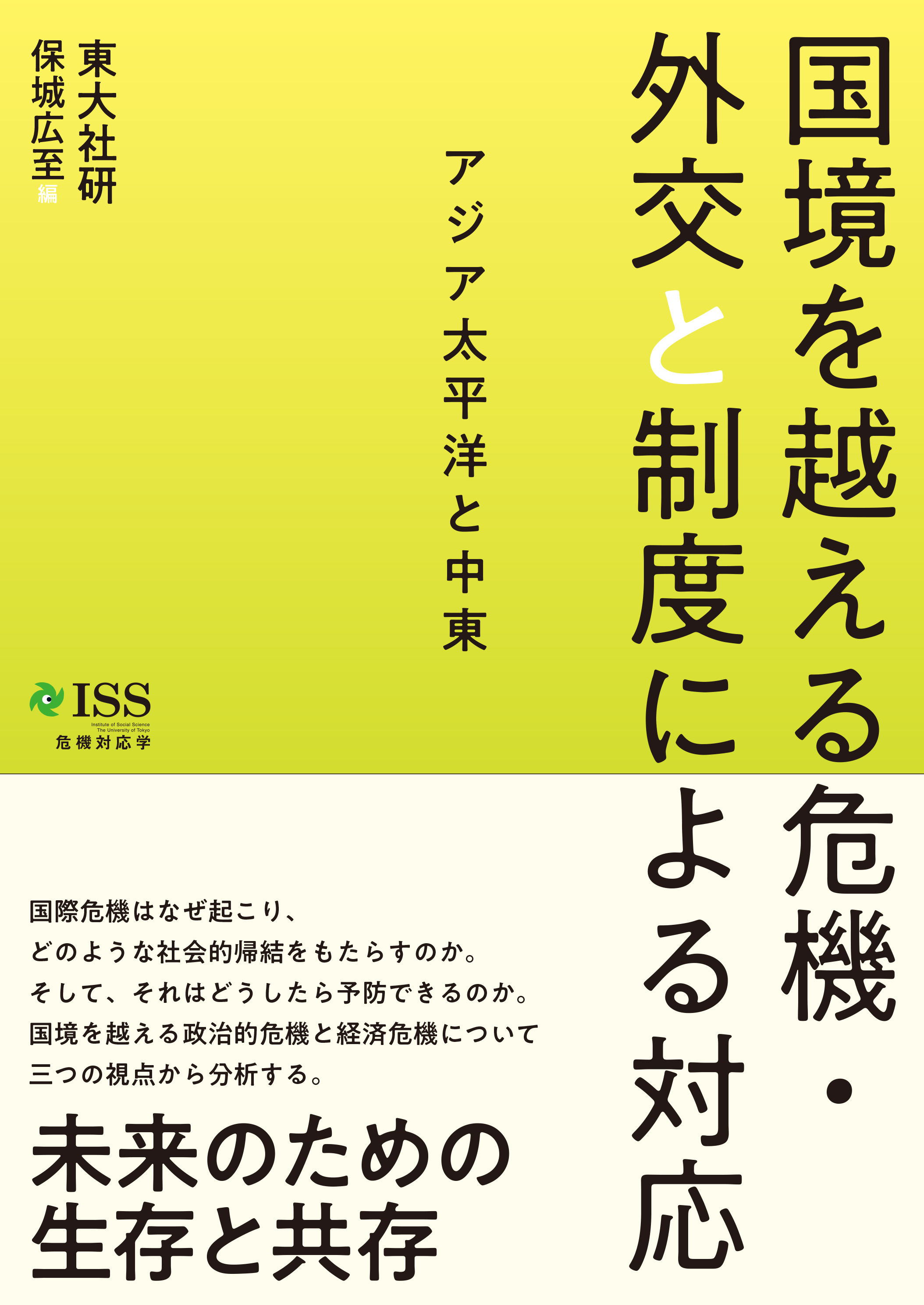 Social Science of Crisis Thinking
Kokkyo o koeru kiki, Gaiko to Seido ni your taio
(Crises Beyond Borders - Governance and Diplomacy in the Asia-Pacific and Middle East Regions)
University of Tokyo Press
As can be understood from the worldwide spread of coronavirus (SARS-CoV-2) in a relative blink of an eye, certain types of crises do not remain confined to a single country, instead readily crossing national borders and becoming international issues. This book examines these types of crises, focusing on the Asia-Pacific and Middle East regions. International crises possess the following three characteristics: (1) they often occur because of unforeseen triggering events; (2) they can pose grave threats to matters of vital importance to us as individuals and nations; (3) the time for avoiding or responding to them is extremely limited. In this book, these international crises are classified into three types and examined through a time-series approach.

The first section examines the causes of international crises; in other words, crises are grasped as dependent variables (effects), and their causes are investigated. This book argues that, even if the causes of international crises are structural, such as territorial disputes and economic systems, direct responses to them may take the form of diplomacy, the effectiveness of which is dependent on the skills of the political leaders involved. However, as time passes, the extent to which individuals may respond gradually shortens, and institutional frameworks that prevent crises become essential, as stated below.

In the second part, consideration is given to how government personnel have responded in times of actual international crisis and which social consequences were experienced after the crisis. These impacts are analyzed here, with crises as independent variables (causes). However, these impacts may be classified into two types, those that occur immediately after the crisis and those that appear after a certain amount of time has passed. The former may be referred to as "crisis responses" and include efforts that government leaders must make at the time of the crisis (diplomacy). In contrast, after the crisis has been resolved to a certain degree, along with changes in the international environment, policies are consequently adopted to avoid repeating the crisis (institutionalization).

Lastly, the third section analyzes what actions are taken to ensure that international crises do not occur in the first place, and/or what preparatory actions are taken under the supposition of a hypothetical crisis. These include activities that minimize crisis damage or those that plan for crisis prevention.

It hardly needs to be said that international crises appear in various forms. Additionally, because of the complexities of international crisis, no panacea exists. International crisis research has existed for many years, with new and updated research continuing to be presented. The field could not possibly be encapsulated and explained satisfactorily in a single book. However, if the reader goes through each chapter in this book, I believe that they will walk away with a clear sense of the depth of this topic. I hope the readers will deepen their understanding of the international crises discussed in each chapter and expand their knowledge regarding other international crises moving forward.


(Written by HOSHIRO Hiroyuki, Professor, Institute of Social Science / 2020)
Try these read-alike books: