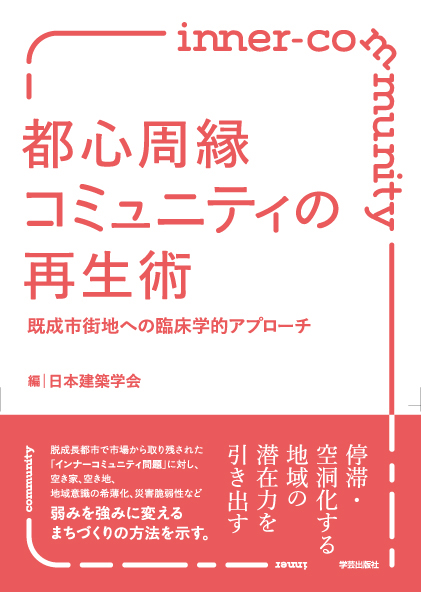 Toshin Shuen Community no Saisei-jutsu
(Revitalization of Inner Communities - Clinical Approach to Existing Urban Areas)
The three major metropolitan areas and ordinance-designated cities in Japan, which have entered a period of degrowth, are home to many areas that are located in city centers but have been, nevertheless, left behind in the renewal of the physical environment. They are, in fact, becoming hollowed out. In these areas, there are no initiatives such as large-scale redevelopment projects, condominium construction, improvement of dense urban areas, or preservation or regeneration of historical urban areas. Could this be due to problems in the social environment, where the influx of residents and business establishments stagnates and becomes fixed, the balance of the social structure collapses, the population declines or is characterized as super-aging, and communities weaken?

Recently, increased attention has been paid to initiatives aimed at regenerating the physical and social environments of urban areas in order to solve local problems and revitalize communities. These initiatives involve the accumulation and comprehensive expansion of small-scale grassroots projects, such as the renovation of old buildings, communalization of buildings in small units, and creation and utilization of open spaces. We view these initiatives as having excellent potential.

In this book, we refer to communities on the outskirts of city centers that have lost the sustainability of their social environments, have not renewed their physical environments, and have become stagnant and hollowed out as inner communities. We did not use the term "inner city," as was the case in the past, because we recognize that the root cause of a community's stagnation and hollowing out, as well as the approach to community revitalization that will solve this problem, are rooted in the community. The inner community has already witnessed several attempts at community revitalization (i.e., "inner-community revitalization") through new approaches seeking to turn weaknesses into strengths. These approaches involve entrepreneurs, companies, nonprofit organizations (NPOs), and governments intervening in hollowed-out urban areas within the framework of a "loose market" in which the demand for spaces has decreased and the pressure to develop has weakened.

The aim of this book is to generalize the inner-community revitalization approach through case analyses and corresponding theoretical discussions. Additionally, the method and systems that support this approach are investigated, with the understanding that inner-community revitalization, which is currently in the experimental or trial-and-error stage, will become a leading type of urban renewal in the future. Although the majority of the examples in this book come from Japan's three major metropolitan areas, we believe that the generalized approach and nature of the methods and institutions that support it are well suited to similar initiatives in smaller cities. We hope that this book will be read by entrepreneurs, corporate executives, NPOs, and administrative practitioners engaged in inner-community revitalization, as well as researchers who are studying the future paths for urban renewal, and students who will be future leaders in the fields of urban planning, urban design, and community development.

This book is a compilation of the research findings from the Subcommittee for Selectable Urban Environmental Design and Inner-Community Development (abbreviation: Inner-Community Revitalization Subcommittee) (FY2015–FY2018) of the Research Committee on Urban Planning and Design, Architectural Institute of Japan, as compiled by the Large City Inner-Community Sustainable Revitalization WG, which was established in April 2019.

(Written by MURAYAMA Akito, Associate Professor, School of Engineering / 2022)
Try these read-alike books: