Sports Research at the University of Tokyo
It is not just athletes who are seriously into sports at the University of Tokyo. In this section we introduce some of the "powerful Socrates" at the University, faculty members who are daily engaged in research and education relating to sports. Several sports researchers from among the many at the University of Tokyo describe the most interesting themes in sports research today.
Sumo
Professor Ichiro Nitta
Graduate Schools for Law and Politics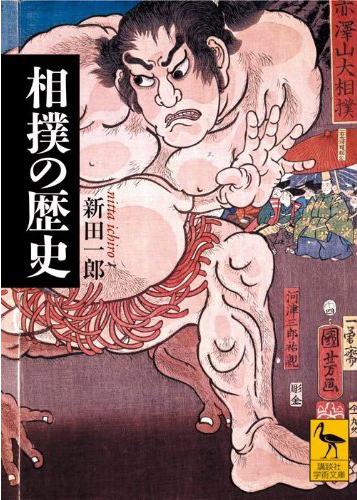 "A history of sumo" (Kodansha Gakujutsu Bunko, 2010).
When looking at the more-than 1,300 year history of sumo, it is important to focus on sumo before the era of the grand sumo tournament
During his student days Prof. Nitta was an active member of the university sumo club and today remains a big sumo fan, serving as head of the sumo club and coaching the practice sessions (keiko) of club members. In the book detailed here, Prof. Nitta grasps the 1,300-year history of sumo firmly by the mawashi. The book's single most particular feature is the emphasis it places on the history of sumo prior to the creation of the grand sumo tournaments as we know them today. The book relates how sumo developed over time and how it performed multiple roles in Japanese society, including being a simple comparison of strength, an agricultural ritual, entertainment for feudal lords, and crowd-pleasing amusement for the general population. Prof. Nitta has given his expert attention to the topic and the result is a book that contains a great deal of fascinating information, including the fact that Tokugawa Mitsukuni, popularly known as Mito Komon, enjoyed taking part in unofficial road-side sumo in his young days, how the ring (dohyo) was originally formed by a ring of spectators, and how the Yokozuna grand champions once wore a mixed black and white tsuna (ornamental rope belt) instead of today's pure white. This is the perfect book if you want a complete picture of the history of sumo. The fully illustrated "Secrets of sumo" (Asahi Press) is recommended if you are looking for a lighter read.
Rally
Project Professor Kohei Kusaka
Graduate School of Engineering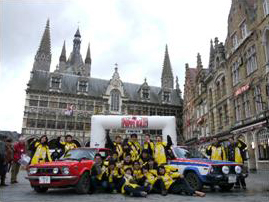 Team TAKUMI ( http://takumirally.com/ )
Promoting a project for students to compete in an overseas classic car rally
Prof. Kusaka is a dyed-in-the-wool "rallyist," having competed in car rallies at home and abroad over the course of 40 years, ever since his days as a member of the university's automotive club. He was once recognized as the best navigator in the whole of Japan and one activity he is currently involved in as part of his manufacturing-related education is a project to encourage people to compete in overseas classic car rallies. The students who participate in his classes get to work on and refurbish old cars and are encouraged to seek sponsorship themselves in order to participate in such famous overseas events as the Monte Carlo Rally. The project is already in its fourth year. The project and classes have gained attention as they seek not only to equip students with manufacturing and practical skills, but also to enable students to cope with any unforeseen contingencies, improve their teamwork and acquire the know-how to be able to respond to any situation in unfamiliar countries. Thanks to this project, "resilient University of Tokyo students" may become a phrase that is known even overseas.
Martial Arts
Professor Ryuichiro Matsubara
Graduate School of Arts and Sciences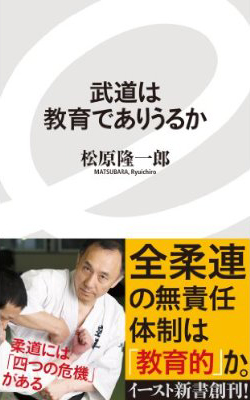 "Do martial arts have a place in education?" (Eastpress, 2013)
What are martial arts and how can they help Japanese people regain their lost body sense?
Prof. Matsubara serves as the head of the university judo club and spends time coaching students of judo and kudo (a combat-style general martial art) as a practitioner of the martial arts himself. In the book illustrated here he discusses the significance and value of martial arts in education. According to Matsubara, there are four crises facing modern judo, which are the ability to compete, methods of teaching judo to women, the globalization of judo, and the sport's safety. He argues that these crises have arisen because people have failed to correctly understand the teachings of Jigoro Kano. The values of judo were set forth by its founder as "Maximum efficiency, minimum effort," and "Mutual welfare and benefit." Now is the time to reassert these values as judo in Japan is shaken by scandals involving physical punishment and sexual harassment. It has been pointed out that the martial arts also have an effect of communicating body sensations through ritual squatting and kneeling, body sensations that are being gradually lost by the Japanese people as lifestyles become increasingly Westernized. The Seven Universities Judo Tournament is well-known for its groundwork techniques and team competition and it should be of interest to all people, not just the students and staff of the universities concerned, as the techniques displayed have much to offer and teach us.
"Fair time" Marathon
Assistant Professor Takanori Ikegami
Graduate School of Engineering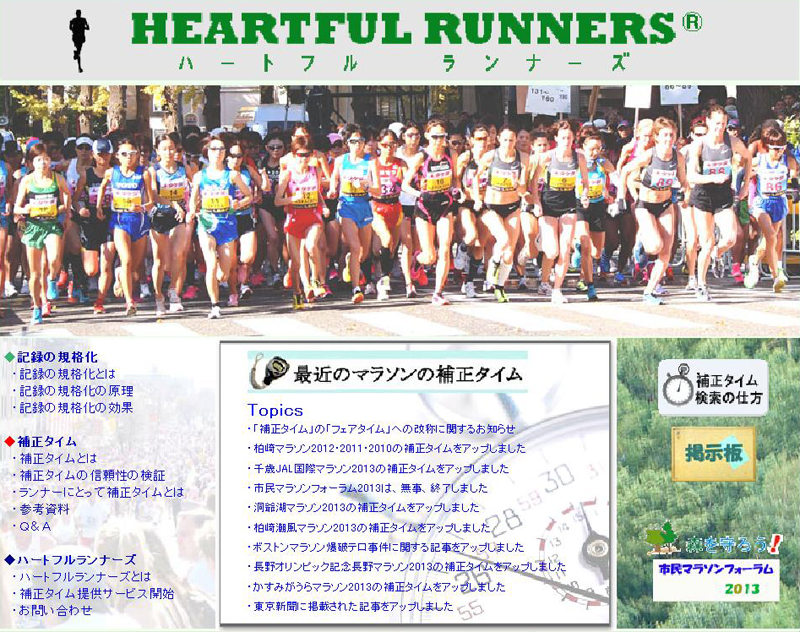 Heartful Runners ( http://www.heartful-runners.co.jp/ )
Harmonizing differences in climate, weather and altitude to assess sporting records
Marathon results are affected by factors such as weather and altitude. Prof. Ikegami's field of research concerns the concept of "fair time," whereby the impact of such external factors is equalized. Using the concept of "fair time" runners' past track records are used to create theoretical race conditions and the results of individual events are replaced with the results that have been calculated from the amalgamated theoretical conditions. The results of both domestic and international events can be compared in a fair and equitable manner using this method. For example, if the winning time from the Beijing Olympics men's marathon race, which was run at the height of the summer, was assessed using "fair time," the result would exceed the current world record by a large margin. The website "Heartful Runners" enables visitors to search for fair time results by event and in the future it is hoped that the website will be expanded to include overseas events also. Efforts are also underway to develop a mechanism that would allow the actual time of a chosen event to be replaced with the time of another event. Research Associate Ikegami is brimming with enthusiasm as he seeks to expand Japanese marathon culture to the wider world.
What is "Komaba physical education" that all University of Tokyo students receive?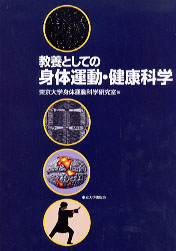 "Physical exercise and health science as part of overall education" (ed. University of Tokyo Physical Exercise Research Laboratory, University of Tokyo Press)
All students of the College of Arts and Science are obliged to audit the physical education course. Not only is the physical education class a great opportunity for students from different disciplines to get together, it also offers a unique chance to learn about sports sciences in a structured manner. The text book that is used for the physical education course is the one illustrated here, edited by the Physical Exercise Research Laboratory, to which Profs. Ishii, Fukashiro and Hatta are affiliated. As you can imagine, with editors like these, the students of the University are probably very well-acquainted with muscle training and biomechanics! Another key point of the course is that all students learn about how to use an automated external defibrillator (AED), which could prove a valuable experience for all students if faced with an emergency.