Sport and the University of Tokyo
"Instead of being a fat pig, become a lean Socrates."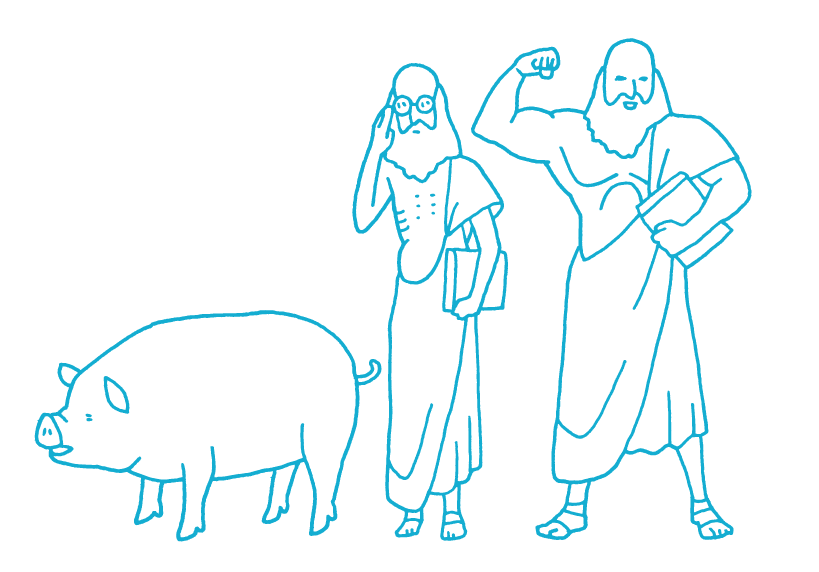 Instead of being a fat pig, become a powerful Socrates. Illustration: Jo Okada
These words were left to posterity 40 years ago by the 18th president of the University, Prof. Kazuo Okochi. These words also reflect the former president's desire for University of Tokyo students to remain constantly questioning and inquisitive, and to never rest on their laurels, even after graduation.
However, Socrates himself was apparently a muscular man with a love of wrestling. It seems the philosophers of ancient Greece required a powerful physique in order to ponder the meaning of all things. If that is the case, it would perhaps be better to rephrase the words of Prof. Okochi.
"Instead of being a fat pig, become a powerful Socrates" (by Prof. Senshi Fukashiro). In this edition we introduce the "Socrates" of the University of Tokyo, who epitomize the ideal of excellence in both academic studies and sporting prowess.
Uniforms of University of Tokyo sports teams

Ice Hockey Club

Softball Club

Kunstturnen Team

Cheerleaders

Baseball Club

Water Polo Team

Football Club

Golf Club

Ski Team

Figure Skating Club

Badminton Team

Handball Team

Fencing Club

Bowling Club

Boxing Club

Hockey Club

Yacht Racing Team

Rugby Football Club

Wrestling Club

Archery Club

Karate Team

Aikido Club

Bicycle Club, Racing Team

Bicycle Club, Touring Part

Automobile Club

Junko Baseball Club

Swim Team

Rowing Club

Sumo Club

Table Tennis Team

Men's Basketball Club

Men's Volleyball Team

Men's Lacrosse Team

Tennis Team

Soft Tennis Team

Rubber-ball Baseball Team

Equestrian Team

Archery Team

Taido Club

Women's Basketball Club

Women's Volleyball Team

Women's Lacrosse Team